Just like other farmhouse style lovers, you must love having DIY crafts at home as well. So why not start your new year with new DIY projects for your home. These are our collection of DIY farmhouse decor you can try out for yourself. With detailed instruction and a clear outcome, you are sure to find something for your home and a start for the New Year here.
---
1. DIY Farmhouse Decor Message Board – By Seeking Lavender Lane
If you are looking for a DIY project to keep all your note but still match with your farmhouse style home  This DIY farmhouse style message board is the perfect addition to your kitchen. And, it's not too difficult for you to make it by yourself. All materials you need are rustic wood/ pallet wood, wood glue, clips, and chicken wire. This is a cheap and easy project that you can finish in just a couple of hours.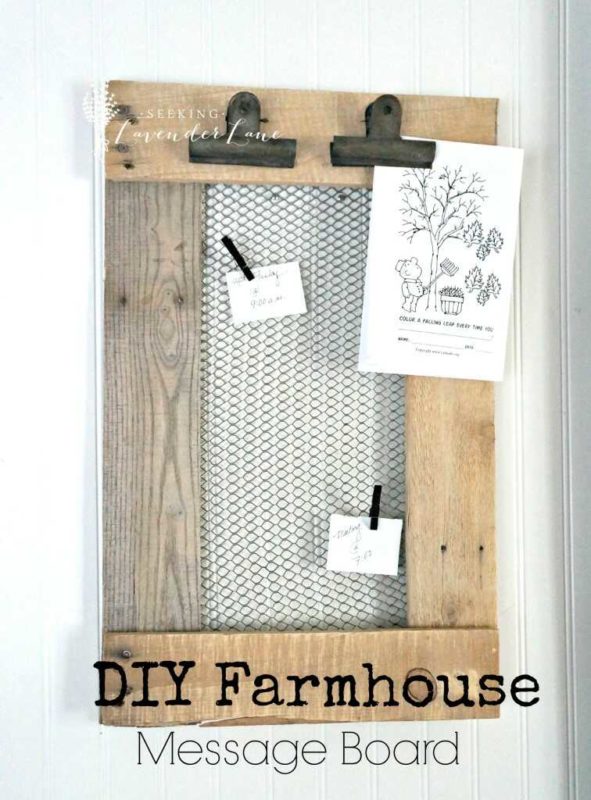 Source: Seeking Lavender Lane
---
2. DIY Farmhouse Style Rustic Wood Frame – By Knick Of Time
If you're looking for great wall decor for your home, this farmhouse DIY rustic wooden frame is the perfect candidate. This framed chalkboard style is perfect for your kitchen. You can use it for messages or adorn it with anything that adds glamor to your farmhouse. This one is an easy DIY decoration item and won't take more than an hour to complete.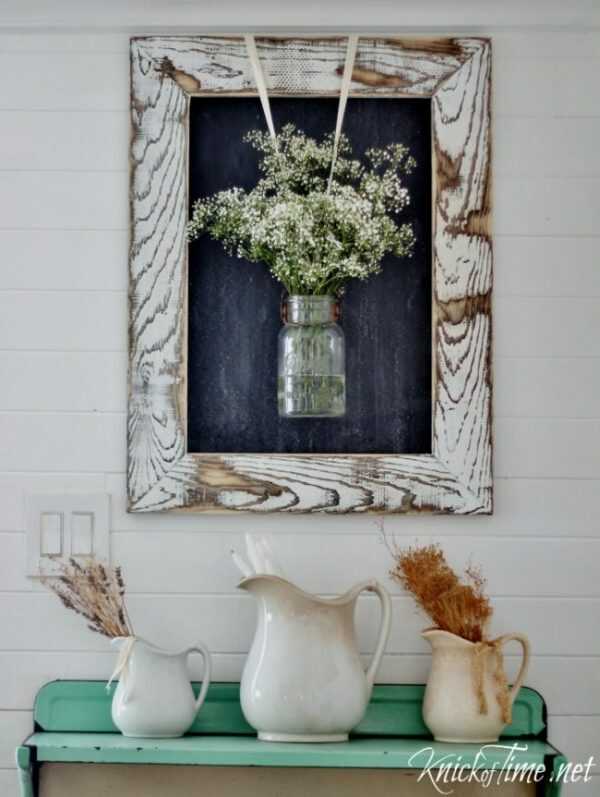 Source: Knick of Time
---
3. DIY Rustic Succulent Pots – By Pink When
These rustic succulent pots are perfect to add a touch of country chic to your farmhouse. Plus, they're easy and inexpensive to make. You can choose whatever color you love to paint the pots or you can refer to the aqua color hint for example. The wonderful watercolor brings a warm atmosphere and reminds you of the beach, right? And all materials you need to make are just ordinary terra cotta pots in the craft store.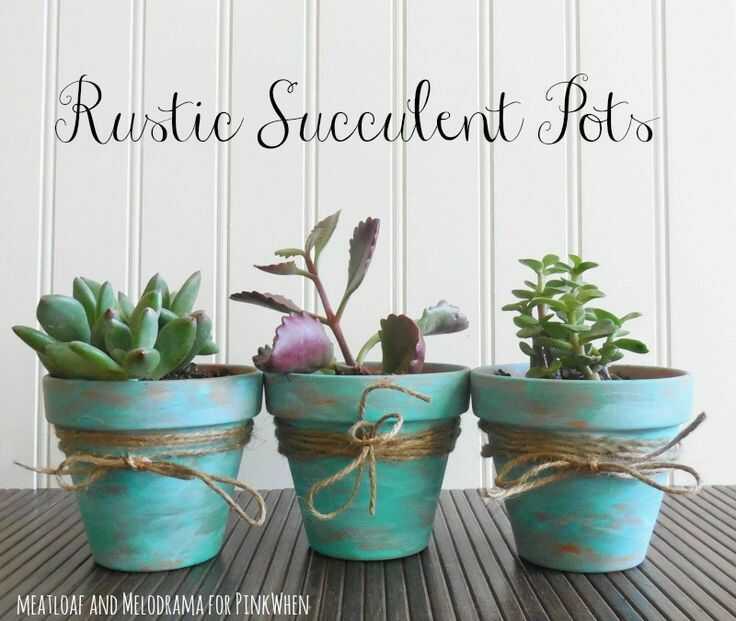 Source: Pink When
---
4. DIY Farmhouse Decor Grain Sack Pillows – By A Wonderful Thought
As you know, pillows can change the look of a room with their colors and texture. So why don't you add some DIY farmhouse charm to your home with this great grain sack pillow? All the material you need is at most hobby or craft stores and you can create the message with stencils. You can never have too many pillows and this one is just perfect to give any space a relaxing and comfortable farmhouse feel.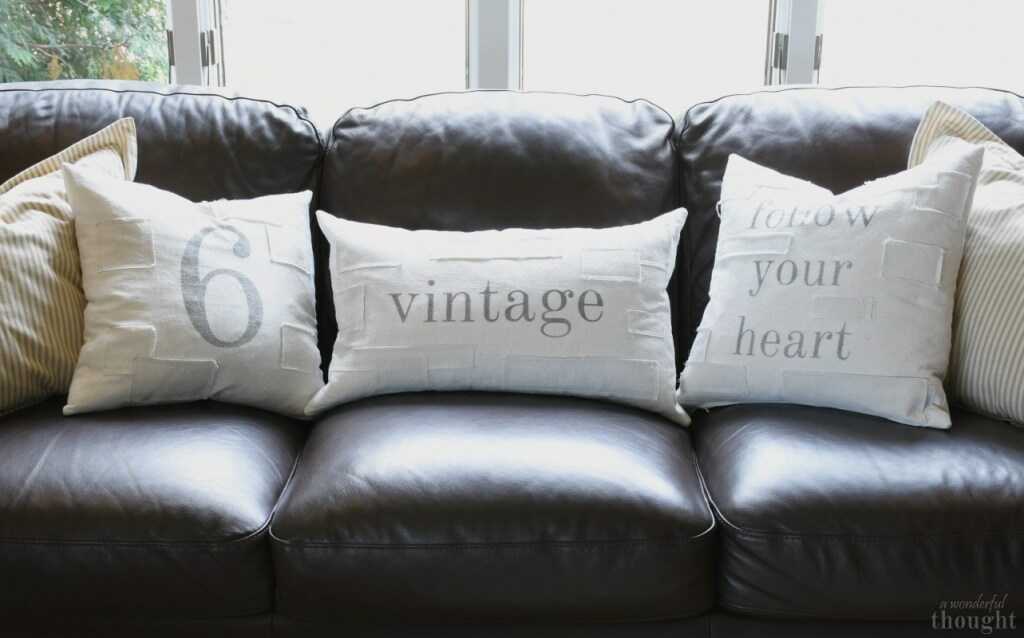 Source: A Wonderful Thought
---
5. DIY Birchwood Candle Holders – By The Vanderveen House
Instead of having to spend a sum of money at Pottery Barn or Anthropologie to own Birchwood Candle Holders, you can completely make them by yourself for saving money. These things would make great treats for any specials, and all materials are super easy to find.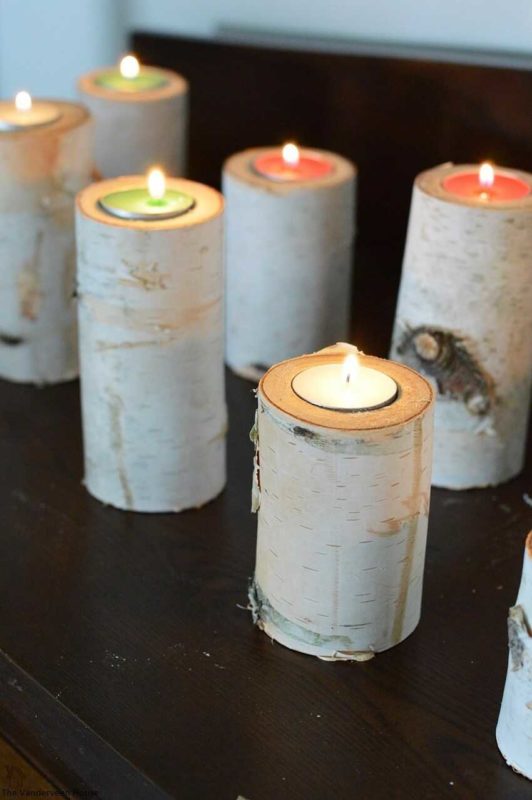 Source: The Vanderveen House
---
6. DIY Wood Pallet Spool Clock – By Liz Marie Blog
Get those old pallets to good use with this wonderful spool watch, which gives a traditional farmhouse style vibe. You can choose your own color scheme and use stencils to easily paint the number and make a work of art This is a simple project that will add a nice farmhouse touch to your home.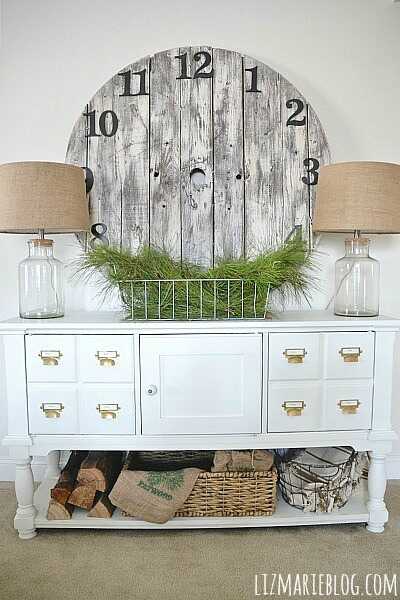 Source: Liz Marie Blog
---
7. DIY Rope Wrapped Lamp – By Amy Allender
Many people love the look of a rope-wrapped lamp, and you are not an exception, are you?. This is an easy project and completely changes the appearance of the entire space where you put it. This rope has a casual look to it, and the string will give a  great farmhouse appeal, especially if you want to remake burlap lampshades. This is a great lamp for the living room or bedroom decoration.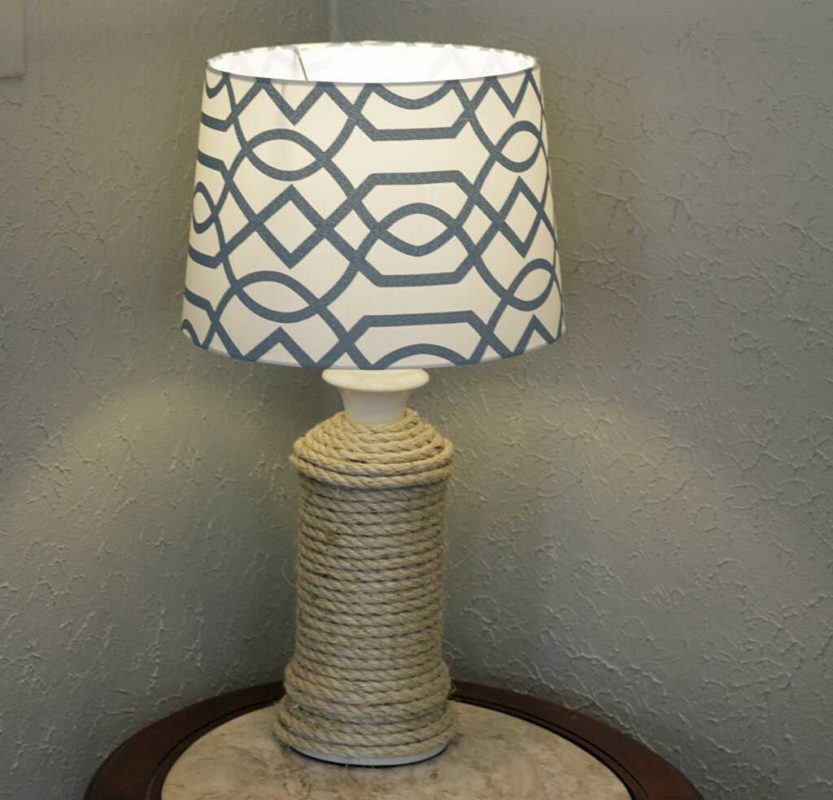 Source: Amy Allender
---
8. DIY Wooden Necklace Holder – By Visibly Moved
This is another great decorative piece made from any leftover wood or reclaimed you have in your home. It's a gorgeous necklace bag and certainly a perfect rustic farmhouse decor. With the leftover or reclaimed wood and stains in your home, this DIY project should cost you next to nothing. . This wooden necklace holder can give it a farmhouse style look to your home and you can find them in flea markets and thrift stores if you don't have them on hand.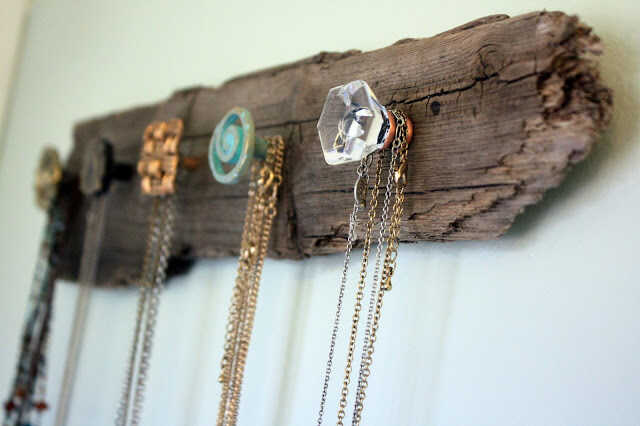 Source: Visibly Moved
---
9. DIY Rustic Twig Frame – By eHow
This project is an adorable way to add a rustic farmhouse charm to your home, and the best part about this project is that it will not cost you much. All materials you need to make your own rustic twig frame are twigs, twine, a hot glue gun, printer/ paper. You can do this in any size frame you need. Remember that farmhouse style is about the simple things, and this rustic twig frame fits that style perfectly.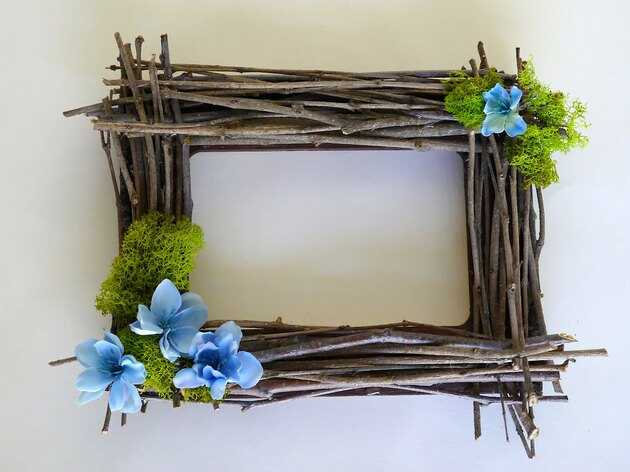 Source: eHow
---
10. DIY Primitive Cabinet – By Knick of Time
Stunning cabinet with all the charms of a farmhouse style wall decor. This DIY project by Knick Of Time goes into details about how she got the rusty look on the wire mesh or how she painted the cabinet. This should leave you with good wall decoration for your kitchen.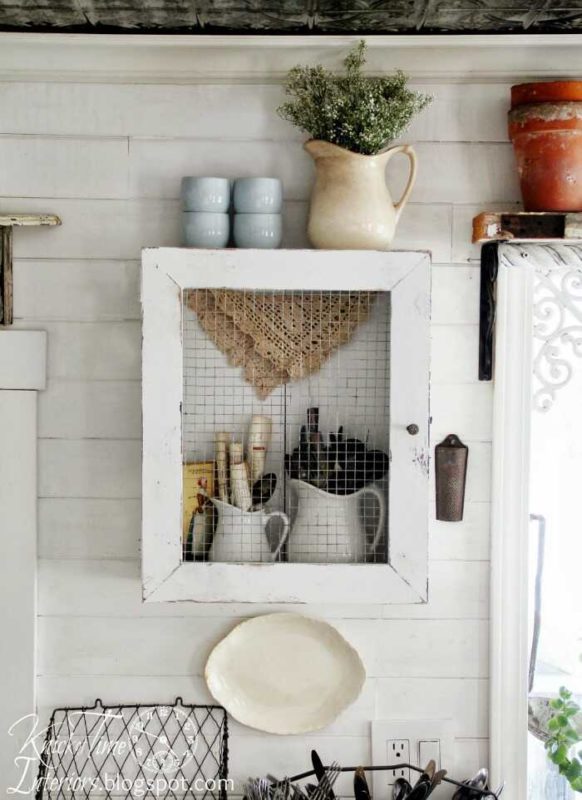 Source: Knick of Time
---
11. DIY Paint Your Furniture – By Home Made Lovely 
What is a more perfect way to start a new year than a new color in your home? Shannon Acheson, the writer of this blog, gave us a detailed process of what she went through when refinishing her old furniture. From the preparations to the finished look, so even if you are a newbie at painting your furniture, this tutorial will be a great guide for you as a new DIY project in 2021.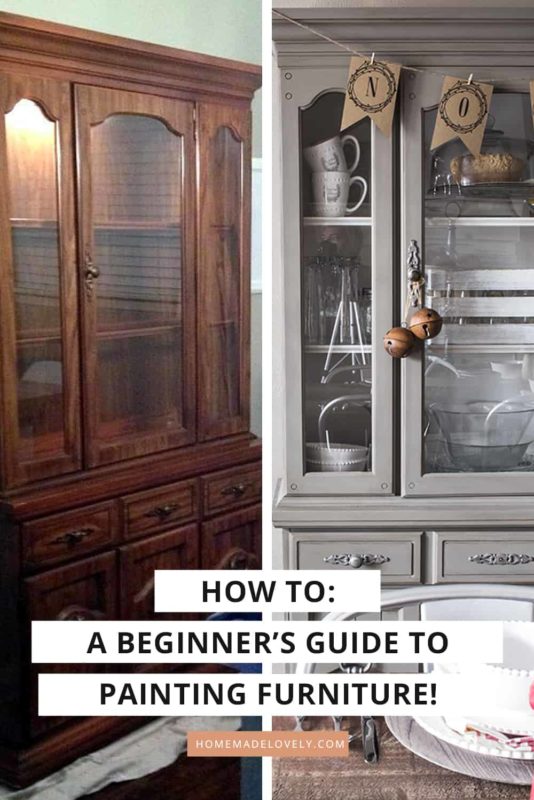 Source: Home Made Lovely
---
12. Farmhouse DIY Decor From Unused Items – By The Daily DIYer
Fast, easy, and cost next to nothing. These DIY tutorials from The Daily DIYer will be sure to trigger your creativity and jump right into a new DIY project to start a new look for your home in the New Year. 
---
13. Easy DIY Floating Shelves – By Shanty-2-Chic
Floating shelves are practical, flexible, and they will look great in any room in your home, why not try and make one for your home. This tutorial includes a step-by-step DIY project from start to finish on how to build your own floating shelves in your home.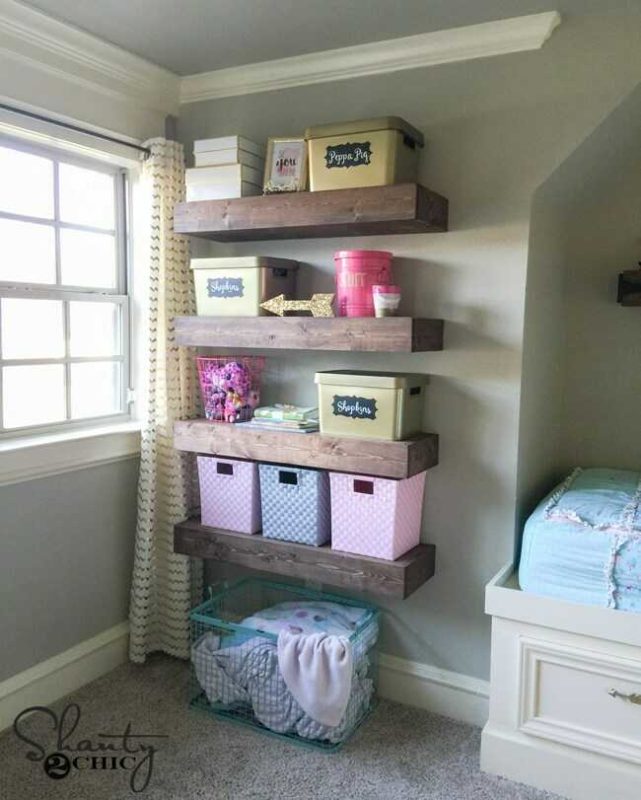 Source: Shanty-2-Chic
---
14. DIY Clipboard Frames – By Two Feet First
Another easy to make but beautiful wall decor DIY project for your home. This farmhouse style DIY project from Two Feet First will bring you a whole new way to showcase your family pictures for 2021.
Source: Two Feet First
---
15. Farmhouse DIY Pallet Shelf Charging Station – By A Piece Of Rainbow
Are you tired of all the tangled charging wires in your house? Get rid of them with this awesome farmhouse style pallet shelf charging station. Perfect DIY Project for your home in the New Year, this tutorial from A Piece of Rainbow includes a detailed step-by-step guide for you to make your own farmhouse style charging station.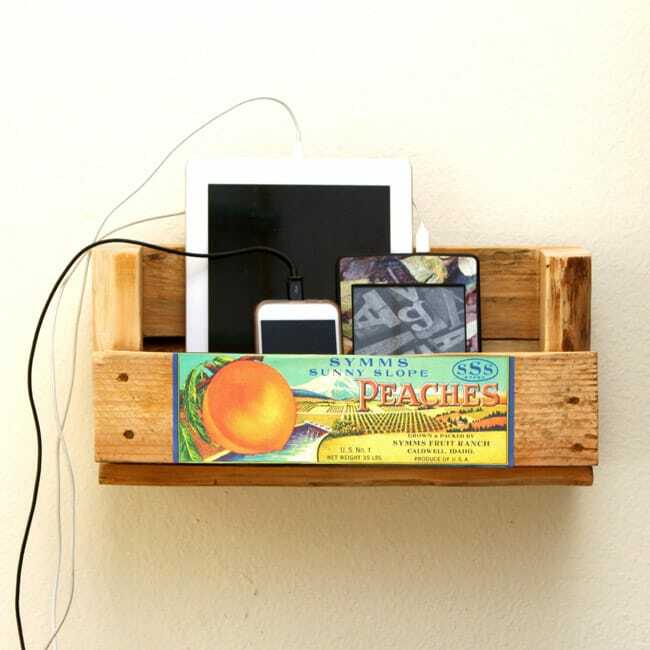 Source: A Piece Of Rainbow
---
16. DIY Blanket Ladder – By Worthing Court
If your home feels like it's lacking some decoration, try this rustic blanket ladder. Perfect decor for your living room or in the bedroom. Start this DIY project by Suzy at Worthing Court will guide you step-by-step on how she made her own blanket ladder without spending too much money.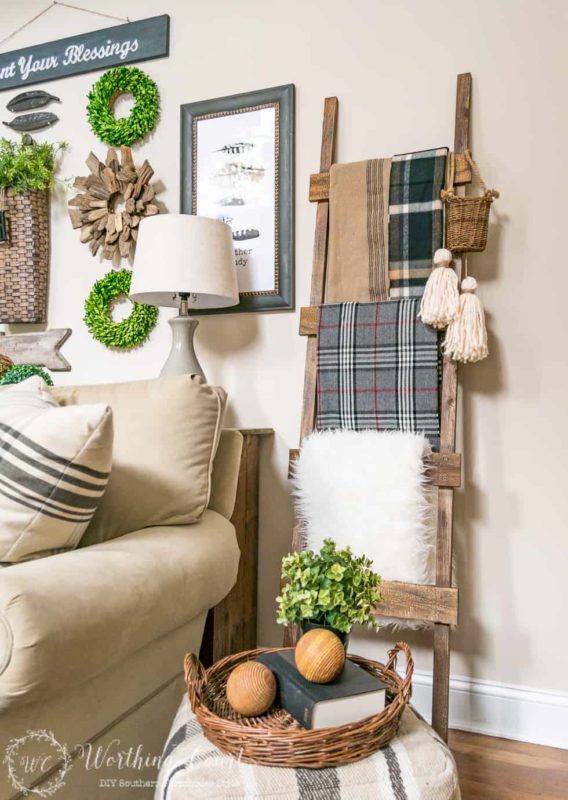 Source: Worthing Court
---
17. Easy Farmhouse DIY Wooden Box – By The Turquoise Home
Nothing screams farmhouse style more than this rustic centerpiece for your table. It cost next to nothing and easy to make as well. Start this DIY project for your home now with the detailed step-by-step guide from The Turquoise Home.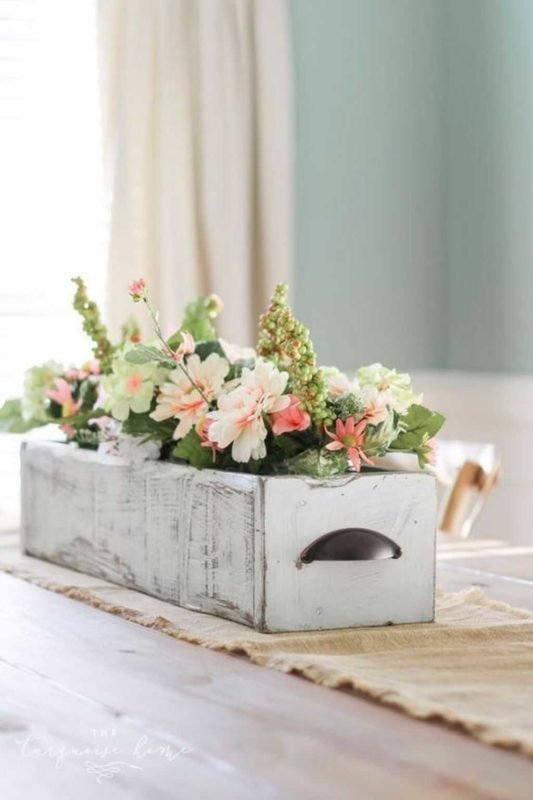 Source: The Turquoise Home
---
18. DIY Toilet Paper Holder With A Shelf – By DIY Show Off
If you don't want your toilet paper holder to be just a boring toilet holder, make this shelf to accompany it as well. This guide DIY project from DIY Show Off is easy to make, the instruction is clear and easy to understand. It will be a great tutorial for you to have a perfect addition to your bathroom.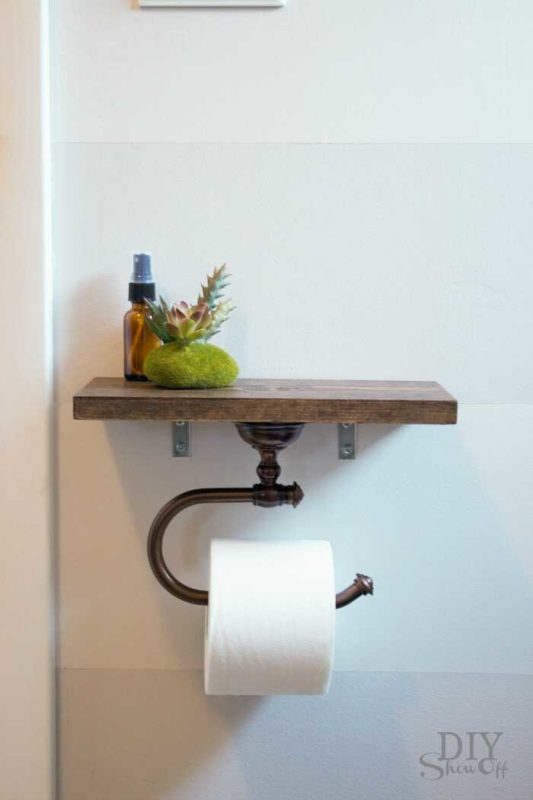 Source: DIY Show Off
---
19. DIY Bathroom Shelves – By At The Walker House
What a lovely farmhouse style shelf for your bathroom. Sara Walker, the writer of the blog, shared a lot of tips that she realized while working on the project, and the outcome looks great for her bathroom. Try this one out for your home for a new piece of furniture.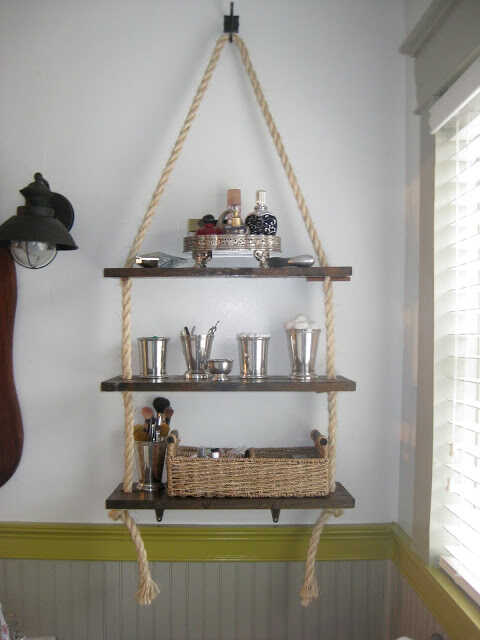 Source: At The Walker House
---
20. DIY Wooden Plate Rack – By Handmade-Haven
Beautiful, easy to make, and a perfect fit for any farmhouse style home. This DIY plate rack project from Handmade-Haven, written by Ashley Basnight, is a good start for you if you are just starting out on your DIY journey.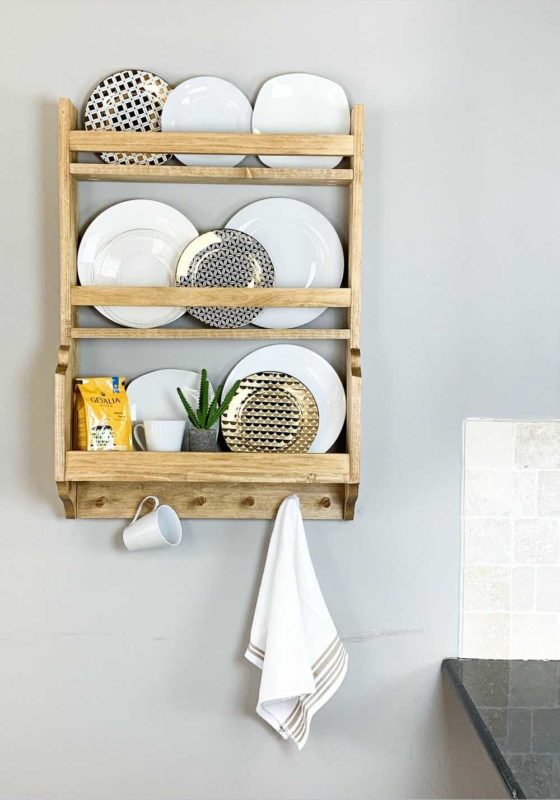 Source: Handmade-Haven
---
21. Easy DIY Wood-Slice Watercolor Coaster – By Better Home & Garden
Want an easy DIY project that you and your kids can do? With just pieces of wood slices and watercolor for these DIY coasters from Better Home & Garden, you have yourself a perfectly easy weekend activity you can do with your kids.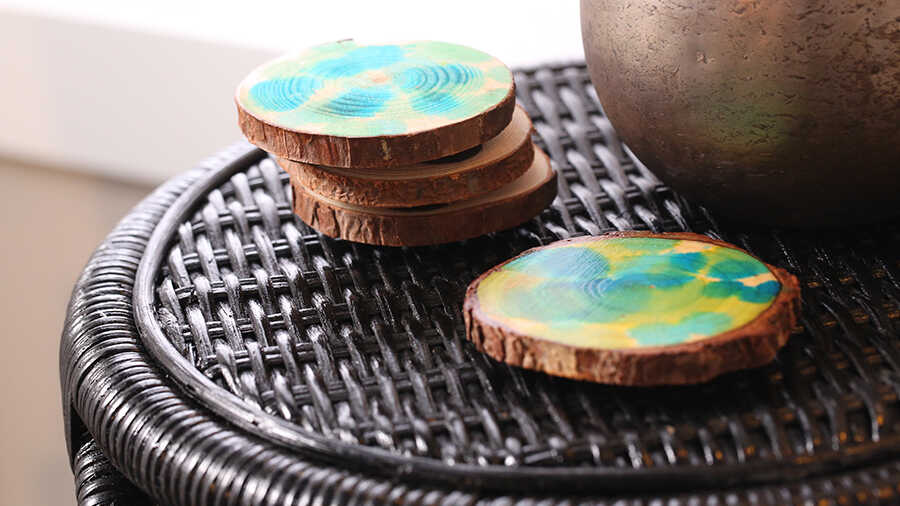 Source: Better Home & Garden
---
22. DIY Paper Flower Wreath – By Home Made Lovely
Another simple and beautiful DIY project for your home. Easy to make and you can ask your kids to join in the fun too, just be careful with the sharp edges from the metal wire that you are gonna use. This DIY flower wreath from Home Made Lovely is a perfect wall decor for your farmhouse style home.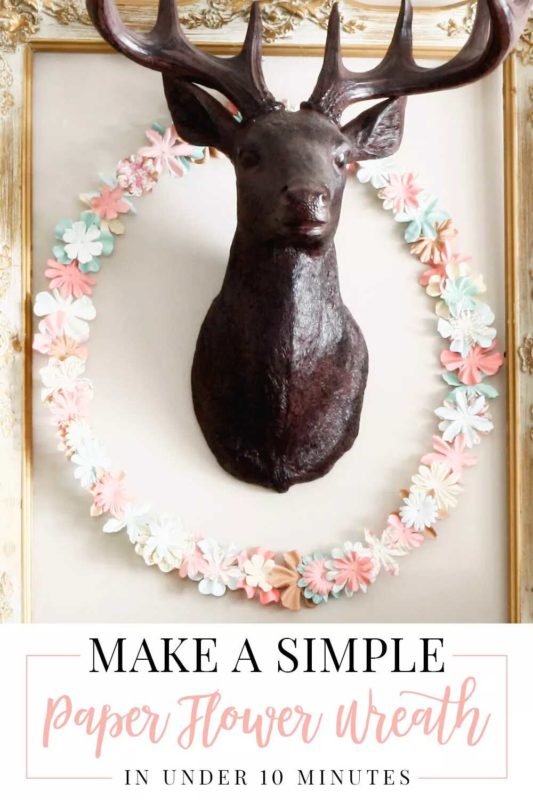 Source: Home Made Lovely
---
23. Easy DIY Reclaimed Wood Bath Caddy – By eHow
If you have some leftover woods lying around, try out this DIY project from eHow. It is easy to make, easy to understand and it will elevate your bathing time for sure.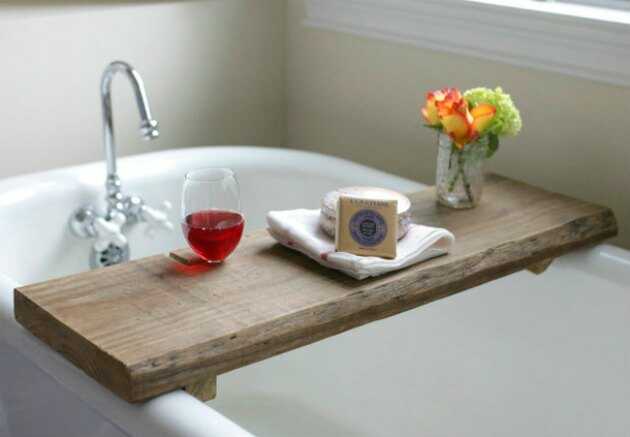 Source: eHow
---
24. DIY Spice Drawer Organizer – By Better Home & Garden
Your spice drawer is too messy and you are not quite sure how to fix it? Start this DIY project from Better Home & Garden for an easy fix. You can use leftover woods to make the riser boards as a cheap and appeasing way to elevate how your kitchen looks.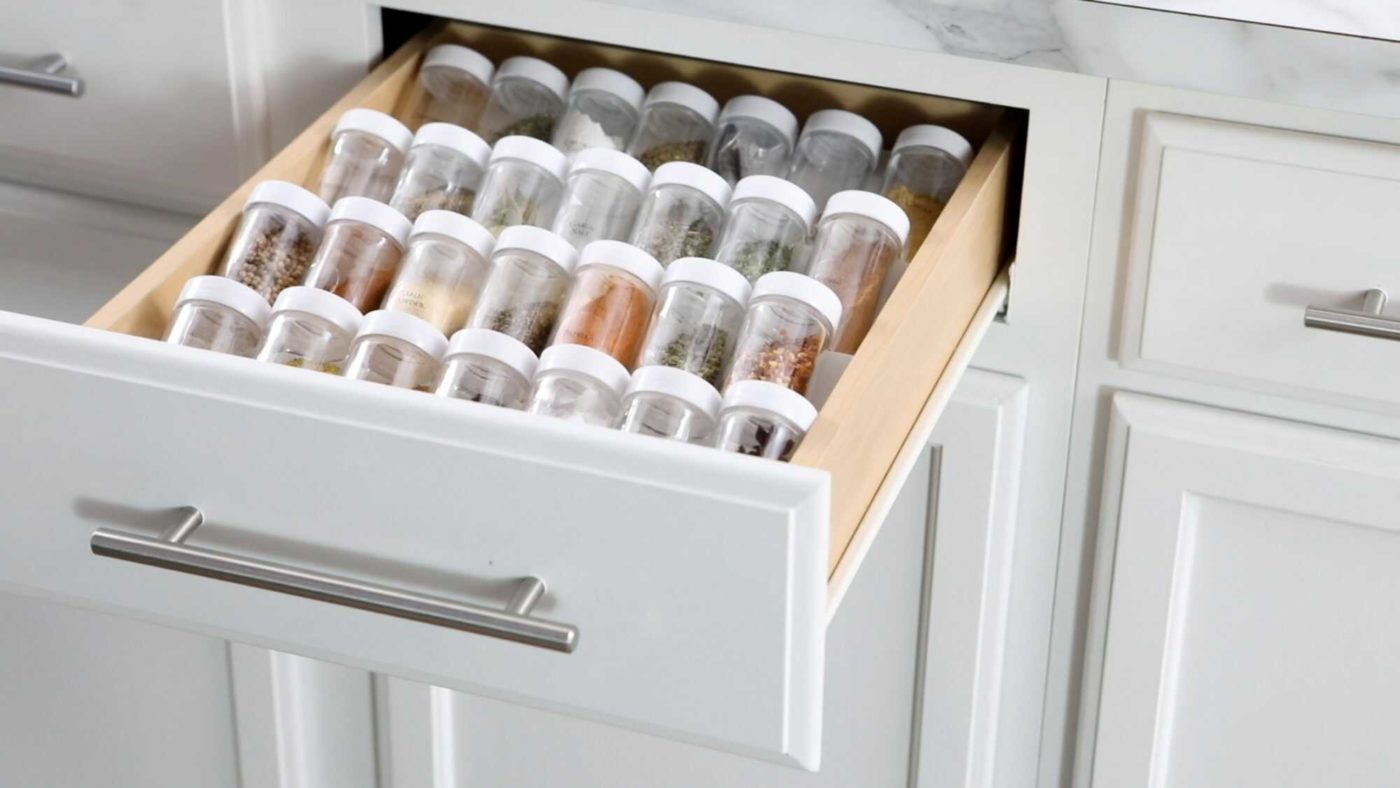 Source: Better Home & Garden
---
25. FARMHOUSE STYLE DIY RUSTIC ENTRYWAY COAT RACK – By Liz Marie Blog
Looking for a new farmhouse decoration piece for your hallway? Try this DIY rustic coat rack from Liz Marie Blog. She shared in details her journey from making her old barn door into a beautiful farmhouse style coat rack for her entryway. You can find some inspiration here for your new DIY project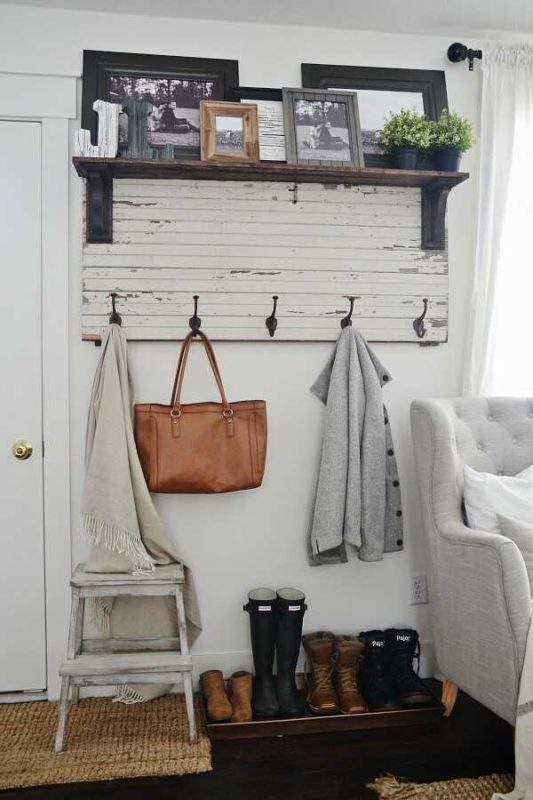 Source: Liz Marie Blog
---
If you are not ready to start a new DIY project for your home but still want something new for 2021. Why not get a farmhouse style canvas print from us? 
At OhCanvas, we always put quality first. This is why all our canvas designs are printed with high-quality and fade-resistant ink. The durable cotton canvases are stretched and wrapped on a sturdy pinewood frame that will make sure the colors stand the test of time on your wall.
With a new and unique design for your home every day, we guarantee you can find something that will fit perfectly for your home. You can visit some of our best HERE
Thinking of adding a new color to your home? Check out our Color Guide for farmhouse style home HERE.