If you want to demonstrate your particular relationship with a woman in your life and how much you care, give her something personalized. Oh Canvas put together a list of customized gifts for her to choose from. Whether you choose to have a gift monogrammed, customized, or otherwise customized, these presents will demonstrate to the recipient how much you value and cherish them as an individual.
Personalized Accessories Gift Ideas For Her
1. An Eternity Necklace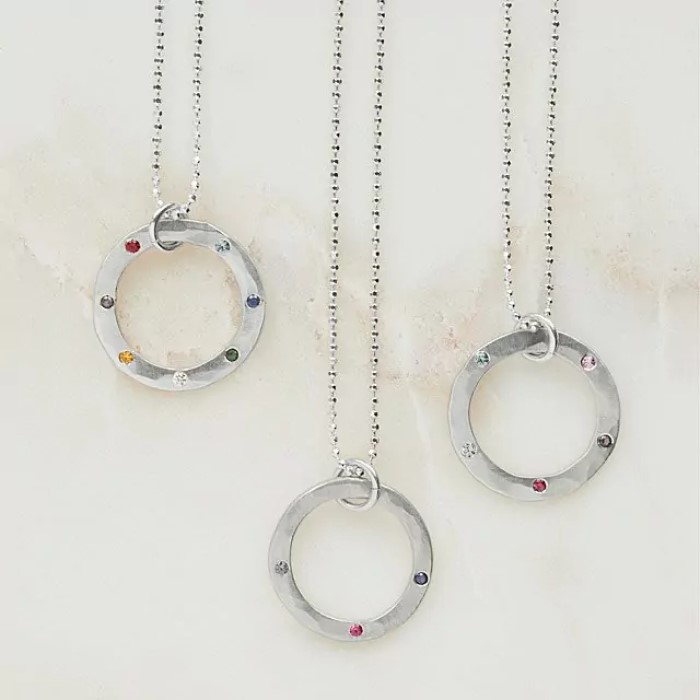 Get the woman in your heart this lovely looking gem eternity necklace and make a bold remark with a very delicate present of love and care! Because it can carry up to six gemstones, she could have one for every one of her loved ones who has a birthday in the year they wear it. At all times, she'll keep it close to her body.
2. Latitude And Longitude Pendant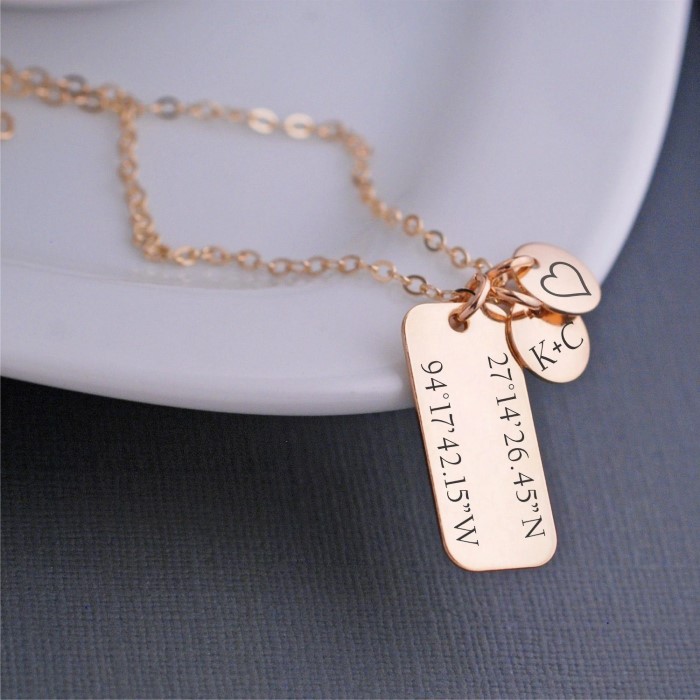 As easy as it may sound, this present is one that your significant other will remember for a long time in her life. You may personalize this silver pendant with the longitude and latitude of your choice — choose a place that has a special place in her soul.
3. Personalized Birch Cuff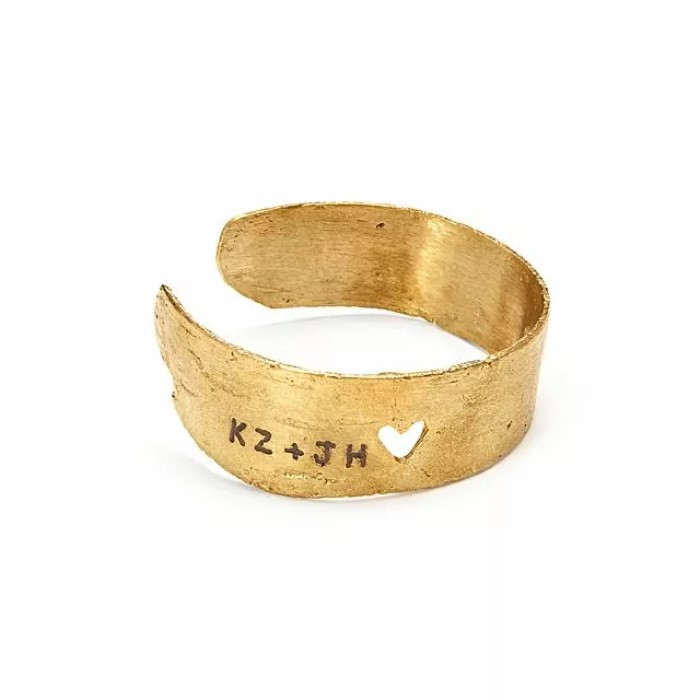 Couples have been carving their names into tree trunks for centuries as a way to preserve their love forever in the wood's cellulose. You can continue the tradition by giving your significant other one of these stylish customized gifts for her. With your choice of initials carved into the brass and birch, she'll love it.
4. Pendant With A Personalized Pet Portrait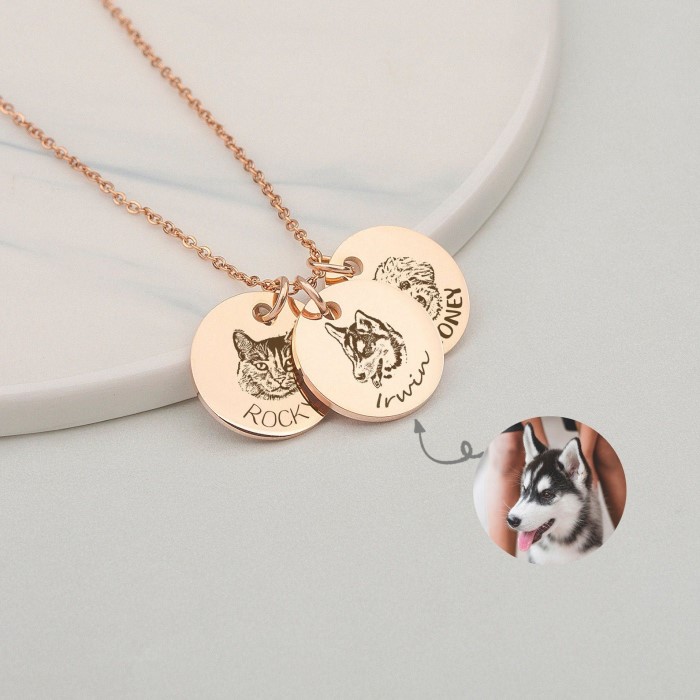 As much as you love her, does she have the same affection for her pet? The best way to get her heart racing is to get one of these sterling silver pendants engraved with an image of her favorite dog. Something she'll cherish for a long time if you get her this present.
5. Bracelet With A Touch Of Elegance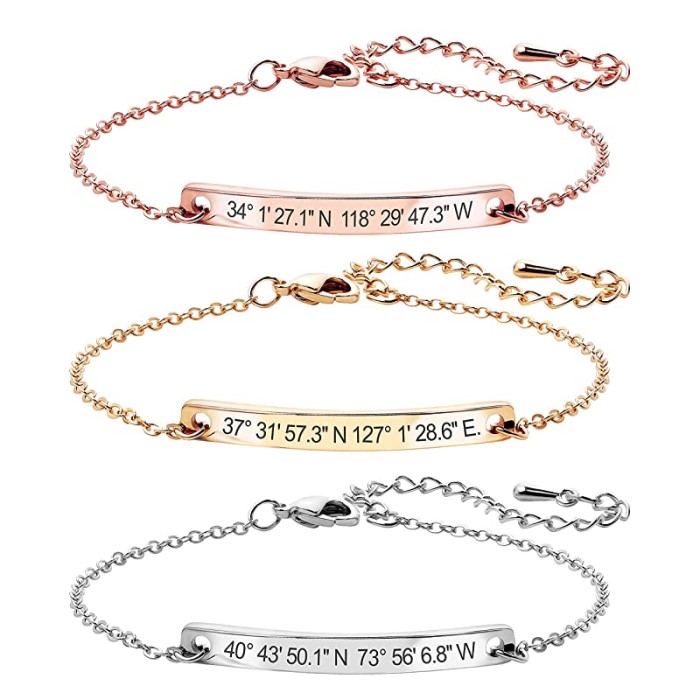 Are you looking for personalized gifts for women that are both lovely and easy? What better way to show your loved one how much you care than with a bracelet inscribed with a special location near and dear to them? It's going to be a big hit with her.
6. Necklace Set For Couples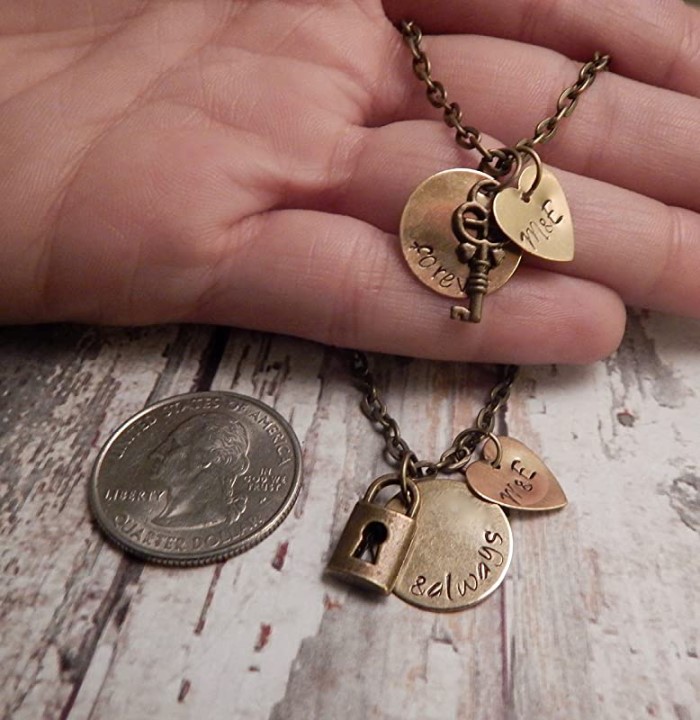 Personalized lock and key pendants are great customized gifts for her because they go well together. Personalize it with your initials as well as hers, and you'll not only have a meaningful present that she will cherish, one which you know she would cherish as well.
7. Personalized Copper Key Chain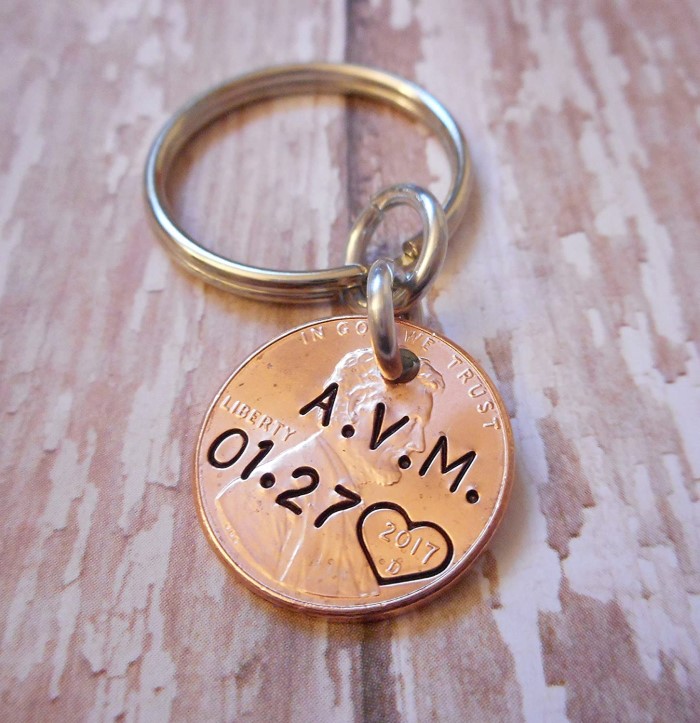 With this personalized penny, she will always have a little piece of you close at hand. A key chain with a hand-stamped penny will arrive ready for her to connect to her keys. You may choose the coin's age and personalize it with your preference of initial and date (and her heart).
8. Pendants With Soundwave Patterns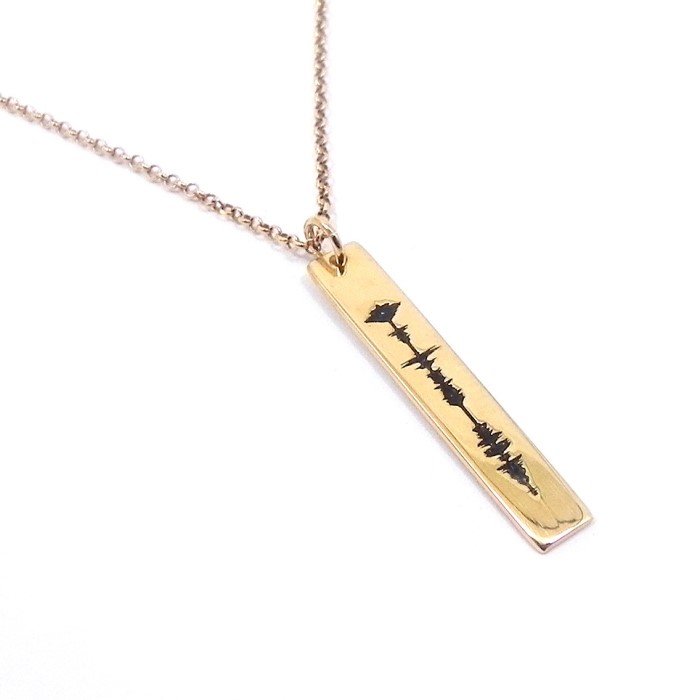 Make a recording of yourself expressing the words that mean the most to the woman in your life and have the sound vibrations created turned into a silver-plated pendant that may be worn all-around your neck at all times. The ideal personalized gifts for her to carry your love around with her during all times.
9. A Personalized Billfold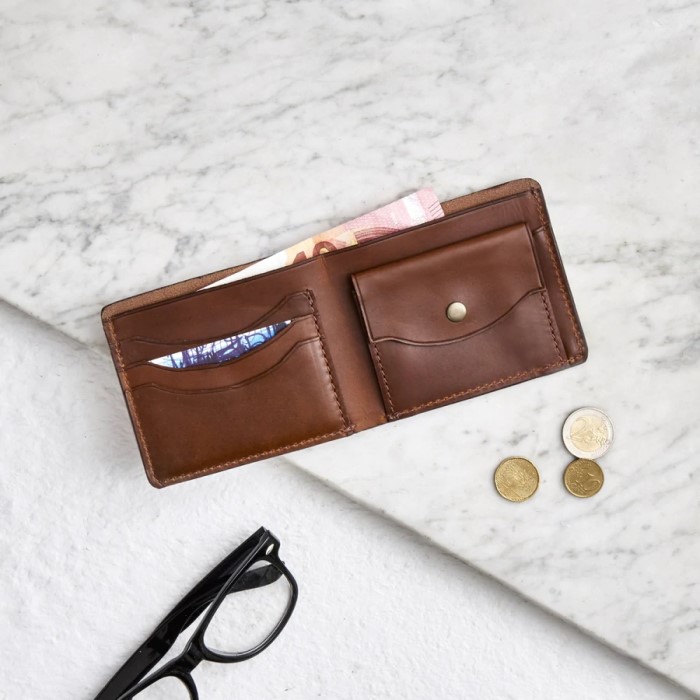 One's name will always be associated with them, much as a tiny bifold wallet. Foil-debossed monograms of up to four letters can be added to this gift in golden, silvery, or rose gold (there's also a colorless alternative). Wallets come in an array of classy leather hues, so you can create one that's just right for your present.
10. Customized Vegan Leather Clutch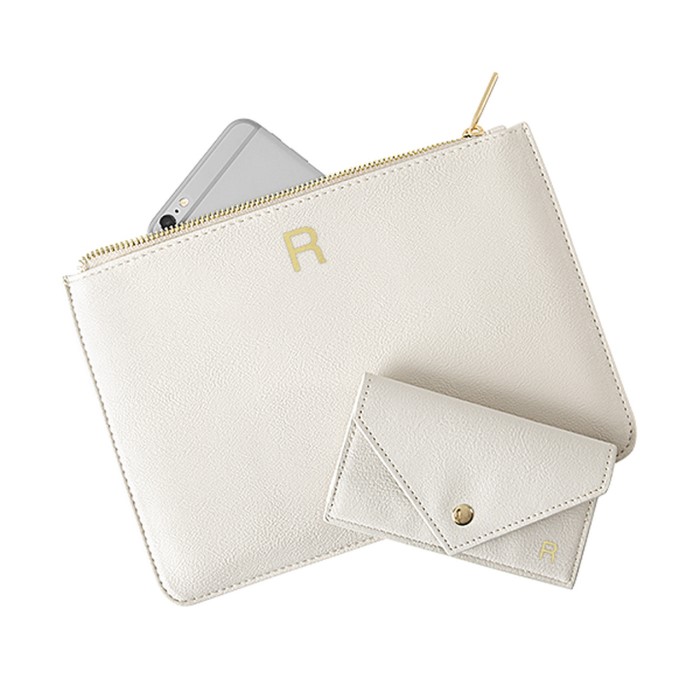 There is no doubt that these real leather clutches are a fashionable choice for both yourself and your loved ones. Additionally, this bag may be personalized with a name, creating unique personalized gifts for women.
11. Engraved Earring Case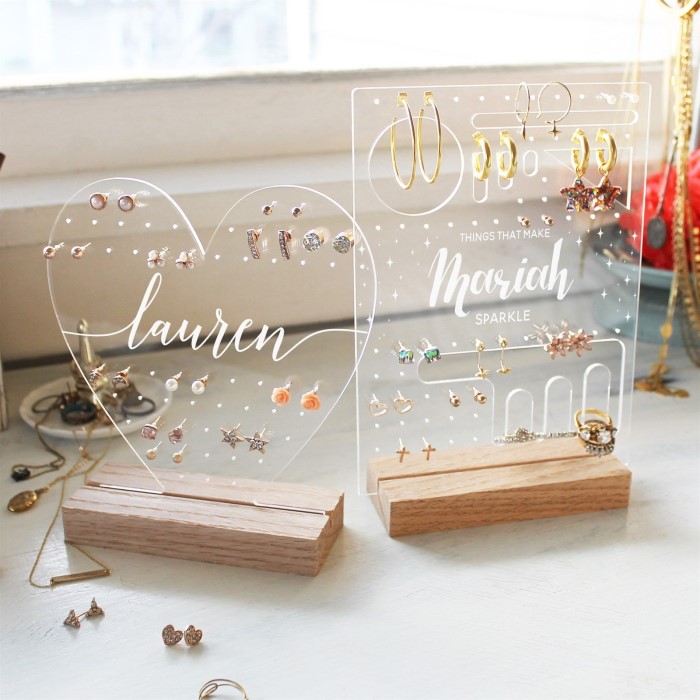 The more attractive it appears, the more probable she is to use it… right? Customize the shape of this wood or acrylic jewelry holder, from hearts to unicorns, and then add her name for an additional dose of personalization.
12. Snap Tote Bag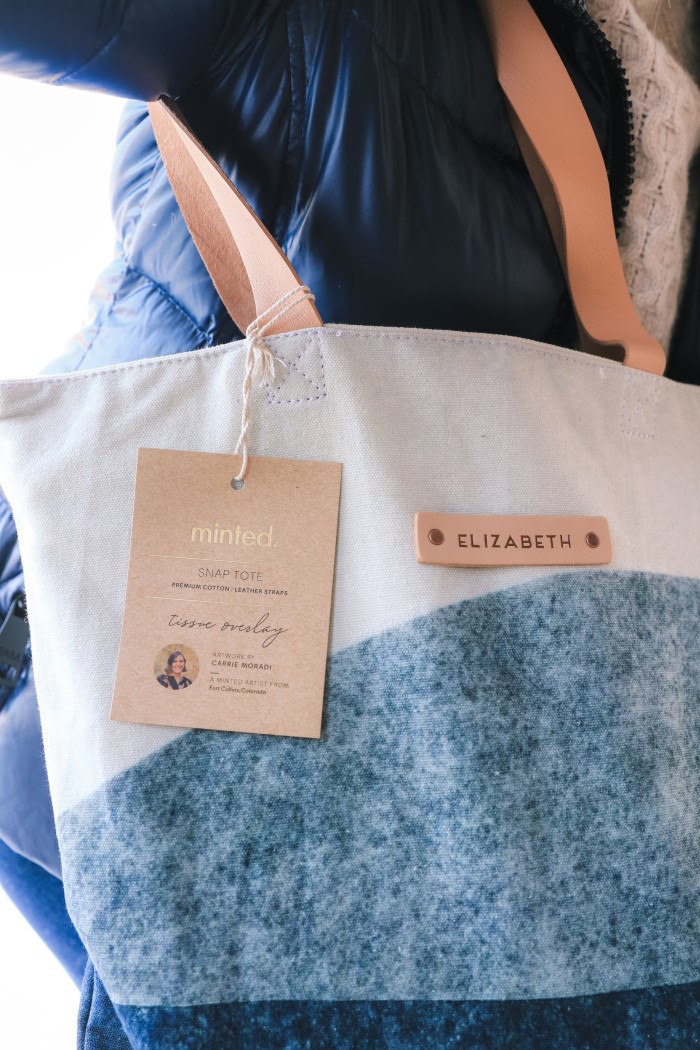 This easy-snap tote can be used for a variety of purposes, including carrying groceries, work supplies, and even kid's toys and clothes. All due to the leather strap and pressed tag, it's robust enough for everyday usage while also looking sophisticated enough for more formal occasions.
13. Personalized Handwriting Bracelet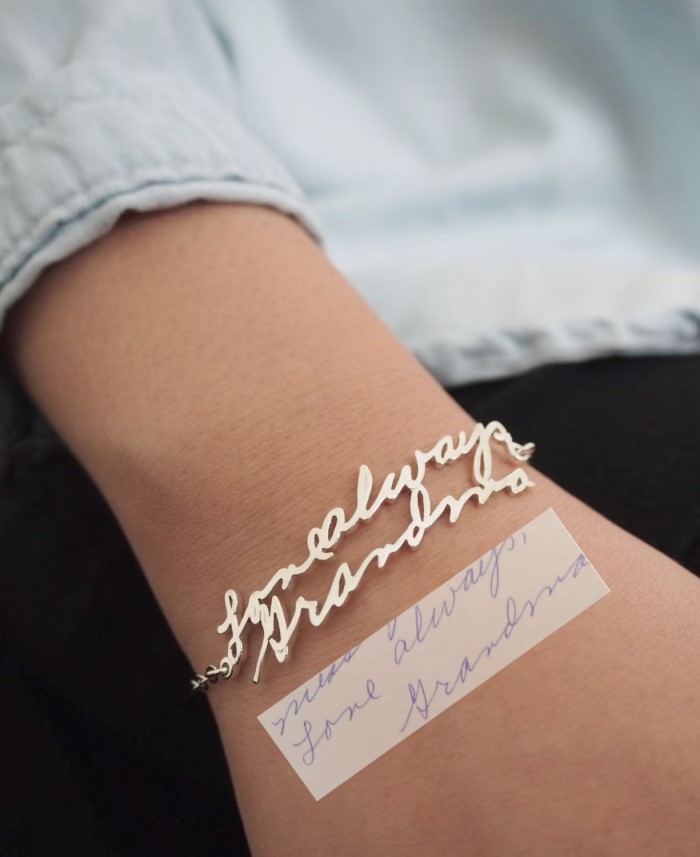 Make a sentimental bracelet out of your handwriting by penning a message on a piece of paper. Choose a meaningful sentence for you and your loved one, or go with something simple.
>>> Recommend reading: 40 Adorable Sunflower Gifts For Her That Brighten Up Her Day
Customized Gifts For Her To Brighten Up Her Space
14. An Individualized Map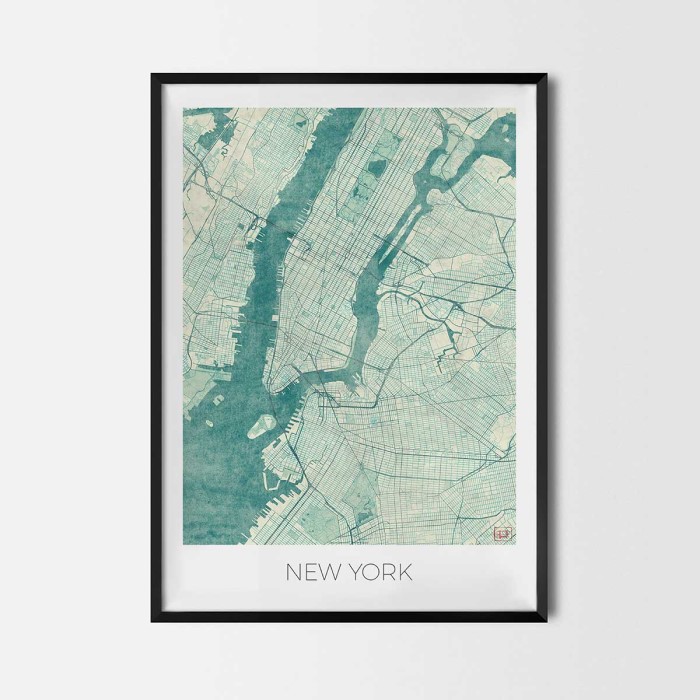 Does your significant other have a place in her heart that she cherishes? Is this where she grew up? What city were you in when you first met? No matter where you are, you may create a magnificent poster for her using a map of the location.
25. Street Sign Art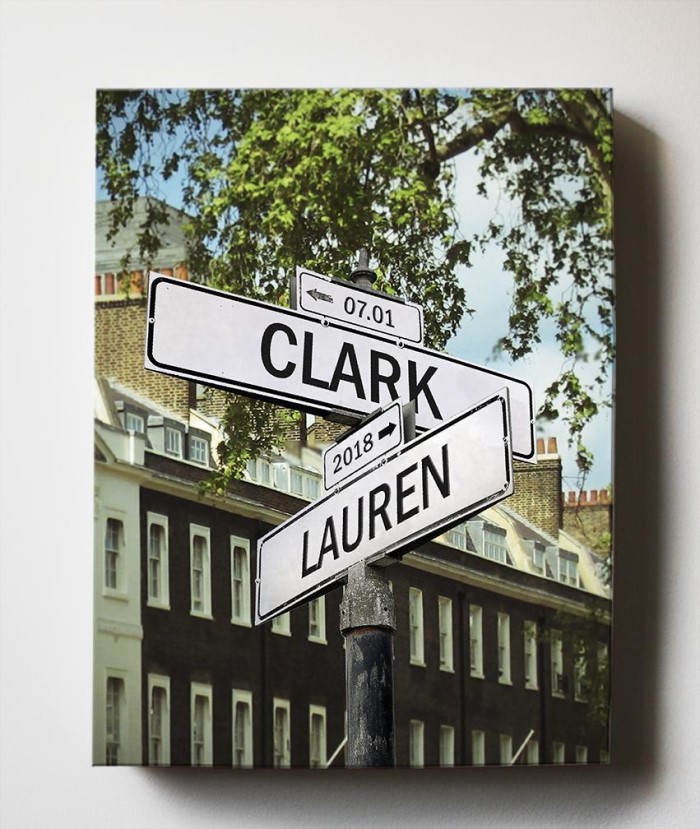 For her entire life, she'll be able to admire this stunning piece of art. Lovers road street art is a photo of a road sign that can be personalized with your and your partner's names and the date you first met, making it a unique way to commemorate your relationship.
16. Handcrafted Candles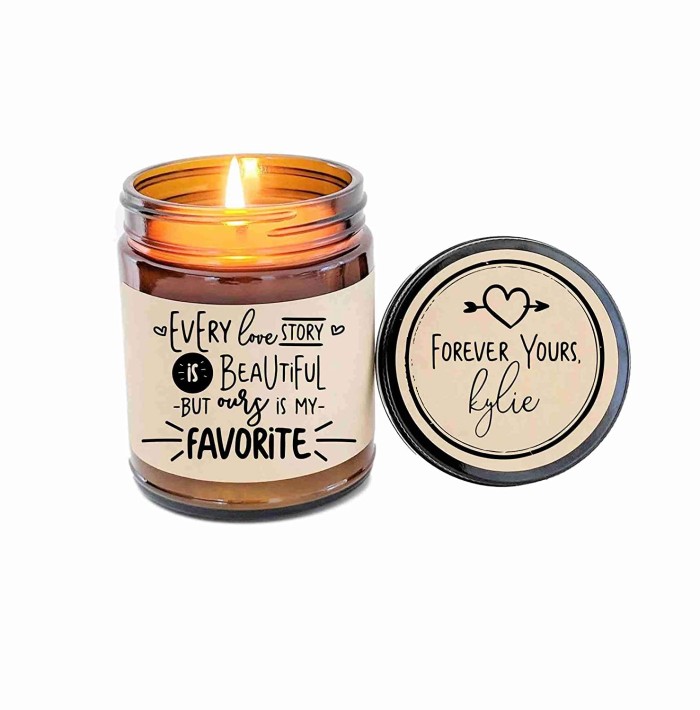 In order to make their girlfriend feel special, men all around the world have long used candles as one of their go-to presents. However, these handcrafted candles are personalized with a wonderful quote and the words "forever yours" and your name. These candles are perfect customized gifts for her that bring the special to her space.
17. A Custom Vase
If you want to give your wife a present that will make her grin twice as big, give her this vase and some flowers. Collage fifteen of her favorite pictures onto the wonderful vases; it will mean a lot to her. You'll be shocked at what it really means to her.
18. Long-Distance Relationship Artwork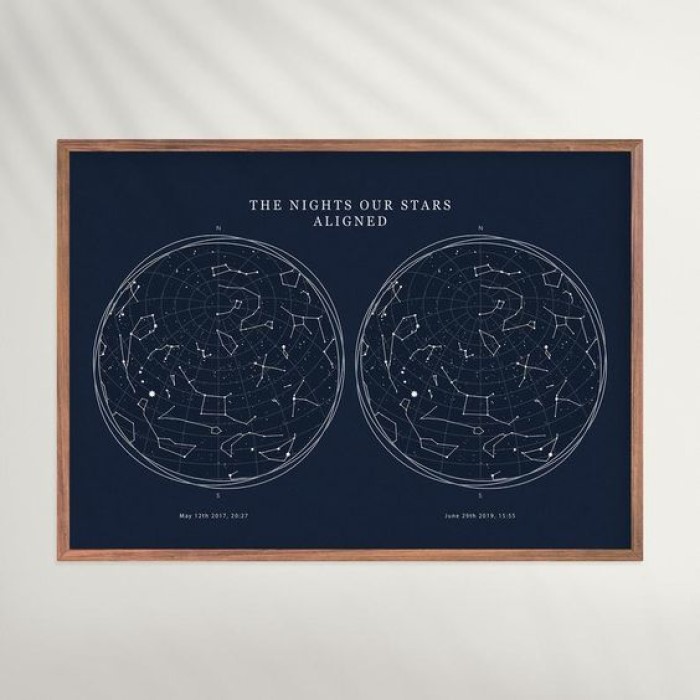 With this constellation print, you may bring a smile to the face of the woman you care about, even if she's thousands of kilometers away from your arms right now. Has the same sky been printed and framed from both your and her locations, so that you can compare the two perspectives on the same event?
19. Beautiful Tree Art Print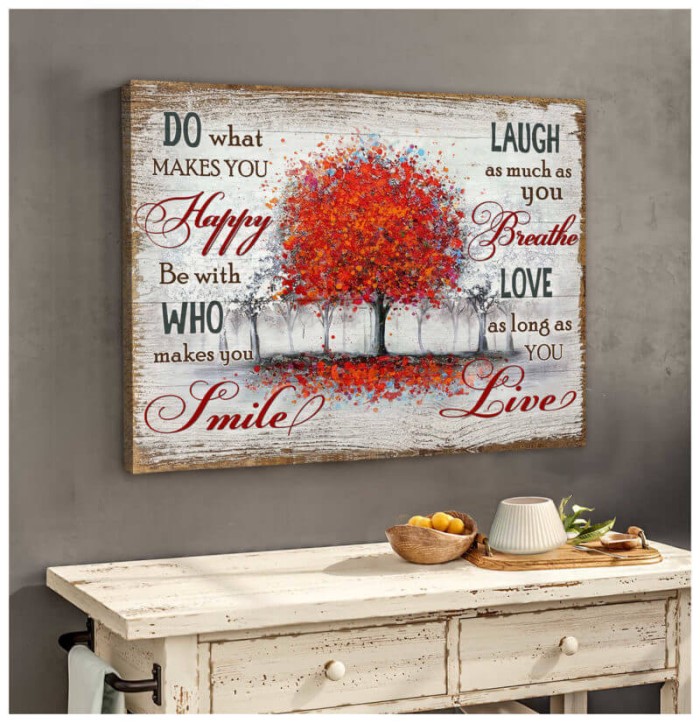 This print can help your women remember that she can do whatever she wants, and lives the life she dreams of because she deserves all the best things in life. Although it's just a simple present it carries great meaning. Consider one of the great customized gifts for her from Oh Canvas, you will never be disappointed.
Customized Gifts For Long-Distance Relationship
20. An Anniversary Wine Box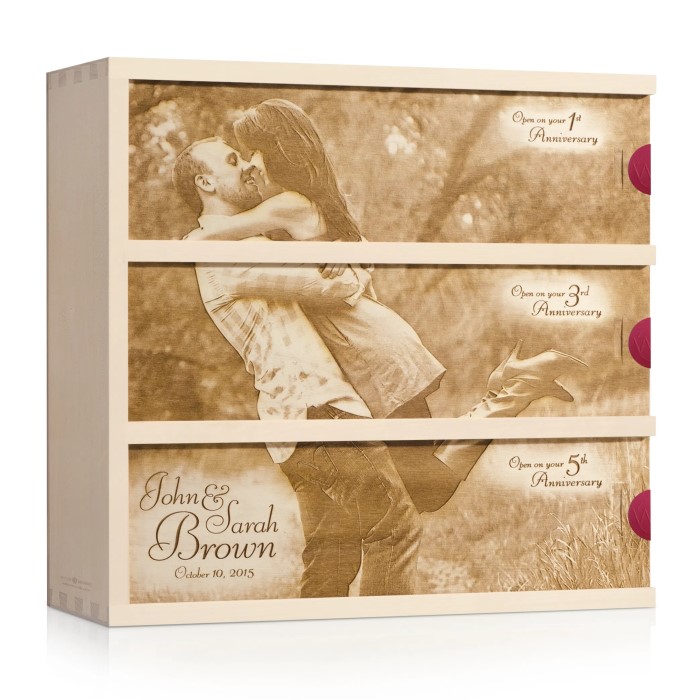 The question is whether or not you're a true romantic. If yes, you need to check out these unique personalized gifts for women. The box comprises three different bottles of wine, one for each of your first, third, and fifth wedding anniversaries, with the inscription of your choice etched onto the surface of the box. A thoughtful present that she will treasure.
21. Paperweight With Custom Map Design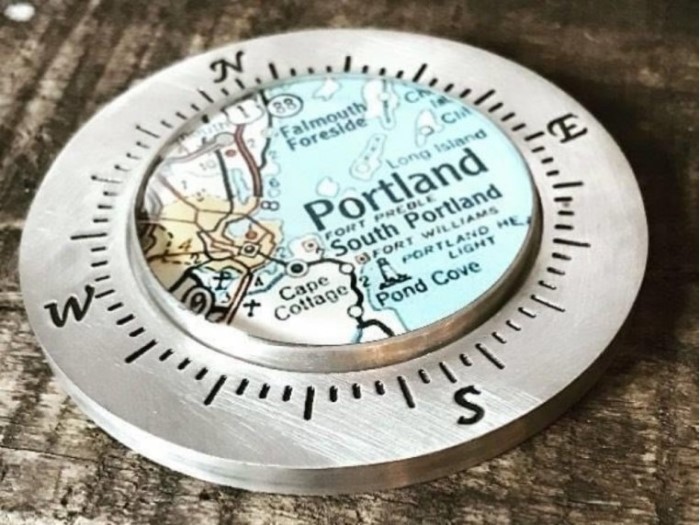 When it comes to your relationship, is there an area you and your mate have a deep connection? This map paperweight may be personalized to depict your favorite area, making it a permanent reminder of that special place in your life. It's one of the very unique gifts for her that she'll appreciate.
22. Personalized Mug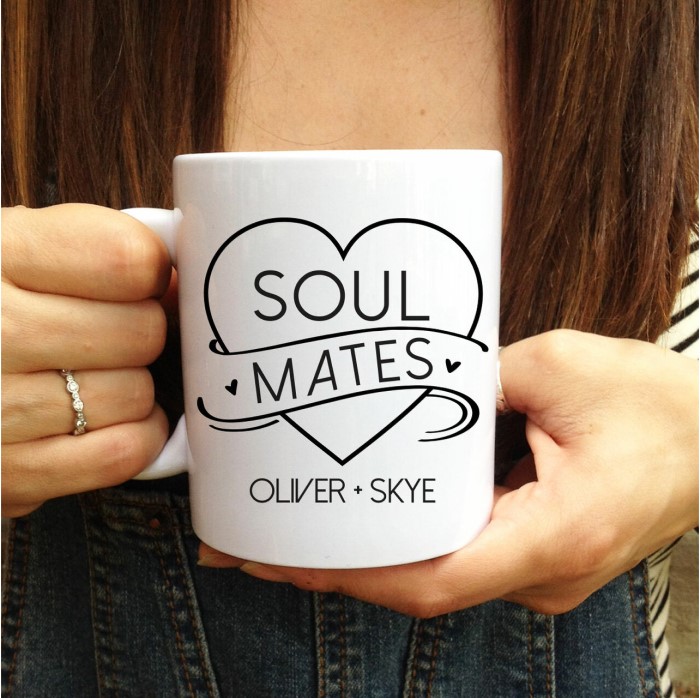 Got lucky and found your soul mate yet? In your eyes, who is it? Possibly even your soulmate? You may show her how much you care for her by giving her this mug as a continual reminder. With the words "soul mate" and each of your names engraved below a heart, it's a keepsake she'll cherish for a lifetime. You think it's simple, but it is one of the perfect customized gifts for her that you shouldn't ignore.
23. Apple Airtag With A Personal Touch
A Bluetooth tracker is an ideal solution for the person who's continually looking for their key, wallet, or handbag. You can use Apple's vast range of nodes to locate your missing item, and the AirTag does so with incredible precision. However, the possibility to personalize your purchase by up to four words or icons when you shop from Apple makes it even more memorable and present-like. Make her feel special by including this item in personalized gifts for her.
24. A Custom Passport Holder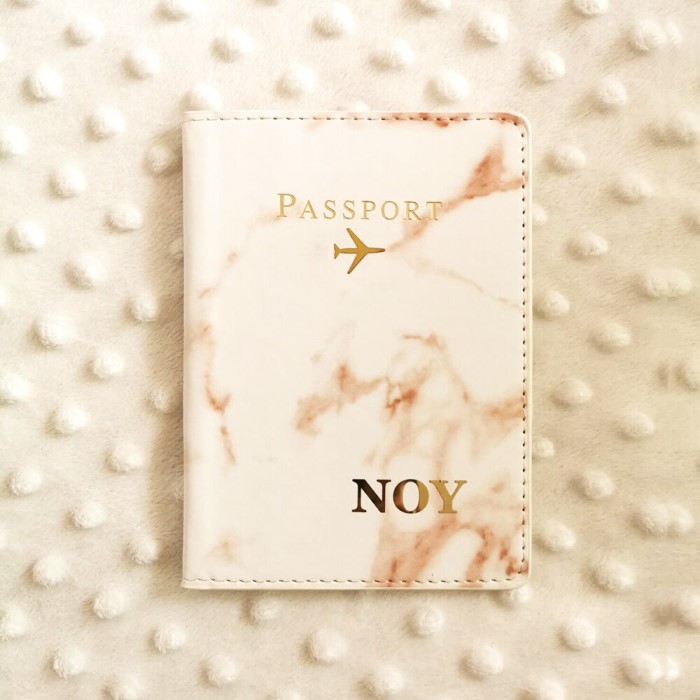 Make sure you keep your passport safe while on the road by using this monogrammed leather passport cover. Hand-stitched and constructed from top-grain leather, this cover can store two passports.
25. Shortbread Cookies With A Message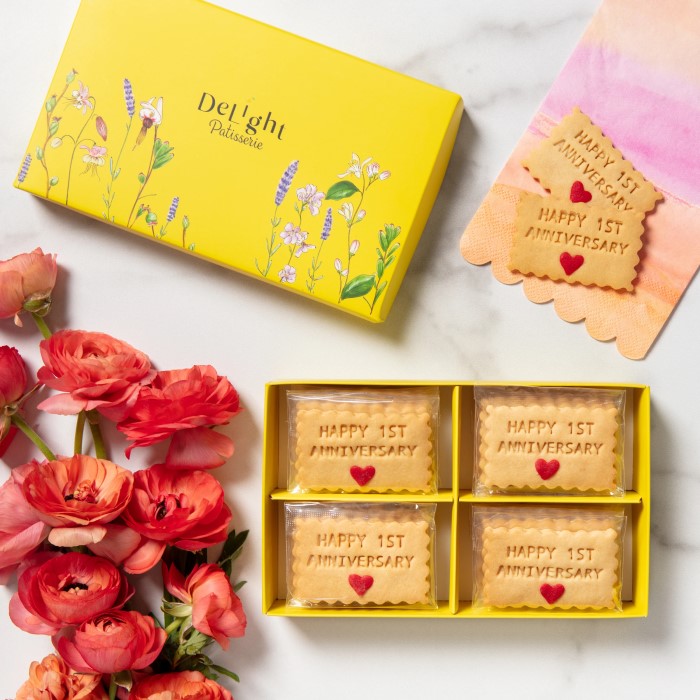 To get your point though, you don't have to write a dreary email or text message. This holiday, make a batch of vanilla shortbread cookies and decorate them with a sweet message to give to your beloved one. Add this idea for your customized gifts for her list to create a surprise for your women.
26. Cutting Board For Recipes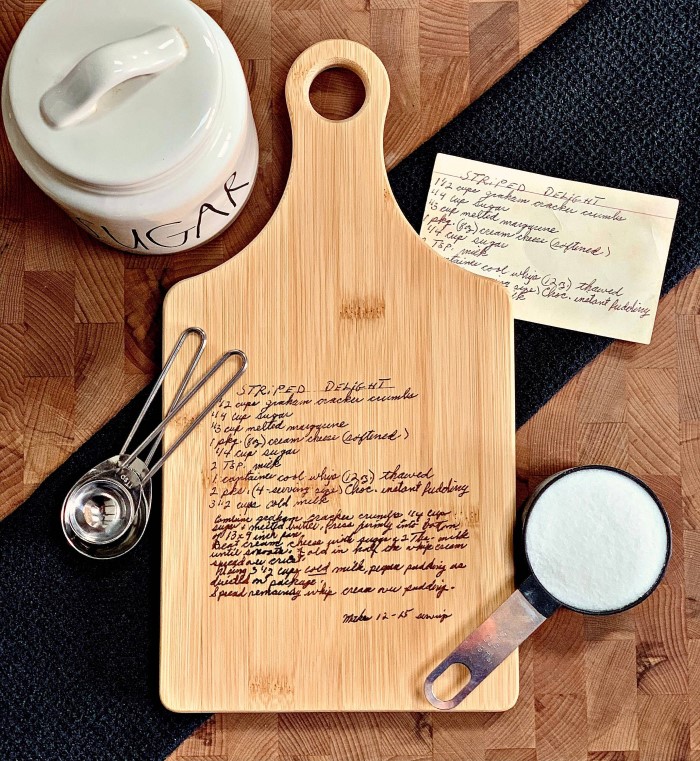 Make an heirloom out of a recipe that has been handed down through the family for many generations now and for generations to come. If you find the handwriting version and give it to the vendor, you'll have a one-of-a-kind piece for her kitchen.
27. Tea Towels With Birth Month Flowers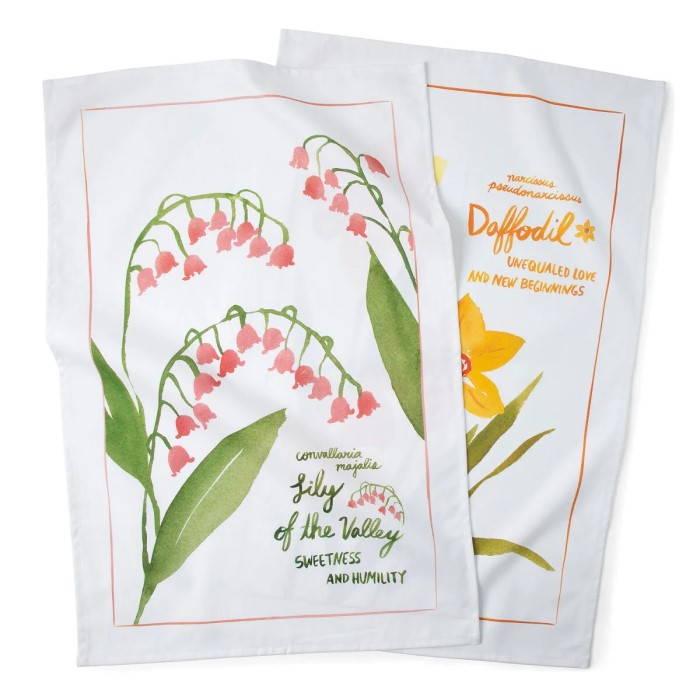 If you're shopping for a hostess who has everything, this embroidered tea towel is a charming way to express your care about her special day. Choose a design that fits her birthday month, or simply choose one that compliments her kitchen's style.
>>> Recommend reading: 30+ Gorgeous Long Distance Relationship Gifts For Her In 2022
Personalized Photo Gifts Ideas
28. A Photo Book
You can have one of these amazing photo albums delivered right to your house in just a few easy steps. An ideal way to offer your wife or girlfriend a keepsake she'll cherish for years. Choose the most lovely pictures of her and you to create a one-of-a-kind present
29. Lovely Custom Canvas Print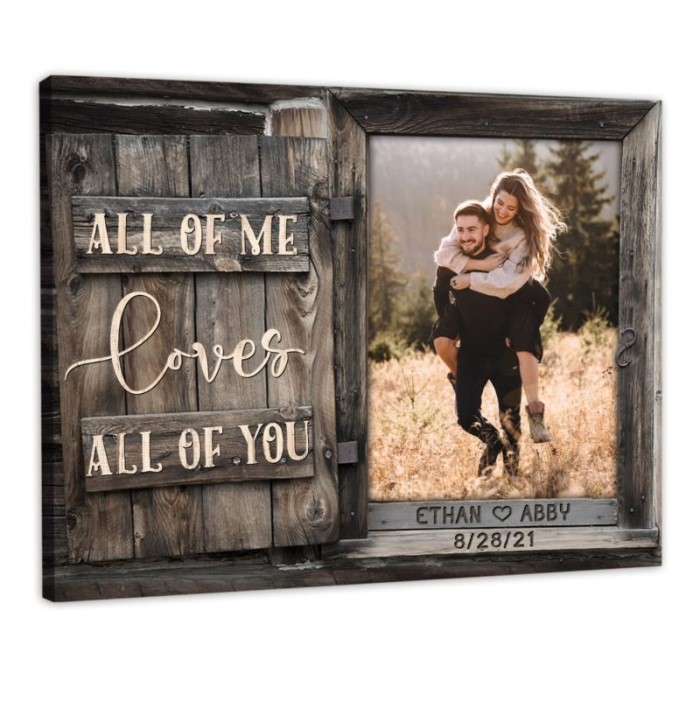 What better way than a custom canvas for her to show how much you love and appreciate the women in your life? With a sentimental sentence combined with the best photo of both of you, you can create a present that she will treasure for a long time because of its meaning. Why not take a look at Oh Canvas to choose the best-personalized canvas print for your beloved one? I believed that she will really love these pieces.
30. Photo Puzzle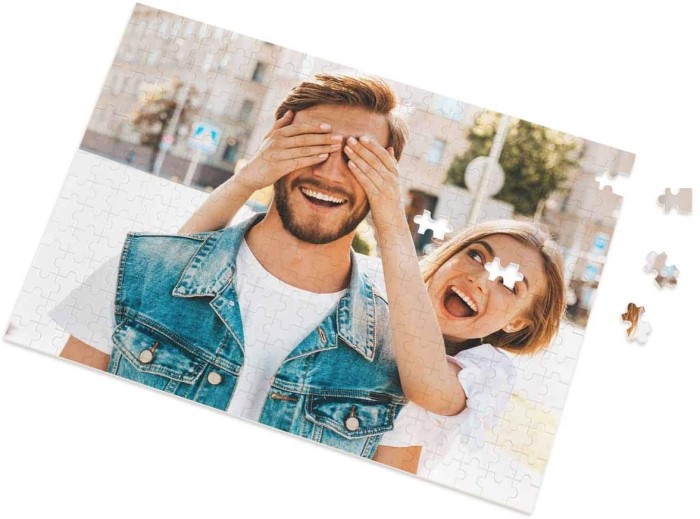 In addition to being a fun activity, this unique puzzle captures a special moment in time. Customizable puzzles come in a wide range of sizes and levels of complexity, so you may try your hand at something easy or challenge yourself to something tougher. Add these puzzles to your list when it comes to customized gifts for her to make your beloved one immersed in surprise.
31. Customized Acrylic Photo Paperweight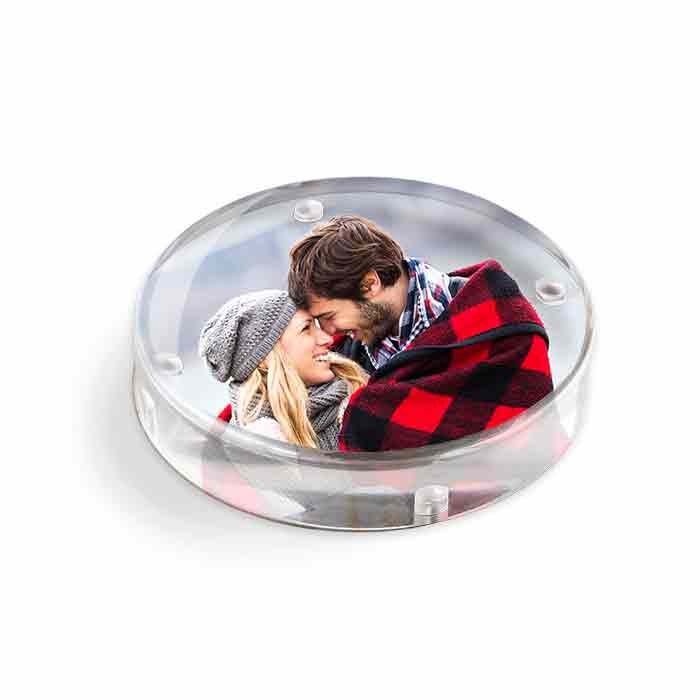 With so much paperwork piling up on their home office desk, this creative paperweight can help keep some of it under control. To ensure that the photo won't fade in time, it's printed on a robust aluminum plate that's heavyweight and crystal clear polymer acrylic.
32. Memorable Photo Calendar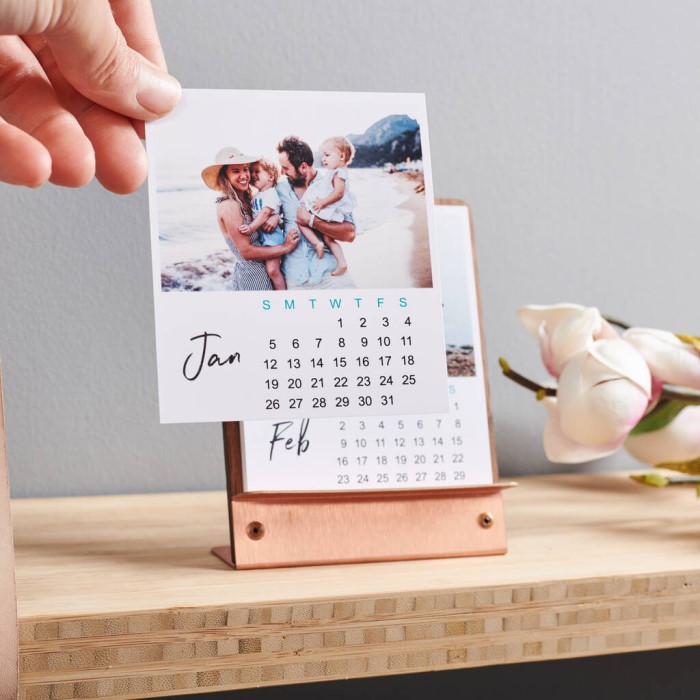 Throughout the year, this calendar will be a means for her to reminisce about the past and look forward to the future. This present is an ideal decoration in her office or any space that she loved.
Read more:
Hopefully, our gift ideas above will help you "troubleshoot" when choosing a present for your woman. Every obstacle in your path to finding the perfect personalized gift for her has been disregarded. There is no doubt that she will feel loved and important no matter what you do. Remember to include a personal note in the package to show her how much you love her. Browse our site – Oh Canvas for inspiration if you're planning to give her a thoughtful present of a custom canvas print.