If you're looking for gifts for elephant lovers, you'll find a ton of fantastic options on Oh Canvas's list. Taking into account someone's interests can help you choose the ideal present for them. And if you both have those hobbies, the gift you choose will help your friendship grow. Additionally, we're confident that these presents will be liked by a variety of animal lovers, not just those who like elephants.
Fashion Gift Ideas For Elephant Lovers
1. Elephant Scarf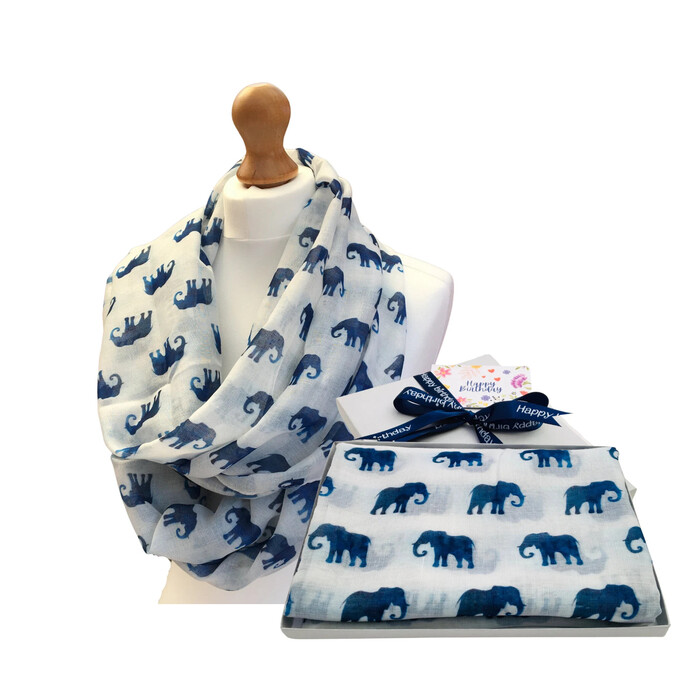 Why not give the people you care about a wonderful scarf to let them know you miss them if you can't be there to celebrate with them? These scarves are ideal gifts for elephant lovers and feature magnificent baroque and painted elephants.
It also has a faded dyed finish for a delicate aesthetic that complements a variety of outfits. These scarves are lovely soft gifts for women and are ideal as a summer cover-up from spring to autumn.
2. Elephant Kimono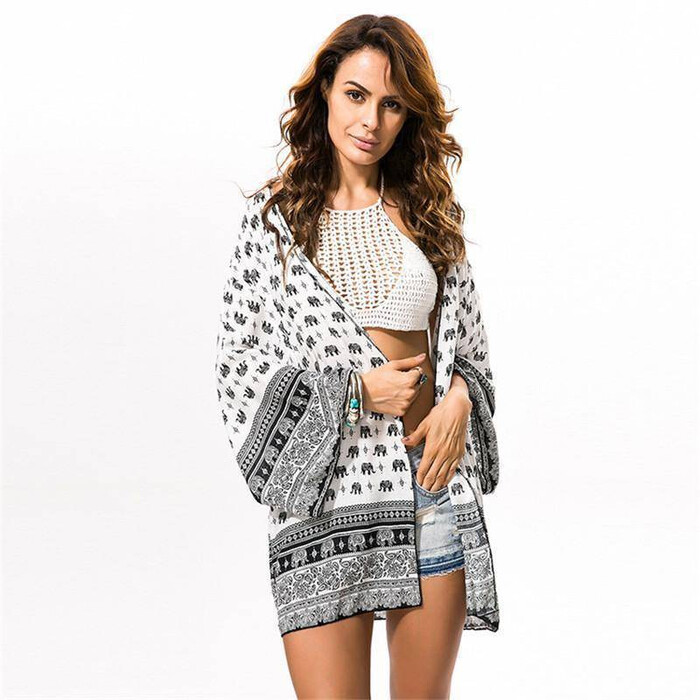 Everyone may wear this one-size kimono, which is exquisitely designed with elephants and mandalas. In addition, black and white go well with all of their favorite outfits. It's the perfect throw-on accessory for wearing around the house, at the beach, or to dress up with jeans and a t-shirt.
3. Stunning T-shirt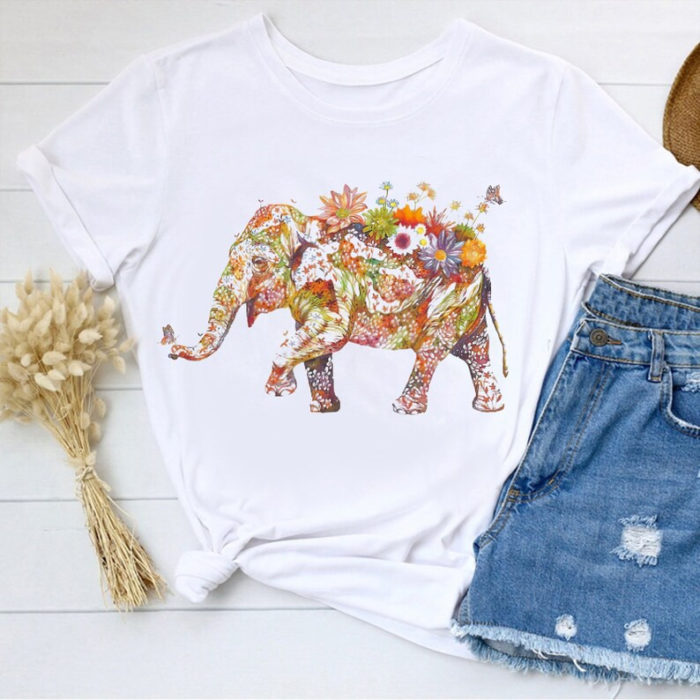 Anyone who appreciates funny t-shirts will appreciate receiving this as a gift. They will undoubtedly think of you each time they wear this shirt.
Home Decor Gift Ideas For Elephant Lovers
4. Cozy Blanket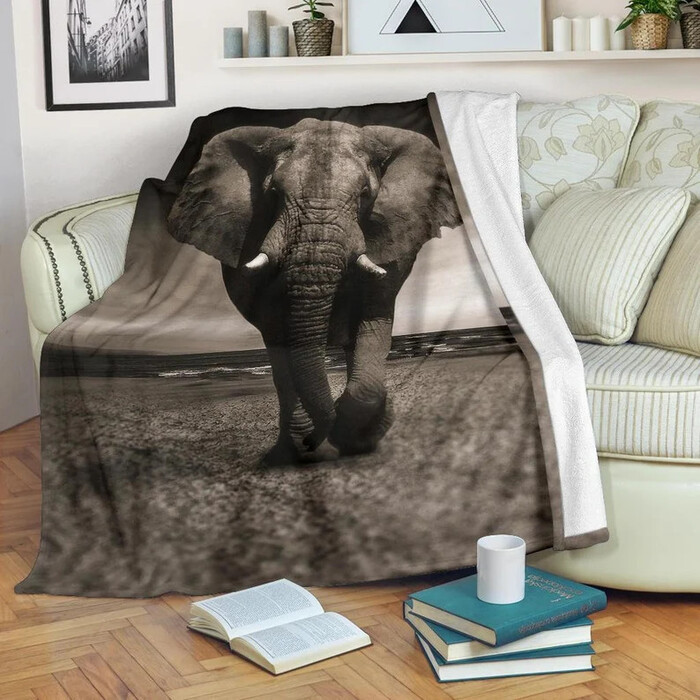 This adorable blanket with an elephant theme won't be able to escape the attention of anyone! It will keep them warm and provide a sense of elegance to their living room or any bedroom in their house during the coldest winter months.
5. Elephant Matchbox
This gorgeous elephant decoration is perfect for showcasing their love for these cuddly animals and would look lovely in any part of their home. The elephant is a forward-facing, head-bent sculpture made of smooth-surfaced cream ceramic. It comes packaged in a beige matchbox with a cursive border on it.
6. Elephant Ornament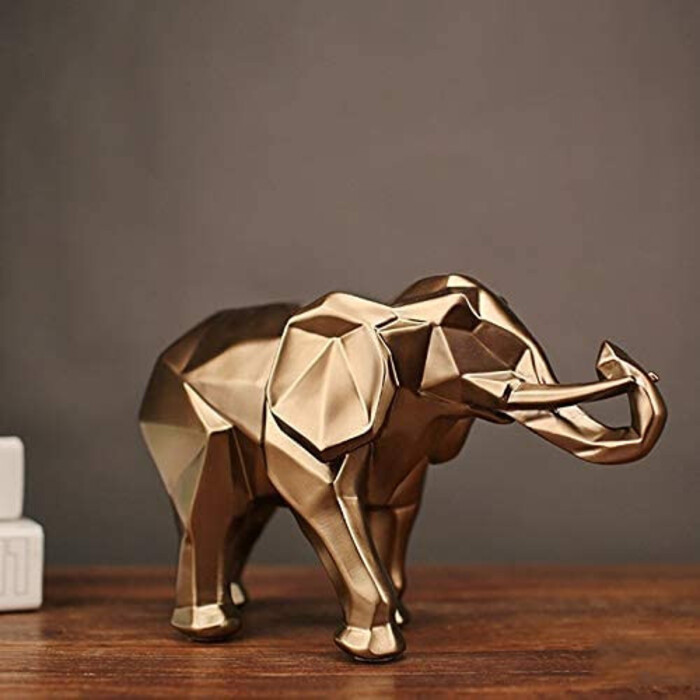 Due to its care and beauty, this elephant ornament will become a staple in your friends or family's drawer! These ornaments are one of the coolest gifts for elephant lovers that you should consider.
7. Night Light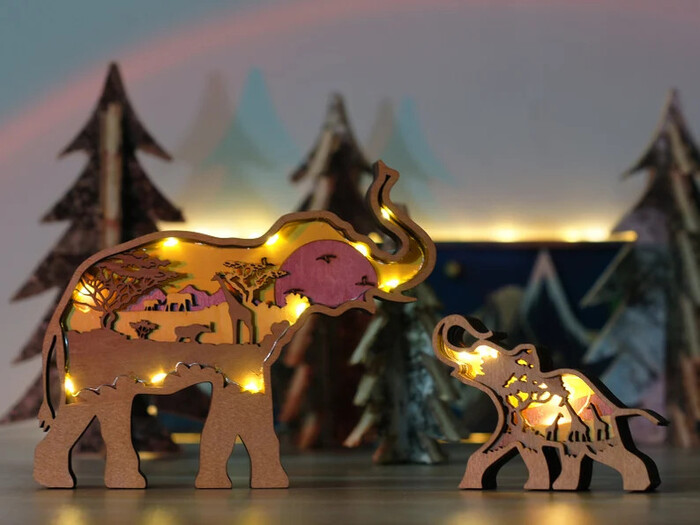 This magnificent elephant night light is fashioned from wood, and only the most talented artisans painstakingly handcrafted the pattern. Any room in the house feels more tranquil and soothing because of the lamp's general warm tone, which is created by the bulb within and the outer wood.
8. Elephant Pot Hanger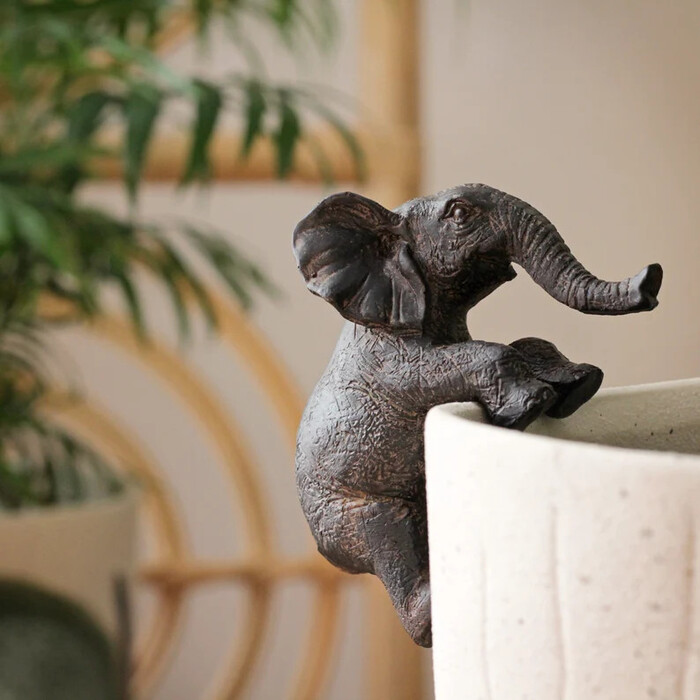 They may make a tropical paradise in your house and garden by using these lovely elephant pot hangers. These stunning pots will wow any guest who enters their home.
9. Wall Decor Art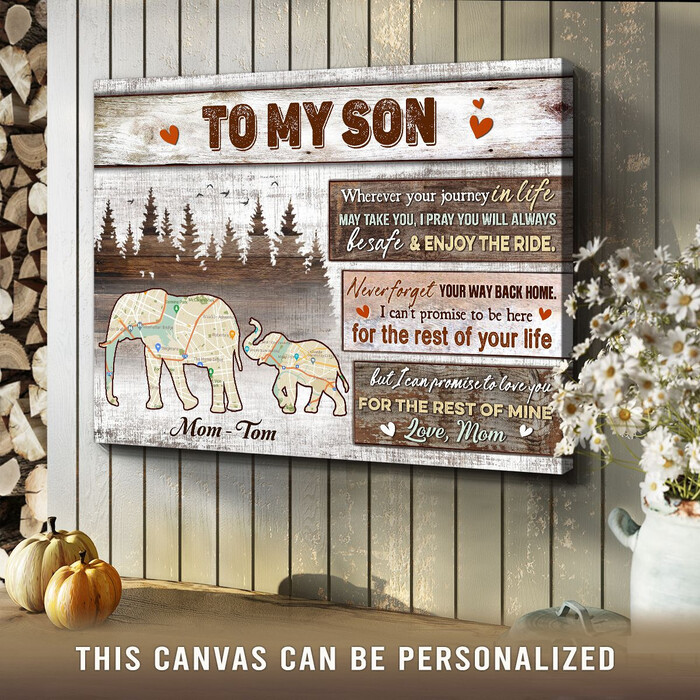 This painting is an awesome gift for anyone you care about, not only elephant enthusiasts. Elephant paintings and sculptures are said to bring luck when displayed in homes and workplaces. This one is ideal for use as wall decor in a bedroom or office.
10. Elephant Bookends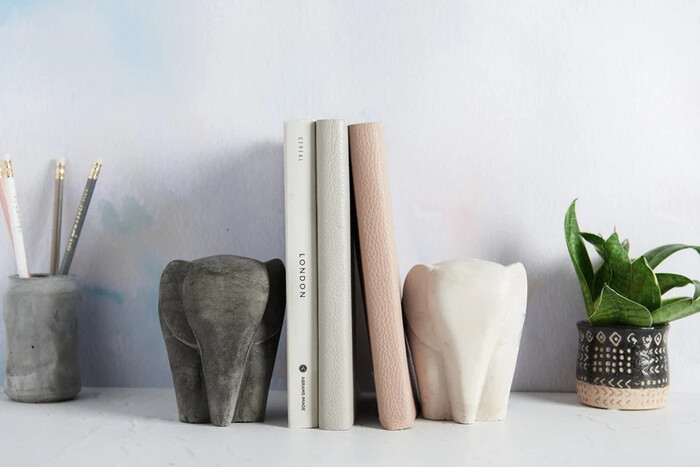 Elephants are solid and powerful, making them ideal for supporting the books on the bookshelf of your favorite elephant lover! These adorable bookends depict two large, giggling elephants that are strong enough to support several thick books. A fantastic present for everyone who likes reading and elephants!
11. Wine Bottle Holder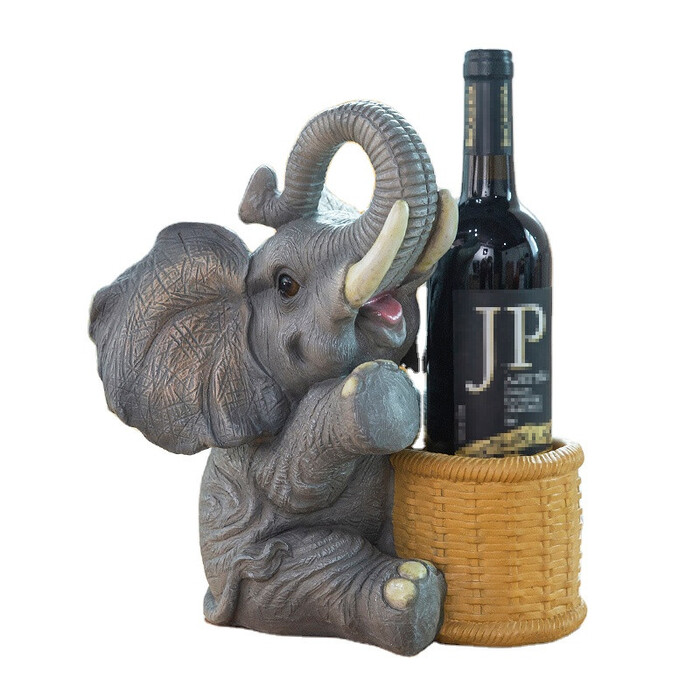 Because of the elephants' gentle giants and because of their kind nature, you may give this wine bottle holder to a recipient with confidence that the elephant will hold their glass wine bottles firmly and carefully.
12. Ring Holder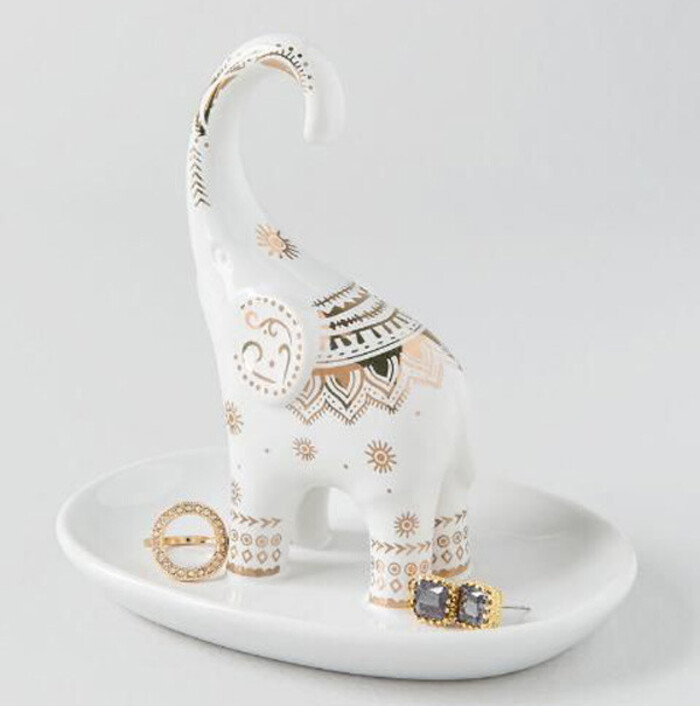 This ring holder is a practical and essential jewelry organizer that every woman and man needs! Each piece is expertly crafted from premium ceramic, ensuring that it will last for many years of use. It is believed that having elephants by the front door will bring the family luck, safety, and strength. Rings and delicate jewelry can be stored on the dish or in the vehicle's trunk!
13. Elephant Doll Toy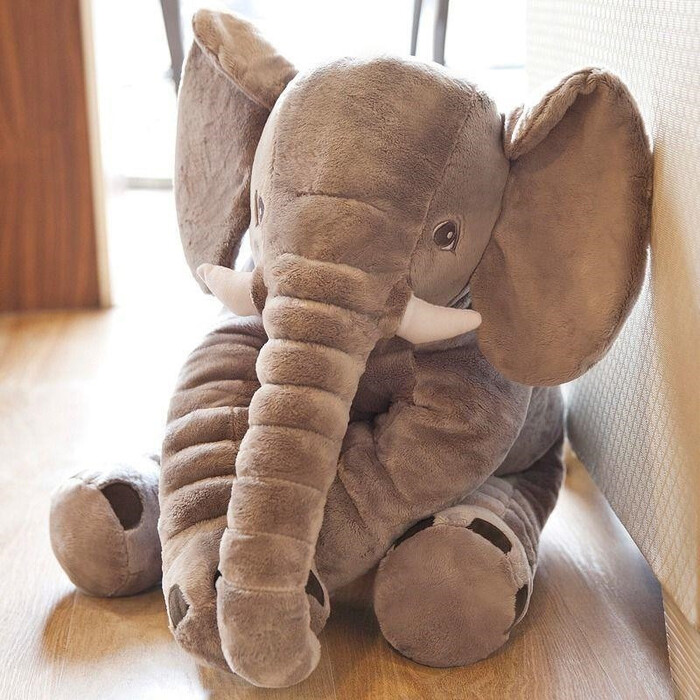 This is the nicest toy you can give an elephant lover who is a toddler and enjoys soft toys to win them over as a fan. It is made from materials of the highest quality and is held together by a suction cup component.
14. Elephant Shower Curtains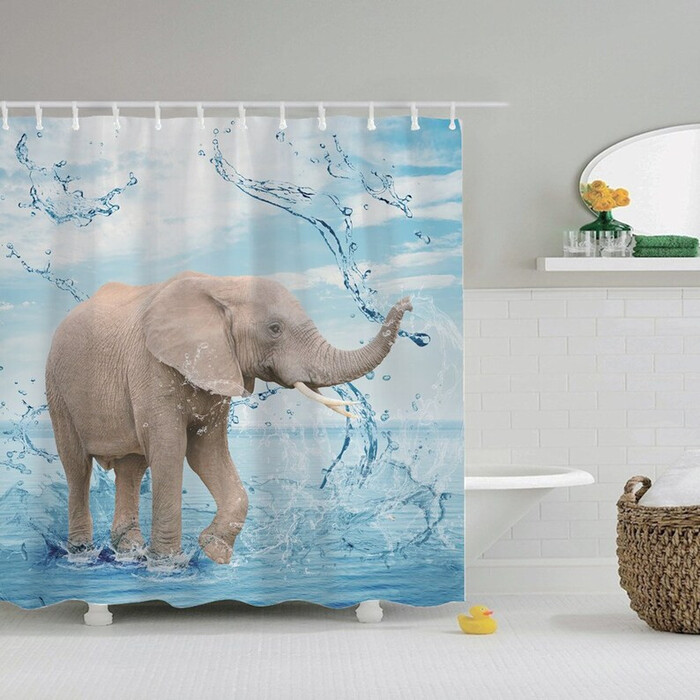 The master bathroom will have a bohemian feel with this vibrant shower curtain. Its patterned elephant pattern and vibrant flower details give style to a simple bathroom, especially if they're renting and have limited remodeling options.
15. Elephant Planter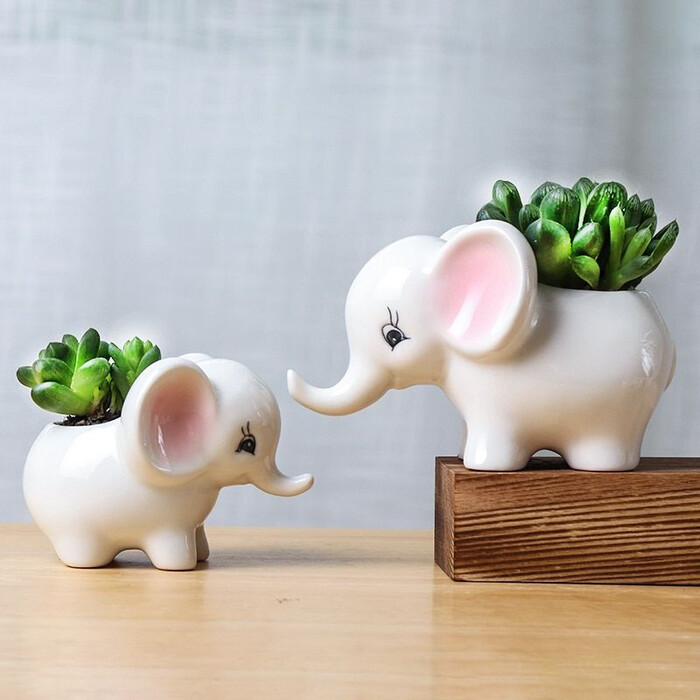 This set of ceramic planters with white elephants is very adorable! Each planter has a draining hole that enables water to percolate through the soil, keeping plants from becoming overwatered. Although they were made with live plants in mind, they may also be used to store a variety of other things, such as chocolates, paperclips, or pencils. They will adore these pots as lovely gifts for elephant lovers from you.
16. Customized Portrait Art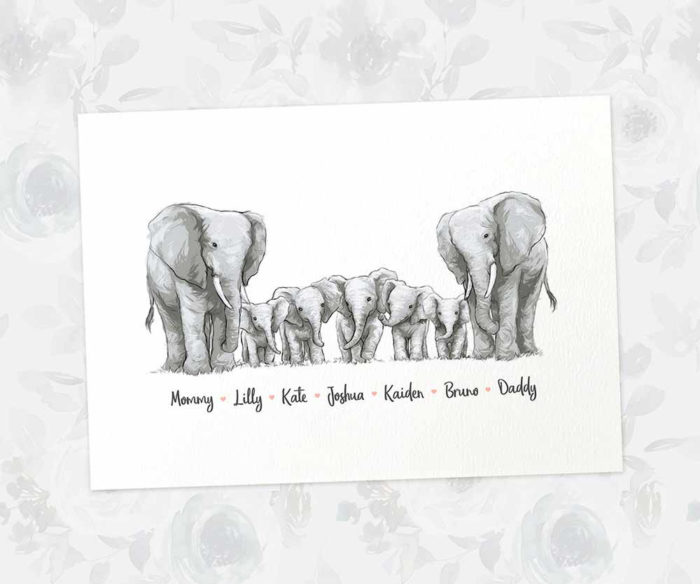 This customized family portrait of elephants is a charming image of your herd. Select the unframed print's size, then enter the names of your family. Elephants can be added in any number, with both adults and young elephants available. The name of a member of their family will be written under each elephant.
>>> Recommend reading: 44 Best Gifts For Horse Lovers Make Their Heart Skip A Beat
Accessories Gift Ideas For Elephant Lovers
17. Elephant Necklace
It's the perfect item to go with your sense of style or to go with a straightforward, casual look simply. It will be a one-of-a-kind gift that will add significance to important events like weddings, Mother's Day, graduations, and birthdays.
18. Elephant Keychain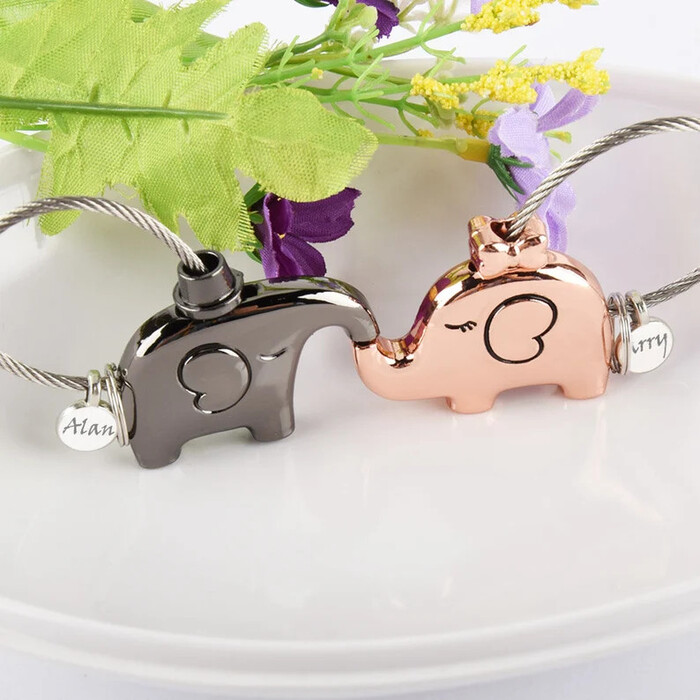 This inspirational keychain will serve as a constant reminder that you are harder, stronger, and wiser than you may realize. The quotation bar, elephant charm, and key ring are all made of alloy and stainless steel, so they are free of lead and nickel.
19. Personalized Elephant Compact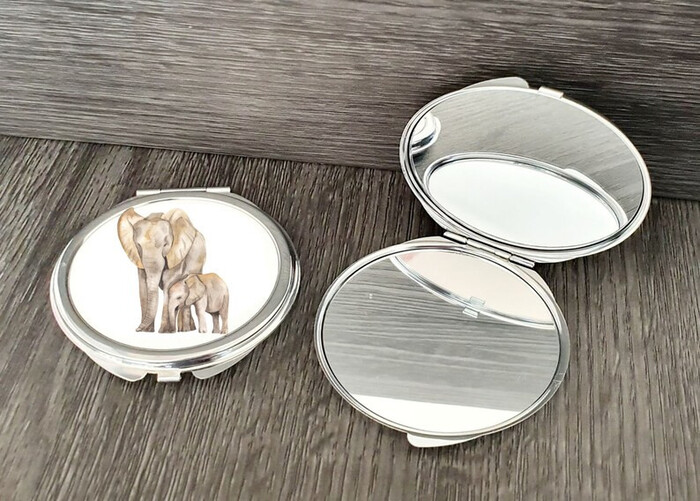 These customized mirrored compacts are stylish on the outside and have a lovely calligraphy font, yet they are also reasonably priced. Give them one of these unique presents for elephant lovers, and they'll be over the moon.
20. Bag Tote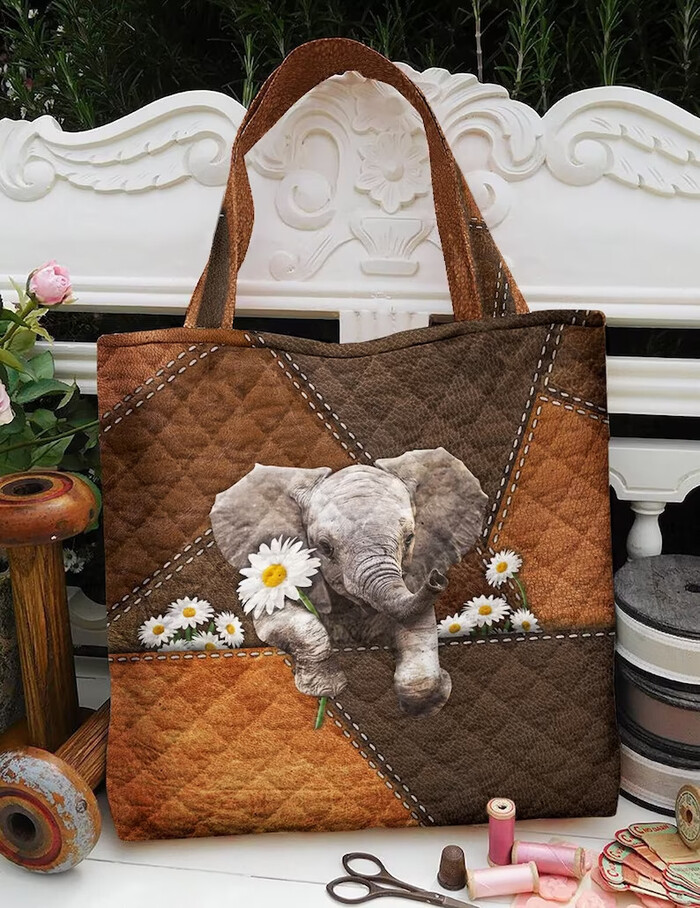 It's not too tough to pair that with a love of elephants, and everyone needs a couple of them. So why not select this elephant-themed tote bag? Its simple yet stylish design makes it a convenient option for daily wear, going shopping, and more!
21. Essential Oil Pendant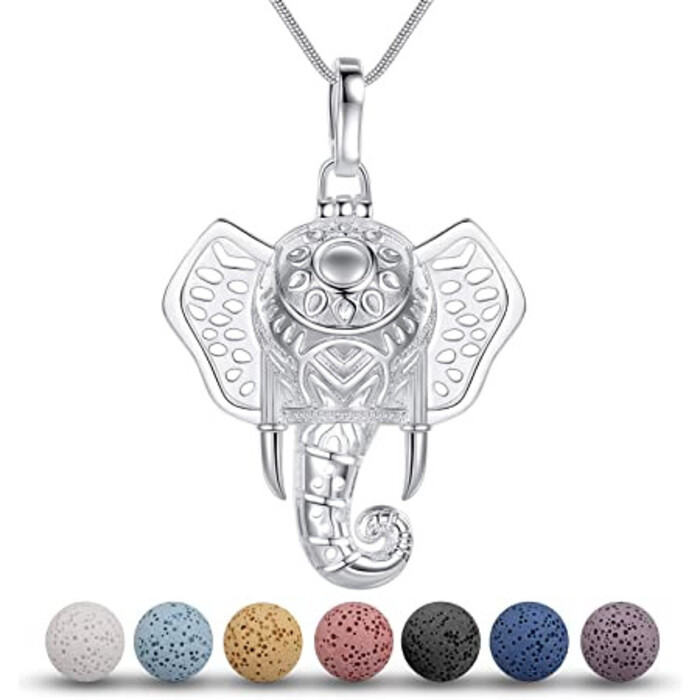 To soothe the mind and senses at any time of day, this elephant pendant functions as an essential oil diffuser, using lava beads as the diffusing medium. In addition to the elephant's symbols of luck and wisdom, the lava stone has its own lucky charms of protection, strength, and fertility.
22. Elephant Wallet
You can't go wrong choosing these wallets as the greatest gifts for elephant lovers. This wallet not only displays their appreciation for elephants but also their taste in a sophisticated design.
>>> Recommend reading: 36 Perfect Gifts For Bird Lovers That They Will Remember
Other Best Gifts for Elephant Lovers
23. House Slippers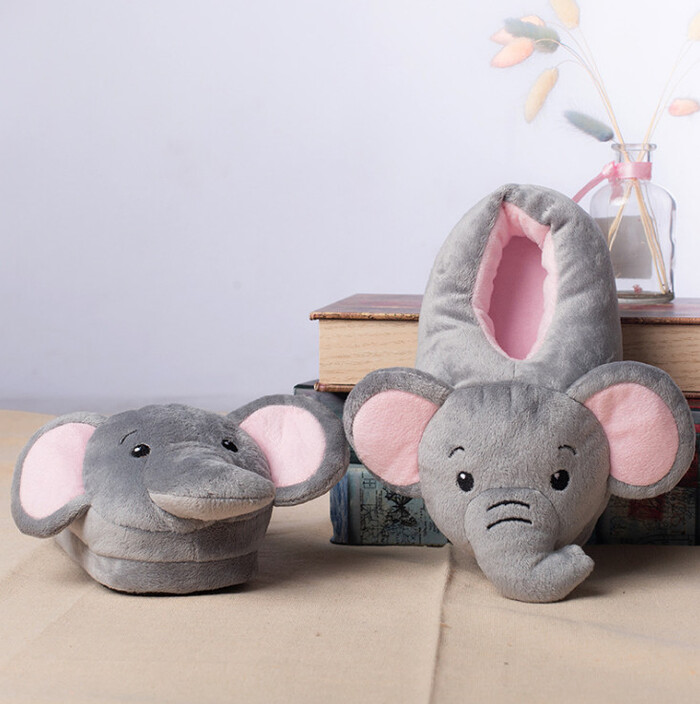 These incredibly plush, warm, and soft indoor slippers make a perfect gift for your mother, sister, father, or anybody else who likes to curl up in their own home. You can get a pair of these slippers for your elephant-loving pal in various sizes..
24. Elephant Teacup
Are you looking for gifts for elephant lovers that they can use regularly? So you really ought to check out this unique elephant teacup. Because it is made of high-quality ceramic, this mug can handle temperatures that are very hot or very cold without breaking.
25. Coffee Travel Mug
Do you prefer a gift that can be of use to your dear elephant lover? If so, think about giving them this travel coffee cup for their birthday or an upcoming significant occasion! Each tumbler is double-walled, vacuum-sealed, and copper-plated, so drinks will stay cold for up to 24 hours and hot for up to 12 hours.
26. Custom Cutting Board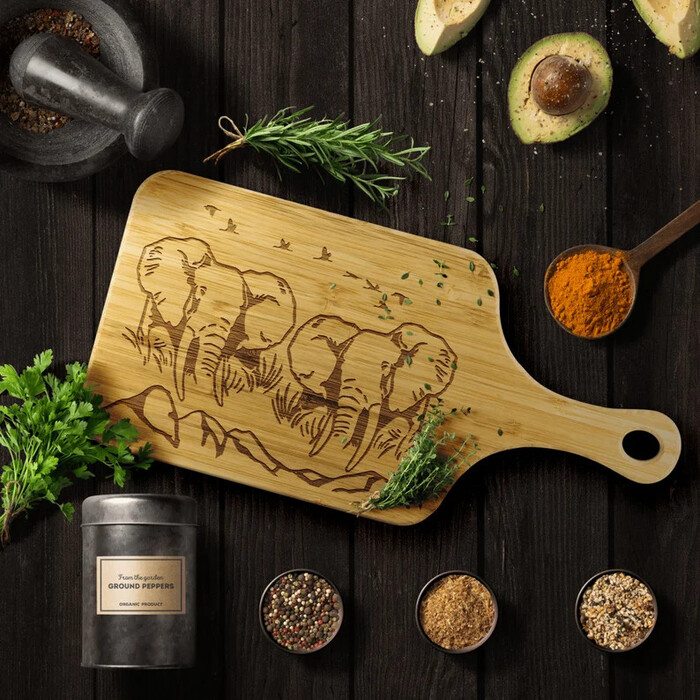 This unique cutting board features an elephant design that is sure to endear it to both the recipient and the giver. The complex elephant on this board is carved using the most advanced laser engraving techniques, and the board is made of industrial-grade solid wood.
27. Couple Elephant Glasses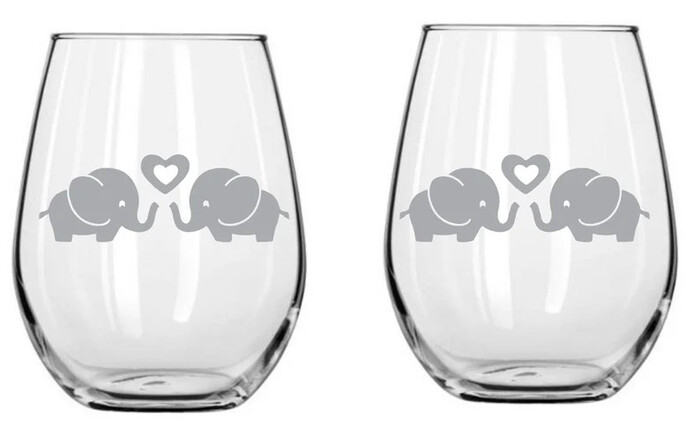 After a long day, is there anything better than sharing a glass of wine with someone you adore? The glass with the elephant couple just elevates any beverage it carries, thus the answer is yes.
28. Salt and Pepper Shakers Set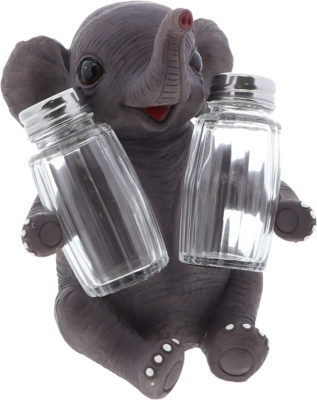 Elephant babies are really cute! As funny gifts for elephant lovers, these cute little elephants will carry the supplied salt and pepper shakers in addition to playing about all day.
29. Elephant Clock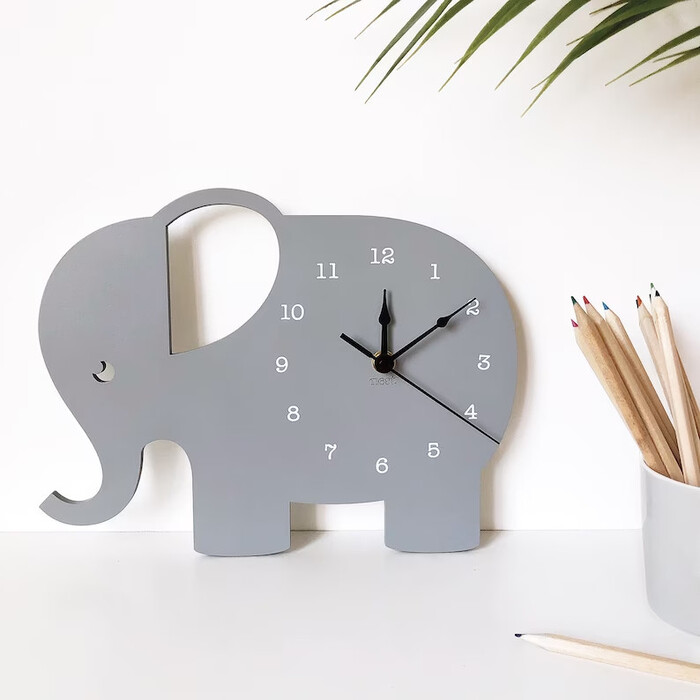 This stunning elephant wall clock may be used for any occasion. It looks amazing on any wall and is perfect for any room in your house or office! Given that it is both beautiful and practical, it makes the perfect gift for colleagues and coworkers who are elephant enthusiasts.
30. Elephant Watering Can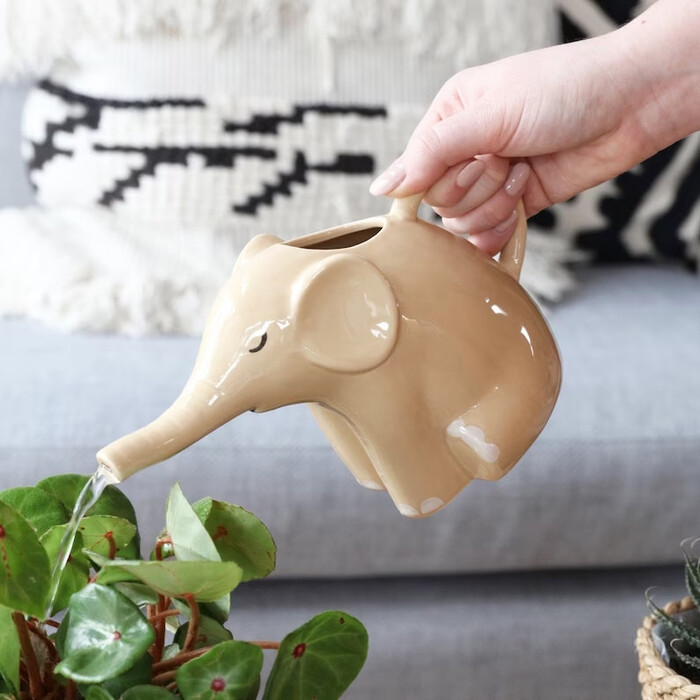 Very affordable yet adorable gifts for elephant lovers who appreciate caring for gardens or indoor plants. This small elephant will tenderly water their plants with its trunk rather than crushing its garden!
31. Elephants Chair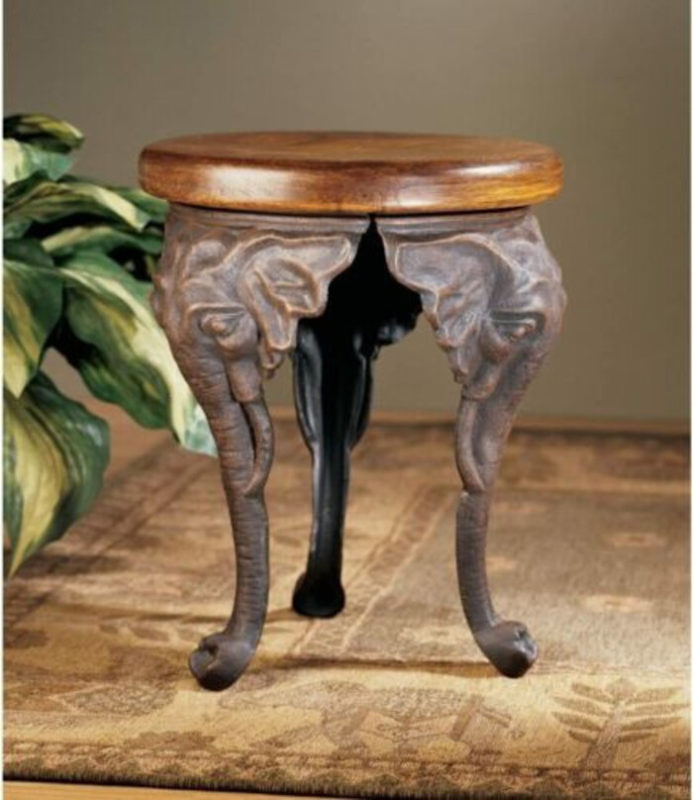 Three elephant trunks are supported by this lovely end table, which looks stunning in the home of anyone who simply enjoys elephants. It's a one-of-a-kind table made by hand from weathered wood and rustic foundry-cast iron that's perfect for displaying their favorite elephant sculptures!
32. Garden Tool Set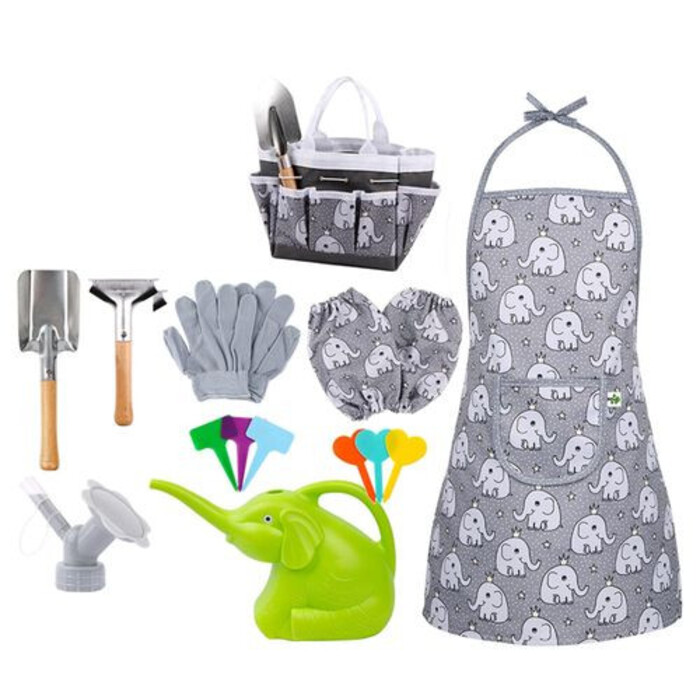 This garden tool set is the ideal option if you're still trying to figure out what to get your elephant fans. They will grin and remember you each time they plant with this set.
33. Tea Tower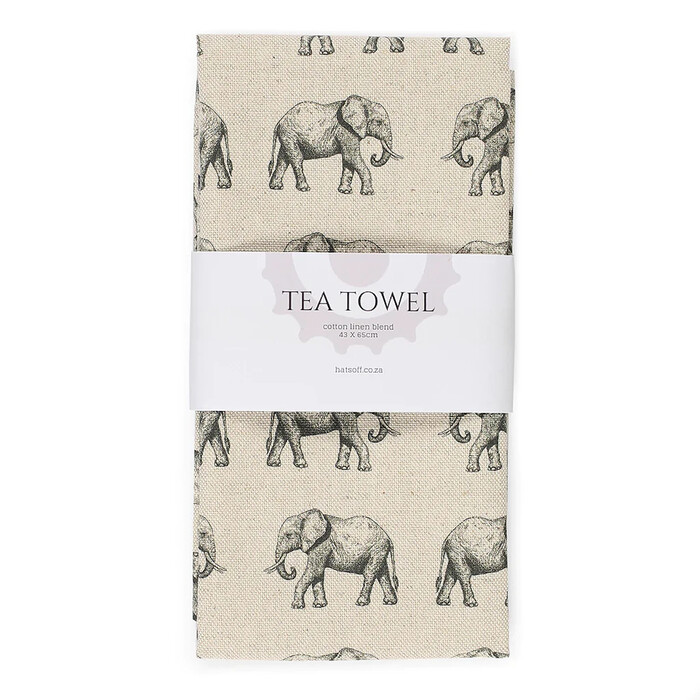 This tea towel with a black and beige elephant print is made of cotton and is not only stylish but also incredibly absorbent, allowing the recipient to dry a mountain of dishes with ease. It would make a wonderful stocking stuffer or a set with the carved snack bowl that is also on this "gifts for elephant lovers" list.
34. Cosmetic Case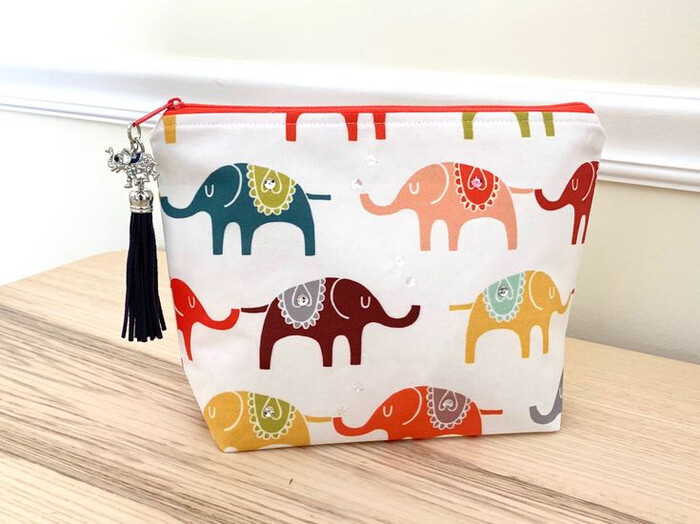 Almost all women require a new cosmetic bag. Why? Because shattered eyeshadow powder and foundation spills seem to cover them so easily! This case is stylishly designed with vibrant elephants that look like they came from Asia. It is big enough to hold all of the user's travel essentials.
35. Carry-On Bag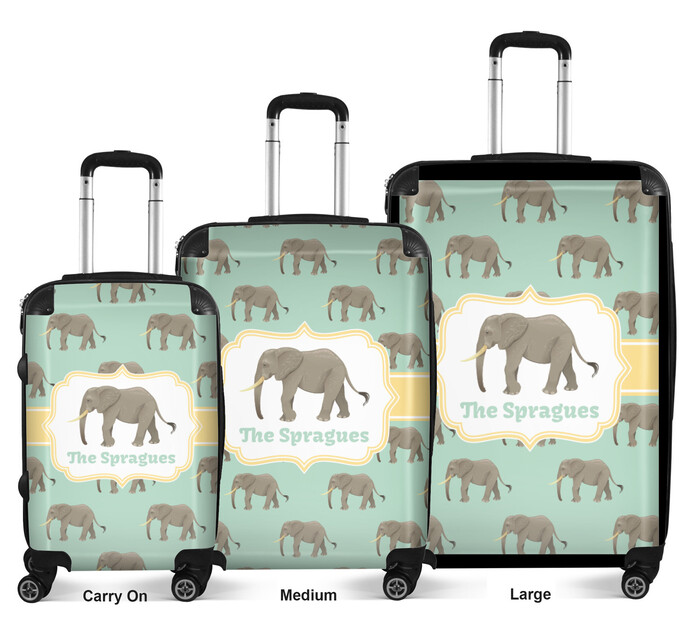 This adorable bag is a duffel that turns into a travel companion by adding four wheels and a handle. It will easily fit in the majority of aircraft overhead compartments and features a completely lined interior with lots of organizational pockets. Perfect gifts for elephant lovers who love traveling.
36. Bottle Opener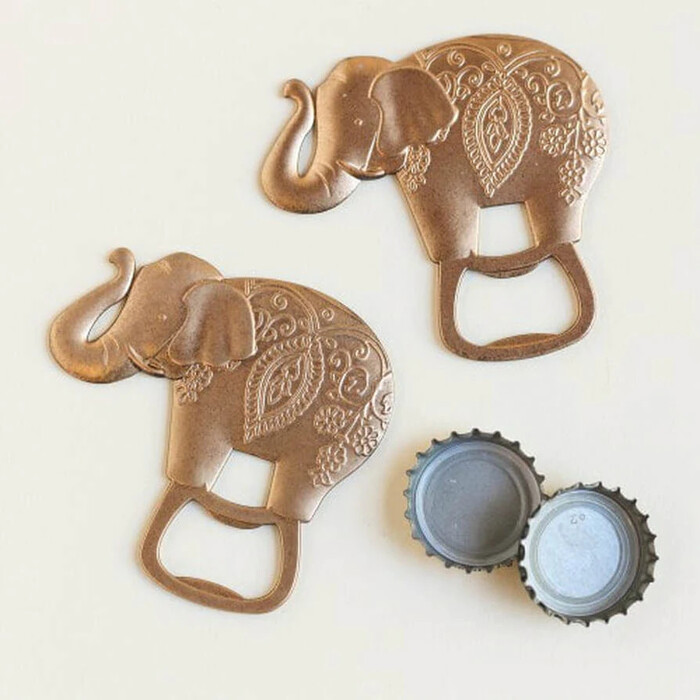 For beer aficionados and elephants, this bottle opener makes a wonderful gift. This unusual bottle opener has a distinct vintage quality and would look excellent on any bar. It is made from a strong and durable zinc alloy.
37. Elephant Gift Set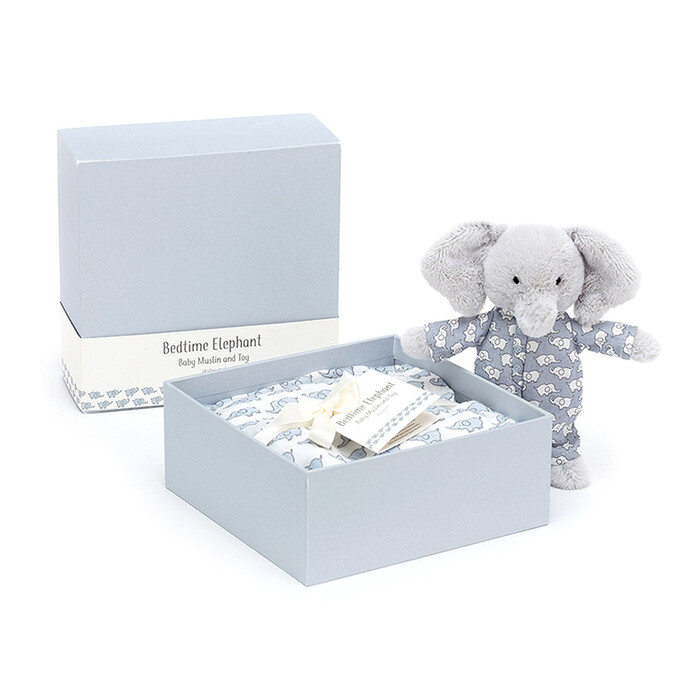 Do you want to win over someone who is utterly infatuated with elephants? If you want to surprise your close buddy, don't pass up these elephant gift sets as amazing gifts for elephant lovers!
>>> Recommend Reading:
These animals are considered to be highly emotional creatures who cuddle close to one another. Therefore, that is one of the understandable explanations for why so many people adore them. They'll appreciate that you took the time to buy them a present with their preference in mind, so think of your loved ones. Do you still require more gifts for elephant lovers ideas? Let's visit our personalized photo gifts section right now.