It is not by chance that people enjoy the winter. It gives excellent occasions for people to please and socialize with. When the winter wind blows across town, it may provide the cozy sensation of a family gathering around the fireplace. The golden light from the fire, along with the twinkle light, may always remind people of X-mas. That's why we like to start decorating for Christmas a month ahead of time. Go with OhCanvas and read on to know about the greatest Christmas tree decor ideas for celebrating these wonderful days of the year!
Why are people searching for Christmas tree decor ideas?
Christmas commemorates the birth of Jesus Christ, whom Christians believe to be the Son of God. As a result, X-mas is considered the most delightful time of the year. We may not see our friends and family for a long time. Thus, this is a time to gather and remind us about how grateful we are to have family and friends who always care about us. They will be there for sure on this joyful holiday.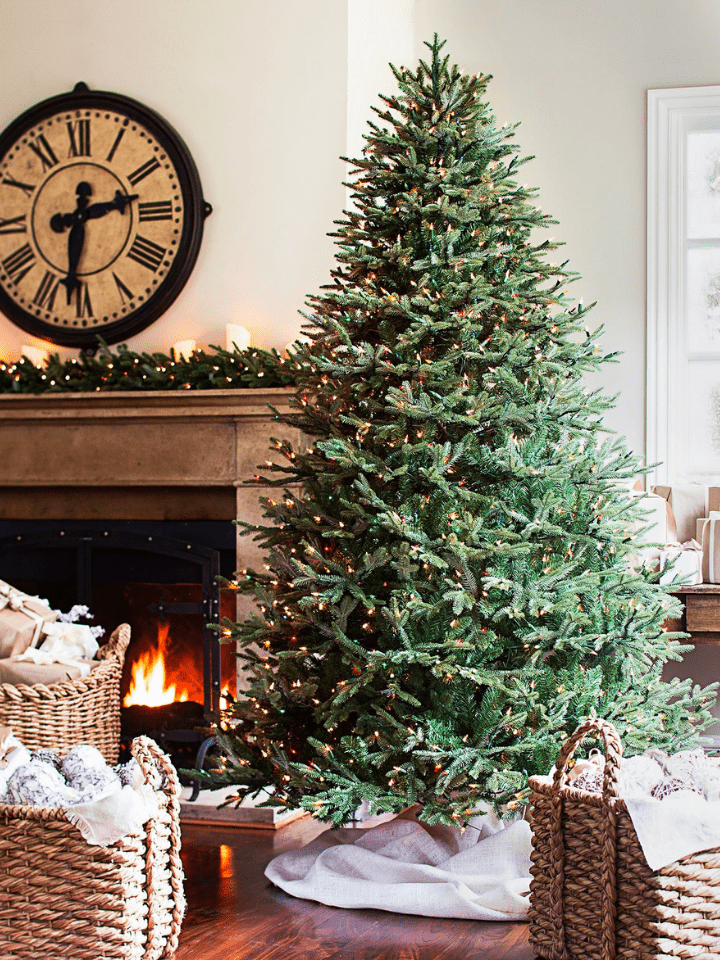 People enjoy decorating their homes with a Christmas theme to express their appreciation for the deep significance of this celebration. People rarely overlook Christmas tree decor ideas while looking for inspirations to bring a cheery mood to their home. And it's not for no reason. For Christians, the Christmas tree is thought to symbolize Jesus and the light he provides to the world.
What are the best Christmas tree decorations ideas?
1. Modern Christmas tree decorations
The first type of Christmas tree decorations ideas that OhCanvas loves sharing is the modern one. Creativity is unstoppable, and the style shifts throughout the year. As a result, the ombre Xmas tree will be popular in 2021. The transition of several hues or tones is known as ombre. If you want to give your tree an ombre effect, arrange your decorations in rows based on shade or hue. Instead, you could paint the tree in an ombre pattern.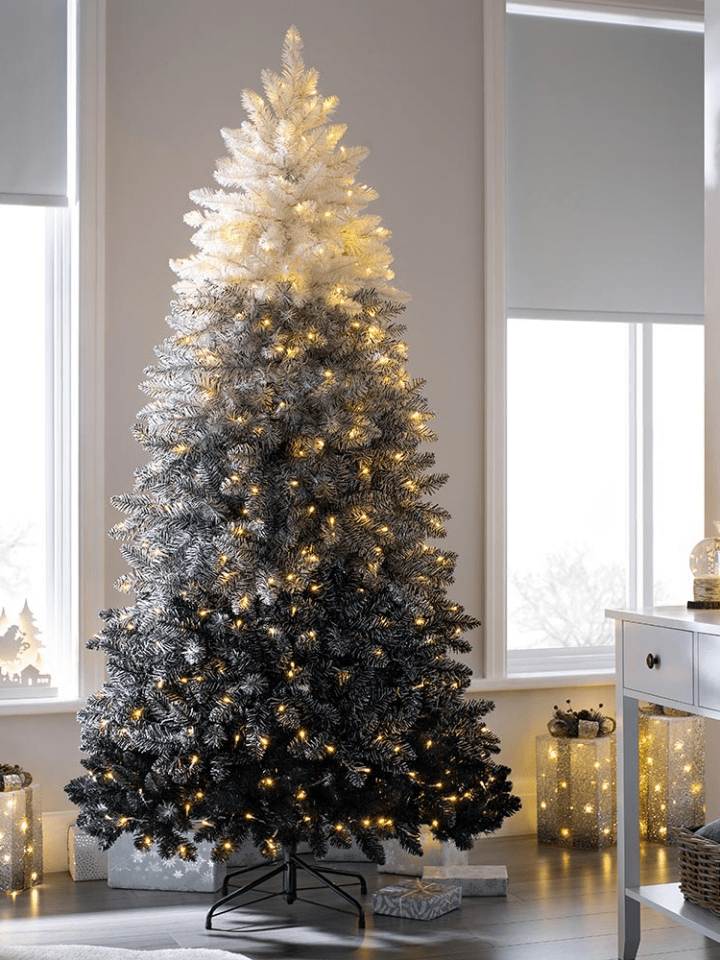 2. Outdoor Christmas tree decorations
It's a lovely way to share the pleasure of the holiday season with your loved ones, neighbors, and maybe even total strangers by decorating your home's exterior with Christmas lights and other festive accents. For the outdoor Christmas tree decor idea, lights should be wrapped around it. When it comes to enjoying the Christmas season, trees and lights provide a wonderful, joyful touch to the corner. The tree will undoubtedly impress guests with its colorful and dazzling lights.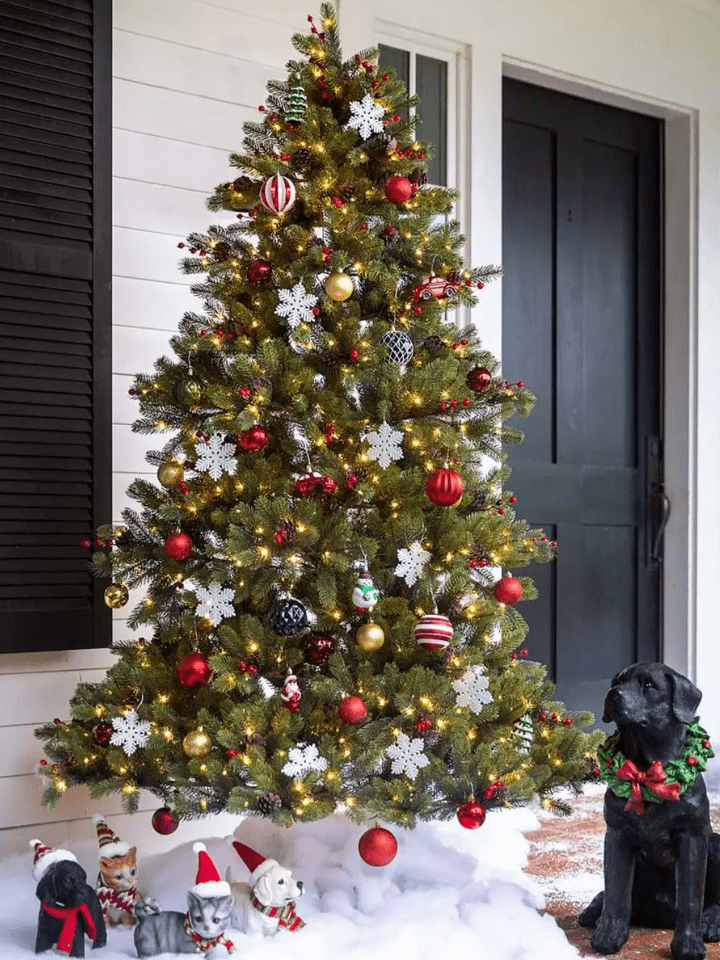 3. Farmhouse Christmas tree canvas paintings
Farmhouse canvas has an elegant and rustic look to the house. Even though it uses neutral colors to express its vibe, it can strongly call the Xmas atmosphere warm. Christmas farmhouse artwork contains the cheerful painting combined with the mindful quote that might bring positive inspirations. Hence, when decorating the house for Christmas, do not forget to attach this fantastic item to your house!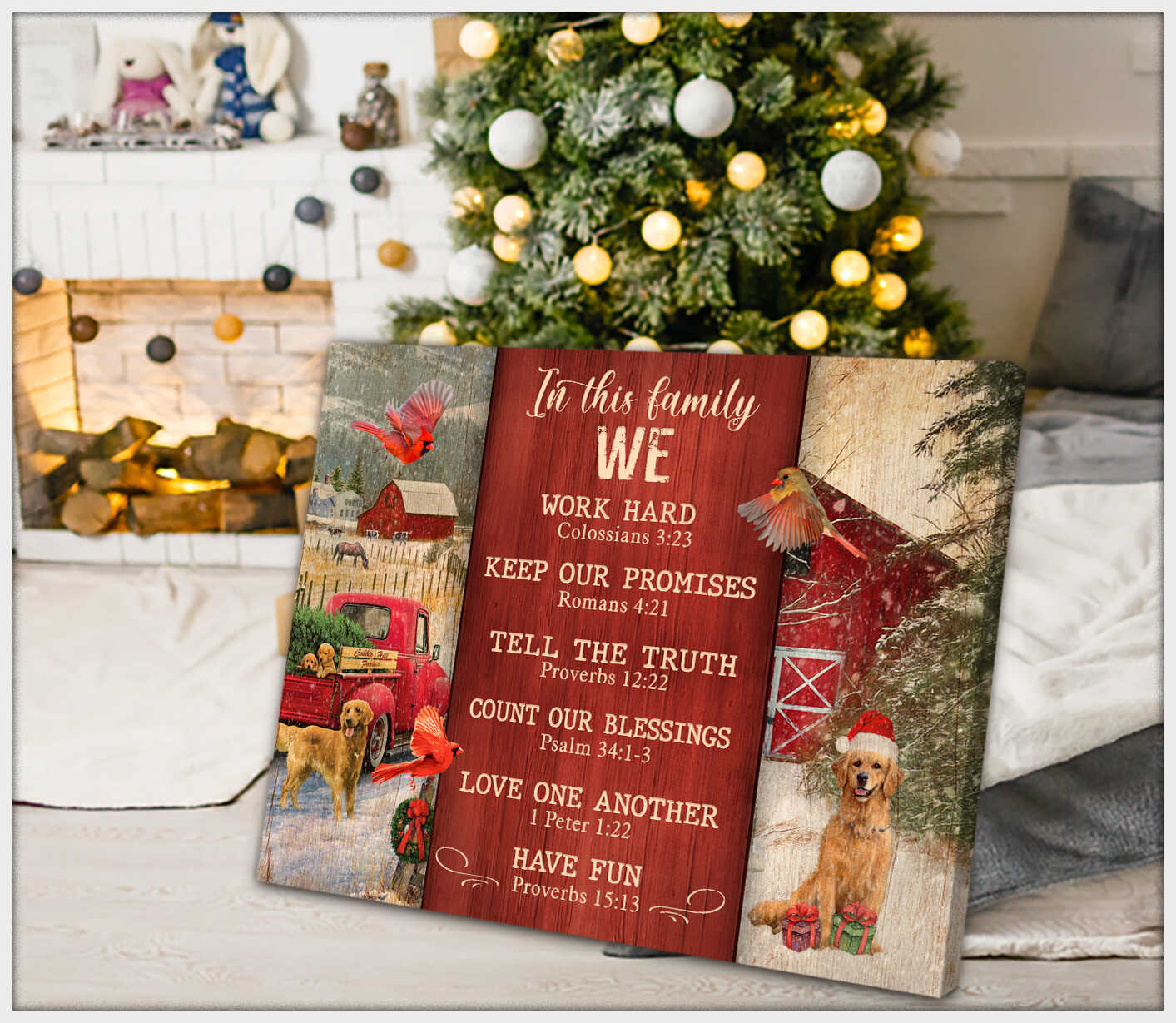 Using colors for Christmas tree decorations
4. White Christmas tree decorations
White Christmas tree decor ideas are ideal for those who prefer an aesthetic and balanced tone in their home. It makes no difference whether your tree is green or white. The tree, when combined with white decorations, may powerfully express your style. You might buy a white tree from a home decoration shop or quickly transform a green tree to white by spraying it with white paint. Then, for a glam effect on the tree, use pastel or glittery ornaments.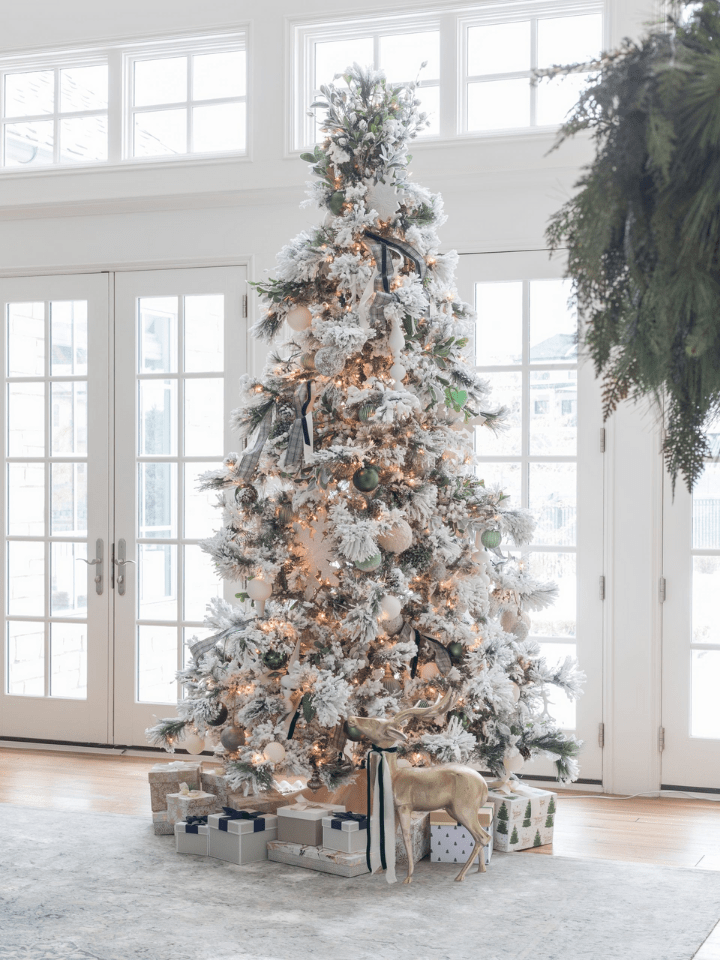 5. Black Christmas tree decorations
Consider black Christmas tree decor ideas for people who like a more contemporary look. It's a really versatile hue. As far as personality traits go, persons who choose black tend to have a strong desire for power and distinction. People in this category are often creative and passionate. Individualistic and strong-willed, they like to be in charge of their own lives and environments.
The same with the white tree, you can conveniently get it in stores or repaint it. With a black tree, you may go all out with energy and even sparkly lights.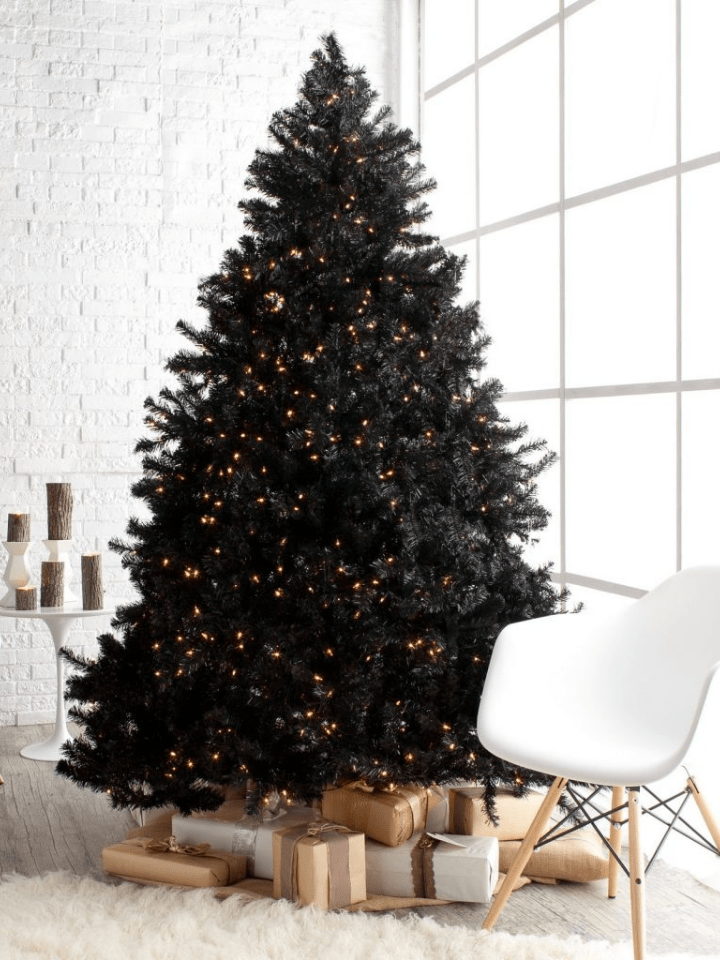 6. Black and white Christmas tree decorations
The combination of white and black for the Christmas tree decorations ideas is stunning. The white and black contrast creates a real monochromatic palette. Adding white to the black tree can bring a naturally upbeat and cheerful vibe to it. Black and white Christmas tree design ideas from minimalism to contemporary are all timeless and elegant.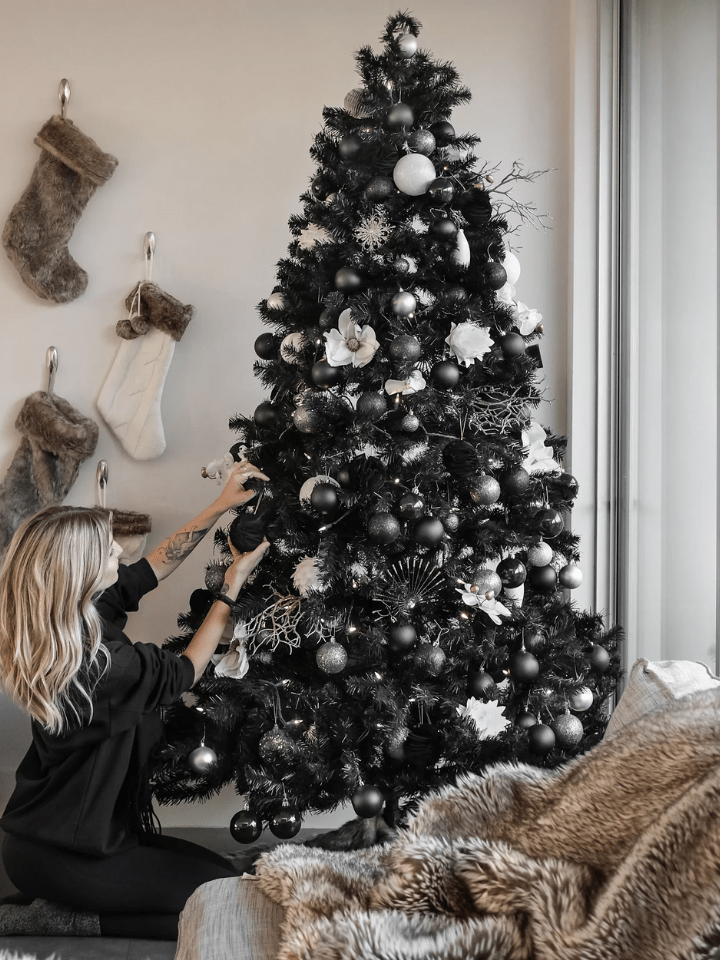 7. Red Christmas tree decorations
Red Christmas tree decor ideas are best suited for people who prefer to make a focal point in their home by using vibrant colors. When wrapping Christmas tree red decorations, call the atmosphere with a solid and striped ribbon to give it a greater appearance. It will appear like a giant present for everyone who enters your house. As a result, red Christmas tree decor ideas will perfectly provide a joyful environment on any occasion where it is placed.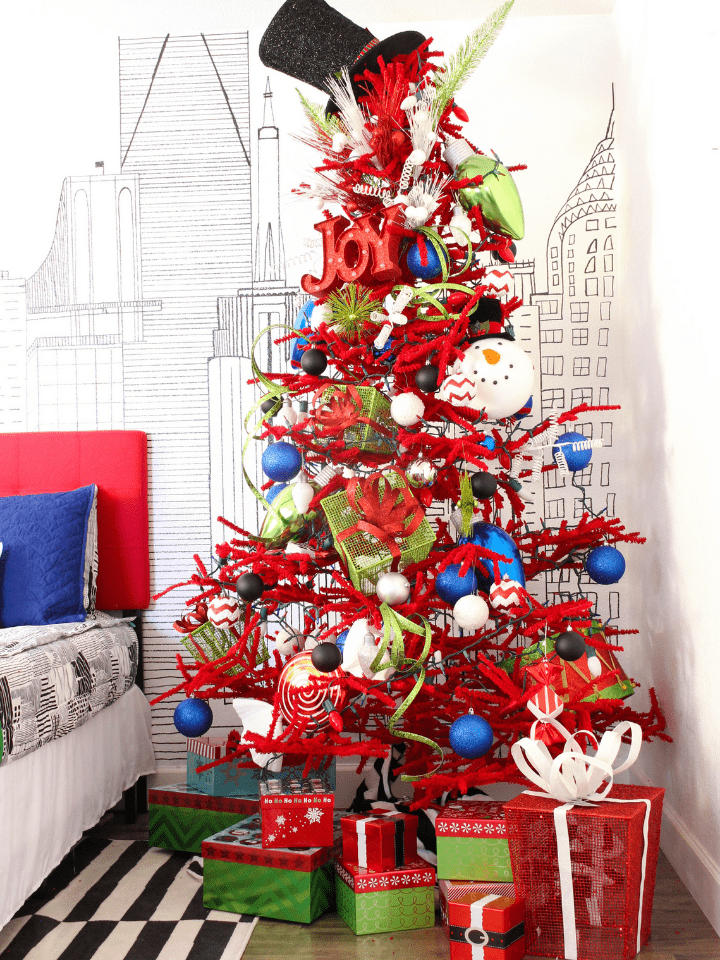 8. Red and white Christmas tree decorations
When discussing Christmas, the key colors are red, white, and green. Green depicts Jesus Christ's eternal life, much as evergreen trees remain green throughout the winter. Besides, red similarly signifies Jesus Christ's bloodshed at his crucifixion. And white, the color of snow, is always linked with the holiday season. That is why the Christmas tree decorations idea goes with red and white ornaments never go out of style.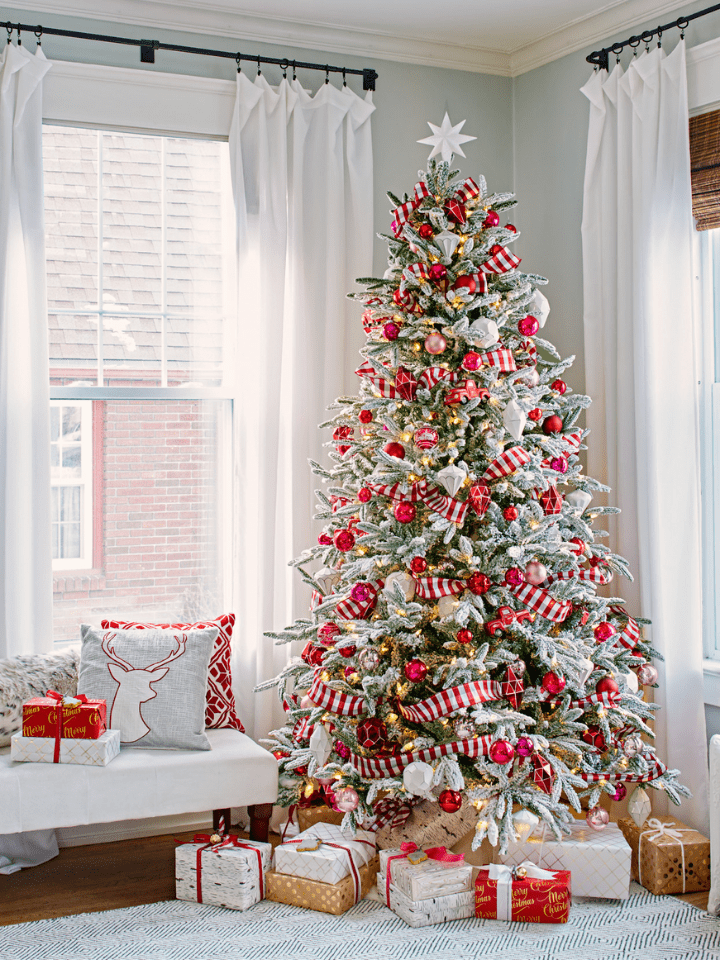 9. Gold Christmas tree decorations
Golden has typically inspired a luxury sense in a setting for decades. Gold Christmas tree decor ideas are sure to provide a gorgeous glamorous touch to your living space. Once it is placed in your house, it will add a sparkling point to your interiors throughout the wintertime.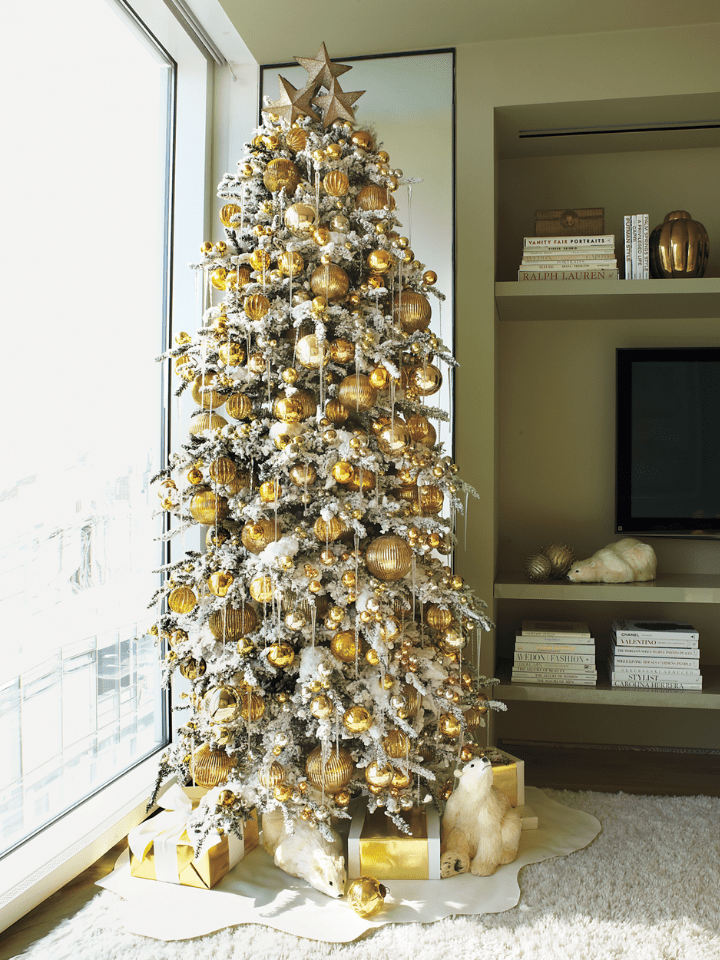 10. Red and gold Christmas tree decorations
The color theme for Christmas 2021 is brilliant in both classic and up-to-date colors. The color gold symbolizes luxury and opulence. Red and gold represent the fire on the Christmas tree, which will create the coziest atmosphere in your house. Along with the fireplace, red and gold Christmas tree decor ideas may help you bond with your family members happily.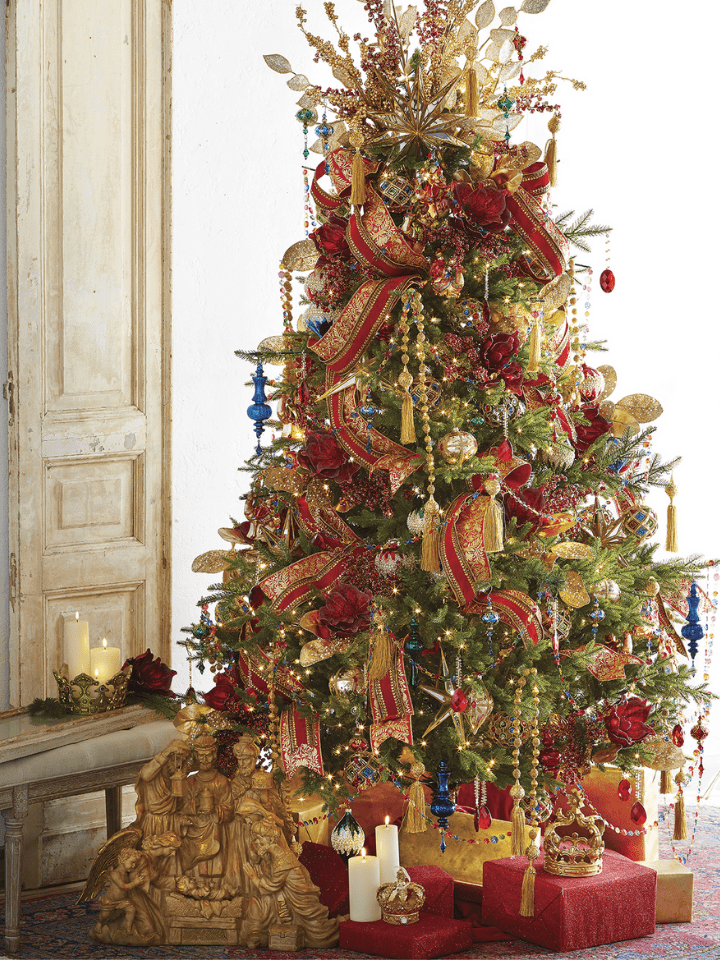 11. Pink Christmas tree decorations
If you have a great affinity for pink as a favorite, you are likely someone who is kind, compassionate, and sensual. Those who are drawn to the color pink are believed to have idealistic ideals because of their romantic outlook on life.
Cover the Christmas tree in pink decorations for a girly touch in the house. Pink Christmas tree decor ideas are frequently inspired by feelings of love and friendship. Pink trees, with this in mind, may also represent beautiful embellishments to your anniversary occasion throughout the year.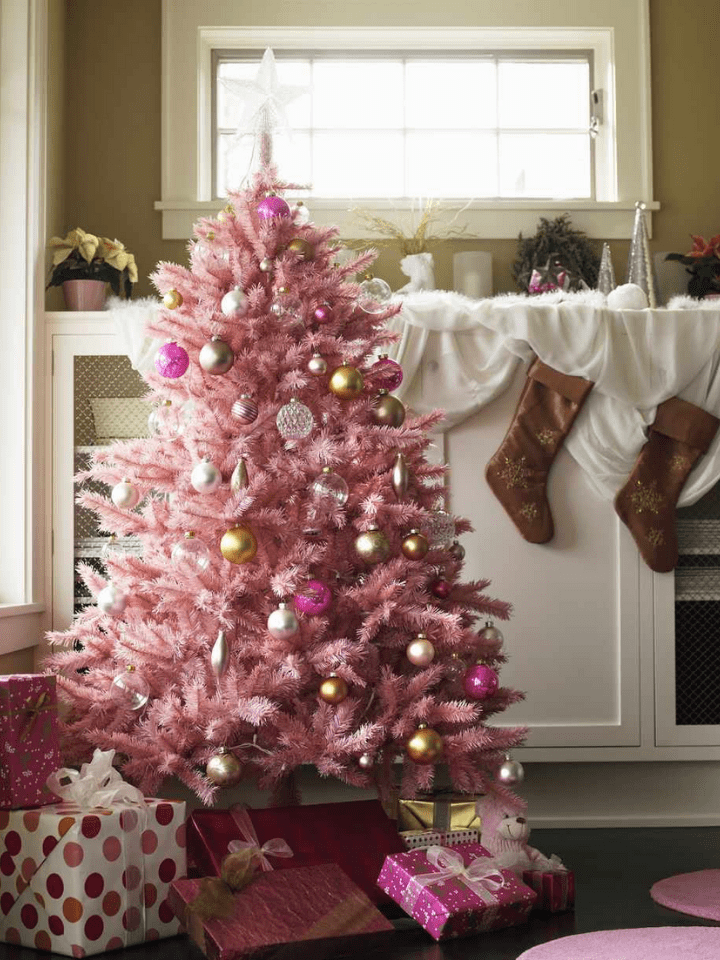 12. Rose gold Christmas tree decorations
Gold Christmas tree decorations ideas best in warm and balanced tones like red or pink. This combination is so delicate that you can definitely embrace it with ornaments like flowers, ribbons, lights, and socks, etc to really emphasize the colors and textures used.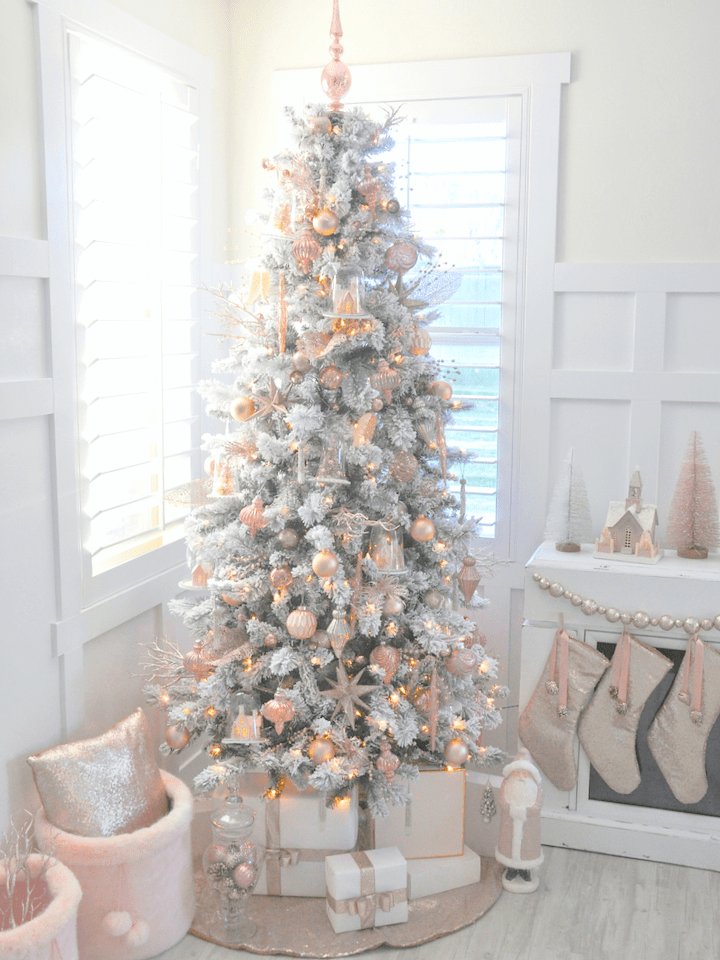 13. Purple Christmas tree decorations ideas
Purple is a soothing and pleasant hue for your personality, and it gives you an air of quiet dignity. It's because of the charming and appealing vibe that people are attracted to the purple thing. Creative thinking and dealing effectively with hardship are hallmarks of those who love this charming color.
Like the pink one, purple is associated with royalty, nobility, luxury, power, and ambition. You can get yourself a whole Christmas tree in purple shade or incorporate the color through decorations or other ways.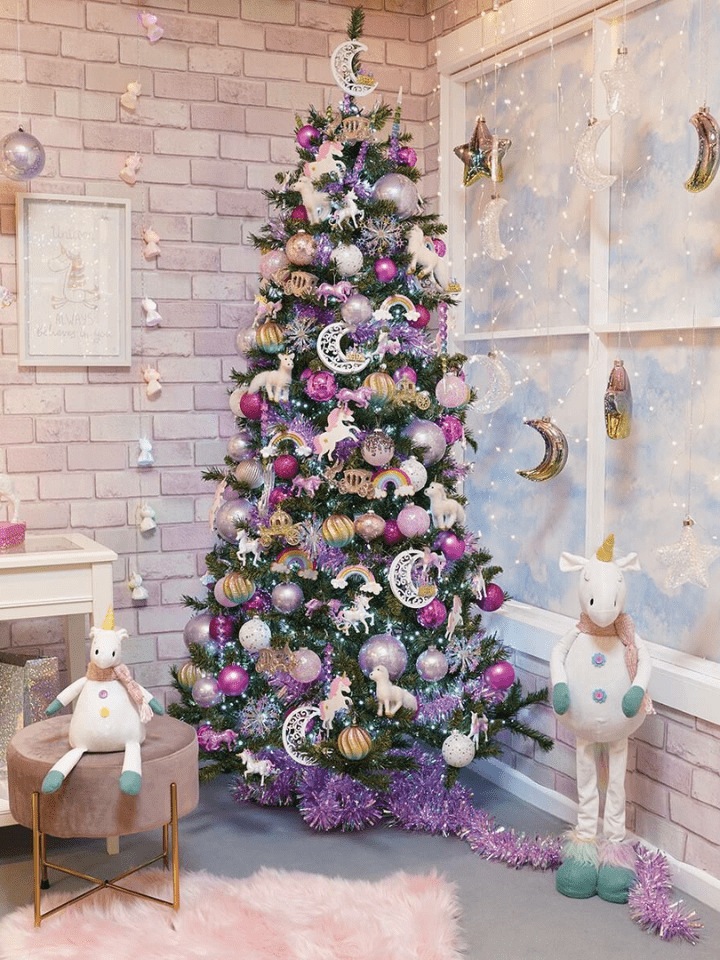 14. Blue Christmas tree decorations
Blue is a peaceful and relaxing tone that indicates intelligence and integrity. In both the sky and the sea, the color blue symbolizes openness, freedom, intuition, creativity, and inspiration. Moreover, blue is calming and soothing as well. It is said that if someone loves blue, it means that they care and want to contribute to everything they are a part of. That's how blue is favored while choosing a Christmas tree color. 
In addition, dressing the Christmas tree in blue adds a coastal feel to the apartment. As a consequence, the blue Christmas tree decor idea is ideal for those who appreciate the beach and tranquility.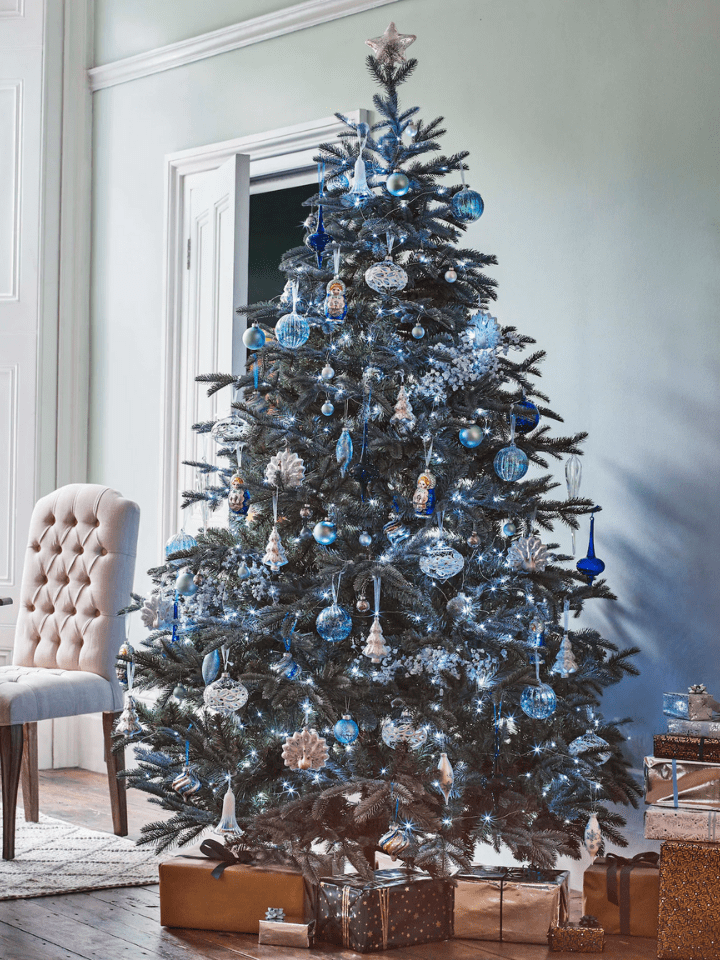 15. Green Christmas tree decorations
Grass, plants, and trees are all connected with the color green, making it a global symbol of nature. The hue of spring and rebirth also symbolizes development and rejuvenation. Thus, the green Christmas tree decorations idea is typical holiday house decor that never goes out of style. You may embellish it with little toys, gifts, paper ornaments, wind chimes, and other items. Having a green tree in your house has a calming effect on the mind and body.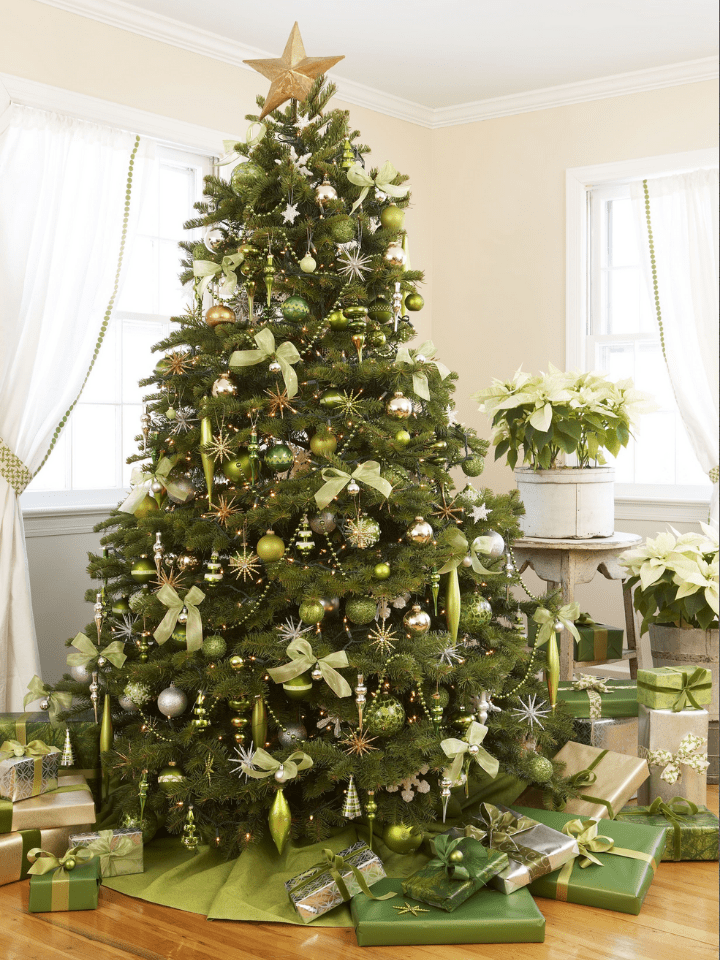 16. Silver Christmas tree decorations
For centuries, silver has been considered a mirror to the soul, allowing us to better understand ourselves and our place in the world. Silver, like gold, is typically associated with wealth and prosperity. As the color of a gemstone, silver symbolizes hope, unconditional love, and meditation.
Dressing the Christmas tree in silver is another method to get a luxurious but elegant touch. Silver Christmas tree decor ideas may also be used to describe the winter season in terms of the color of snow. Besides, if you want to go more glinting, layer on the metallic tones.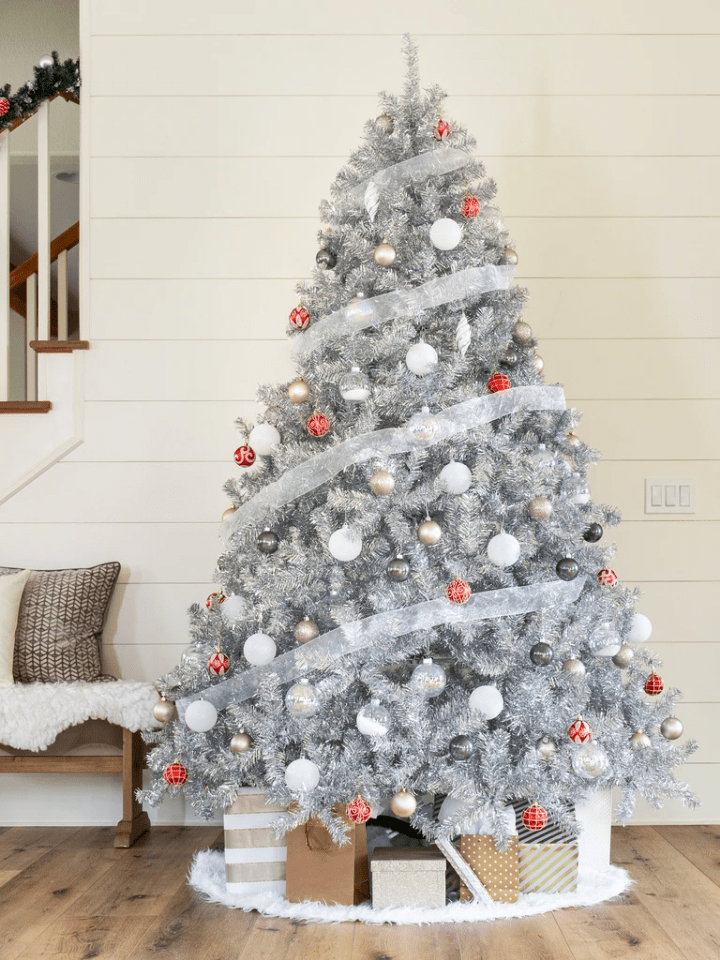 Create unique Christmas tree decorations
17. Dollar tree Christmas decorations
In case you love having a unique item for Christmas, we suggest considering the dollar tree Christmas decor idea. You can hang money decorations on the tree as accessories or put money in the red socks to attract people. With dollar tree Christmas decorations, you can surprise your loved ones by giving one as a Xmas present.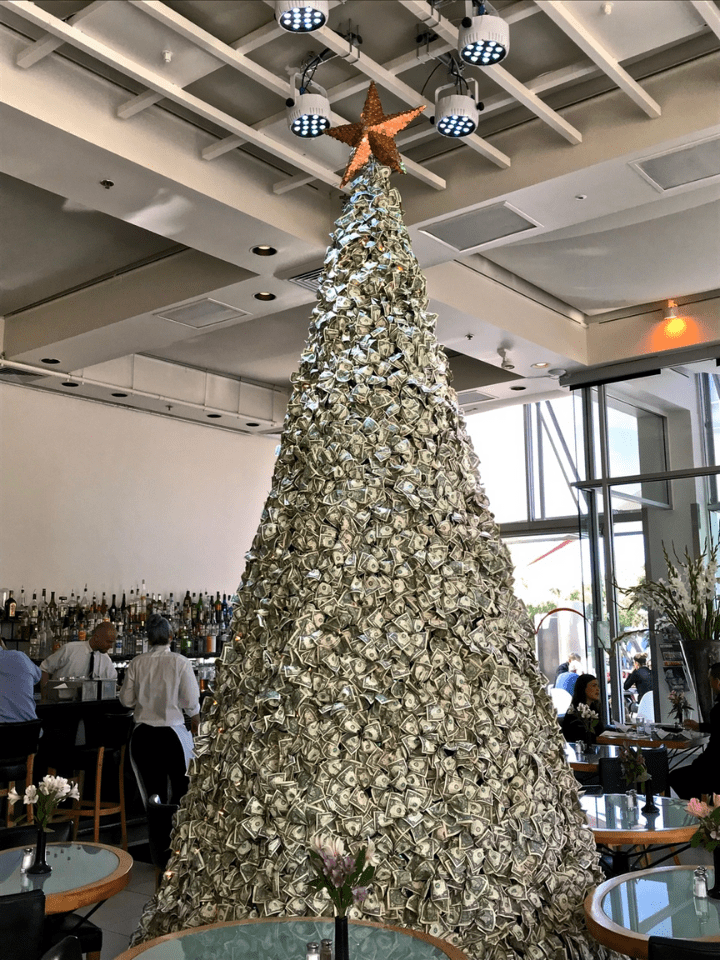 18. Mini Christmas tree decorations
Small Christmas tree decoration is the sweetest method to dress up the house. Because of the size of it, the mini Christmas tree enchants people in a lovely way. Small Christmas trees are worth your home, regardless of your vision or home decor style.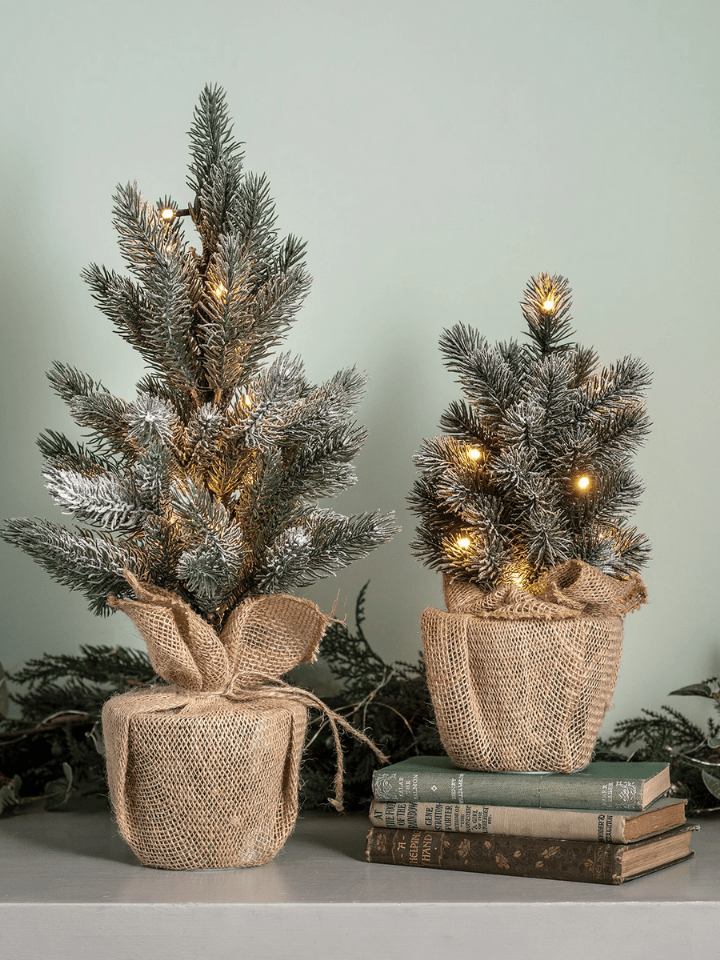 Top 3 best farmhouse Christmas tree decor ideas
19. Wooden Christmas tree decorations
Wooden Christmas tree decor ideas are suitable for displaying in the home as a house accent. They may be displayed on a colorful tray or hung on the wall. Aside from the vivid and twinkling ambiance generated by the Christmas spirit, the wooden tree balances the tone with a neutral hue.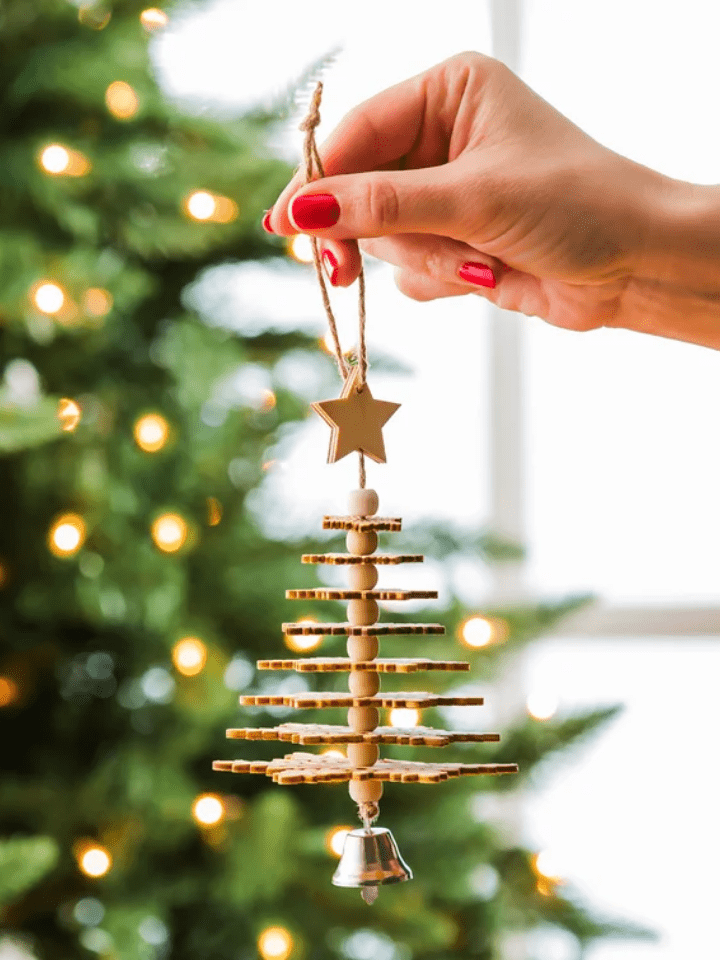 20. Rustic Christmas tree decor ideas
If you have a place that is designed with fresh whites and natural textures, consider the rustic Christmas tree decor idea. A rustic tree may be combined with classic elements such as red balls, a gorgeous rattan star topper, and plaid decorations. Pine cones and cotton pieces, as well as natural components such as a dried citrus garland, look great on it.
21. Simple Christmas tree decorations
Simple Christmas tree decorations ideas offer a traditional and timeless touch to your home. It is frequently used with white and red candies, balls, yellow stars, and brightly colored presents. Choose things with gentle tones for the greatest appeal when it comes to farmhouse décor.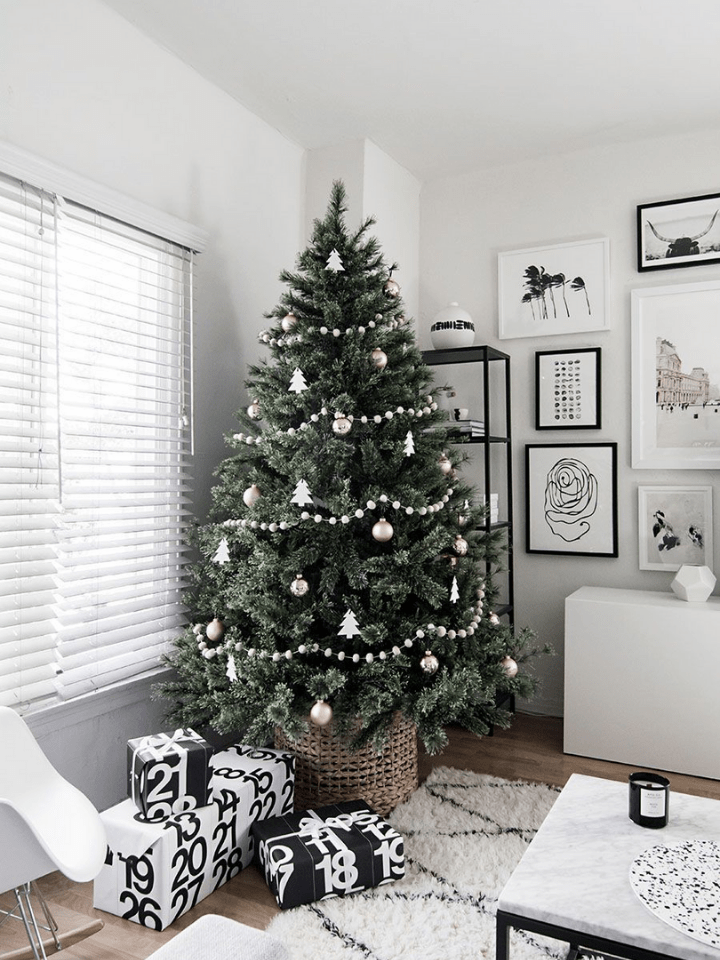 Christmas is coming to town. The town is already covered with red, green, white, and neon lights. As a result, it's time to decorate the house for the greatest holidays of the year. Above are the top 21 Christmas tree decor ideas to fully immerse yourself in this biggest celebration. OhCanvas hopes to give you useful information! Let's rejoice and enjoy the event in the best way possible.