One day, you came across some houses designed in farmhouse style and they enchanted you at the very first look. You came back and saw around your home then thought of how you could spruce it up to this style, yet all you've got are clueless ideas. Don't panic, this post will be your savior. Ohcanvas will help you have a deeper understanding of antique farmhouse style and show you some ideas to decorate your house in this way. Read on!
An overview of antique farmhouse decor?
If you want to properly apply this antique style to your home, you need to know what it is and what its unique features are first. Revising our antique wall art ideas below will help you.
What is antique farmhouse style?
The antique farmhouse style has been in its golden age these years. It's all about creating a relaxed, warm, and welcoming atmosphere. So many people fell in love with its rustic charm and inviting feeling.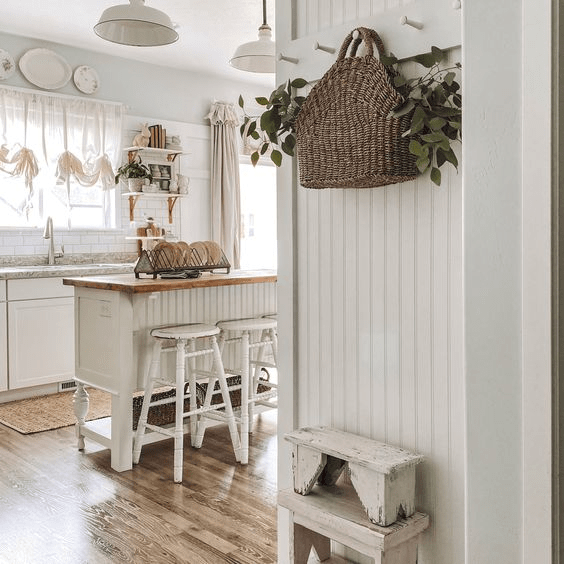 This style is bright and airy. You can realize that it has light-color walls and items. It also obtains many natural elements specializing in wood, rattan, and plants. In many families, a rustic farmhouse wall decor is a perfect way to showcase the history and meanings behind their home-sweet-home wall decor .
What is special about antique farmhouse style?
Wood everywhere
Wood is one of the key elements of rustic decorating style. It represents simplicity and practicality. Having wood will make the space look more friendly and inviting. Wood also helps bring the farm vibe to the house, making people feel like they live in real farmland. It can be original wood or reclaimed wood that is used in home sweet home wall decor . They both attain the natural and rustic taste.
Most furniture in this style is made from wood. Not only does wood last long, but it also enhances the old and nostalgic look of the furniture. In addition, wood appears so frequently in the antique farmhouse mirror , barn doors, farmhouse window decor, ceilings, and many other home appliances. Thus, it can be insisted that without wood, the rustic farmhouse furniture is not it anymore.
Light-colored paints
Neutral and earth-toned colors are the specialties of this style. The rustic farmhouse wall decor is usually painted white, beige, or cream to make the house look more bright and spacious. Sometimes, people paint it gray or add a pop-up color in an accent wall to create a slight change or just satisfy their taste.
However, it's not just the wall that is painted light colors. Antique farmhouse furniture, farmhouse window decor , or some other items are also whitewashed to bear a rustic and old look.
Natural textiles
Another element that brings a natural vibe to rustic farmhouse space is natural textiles. They appear in rugs, farmhouse window decor , throw pillows, bedding stuff, and many other appliances. The most commonly used fabrics are cotton, linen, burlap, and ticking.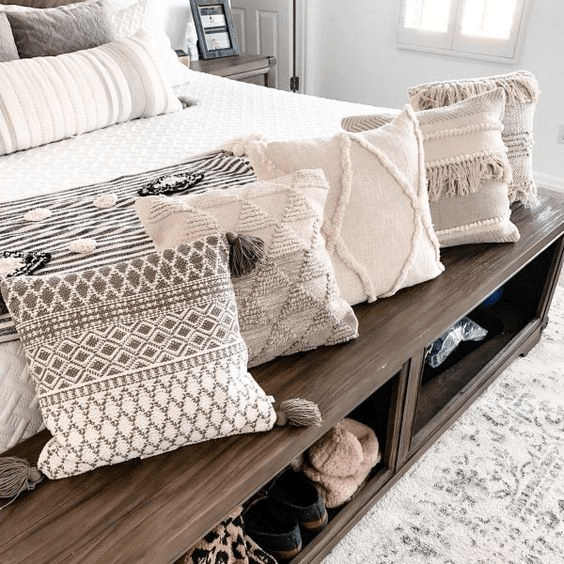 By incorporating these textiles, the space will become more elegant and nostalgic. It reminds people of the past when linen and other fabrics are used a lot with pride and care. Even though the textiles have mends or patches, they are still appealing and valuable.
Rustic farmhouse wall decor items
Besides wood furniture and natural textiles, the rustic farmhouse style is famous for collecting rustic decorative items. From botanical wreaths to wire baskets or enamelware, it has got them going on.
These vintage farmhouse wall art are usually inherited from the earlier generations or purchased at the flea markets. They retain the old beauty and turn it into an incredible charm. Having them will not only elevate the alluring look of your rooms but also transfers the old-fashioned vibe to every corner of your house.
Read more:
Amazing tips to have antique farmhouse looks
Get valuable rustic farmhouse items
There are three ways that we could find true antique furniture: go to antique stores, surf on online stores, and get from our ancestors. Check these methods now in the paragraphs below!
Go to antique stores – Traditional way to buy antique farmhouse decor items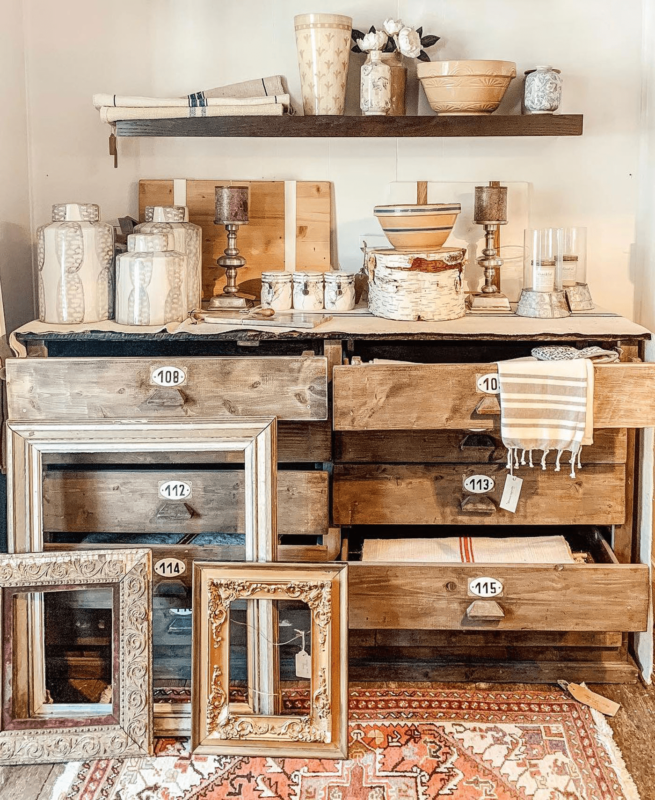 In this first method, we can easily find things that are reliable and suitable. Antique farmhouse decor items are hard to find as they are at least 100 years old without being damaged. Then, they are usually more expensive than the modern ones. We can check if they are true antique furniture or not with some tips. They may have the usual colors, sizes, shapes, materials. Some of them have the produced date on. Noted if they have too many flaws like scratches, missing parts, cracks, etc.
Surfing on online stores – Things become easier with the Internet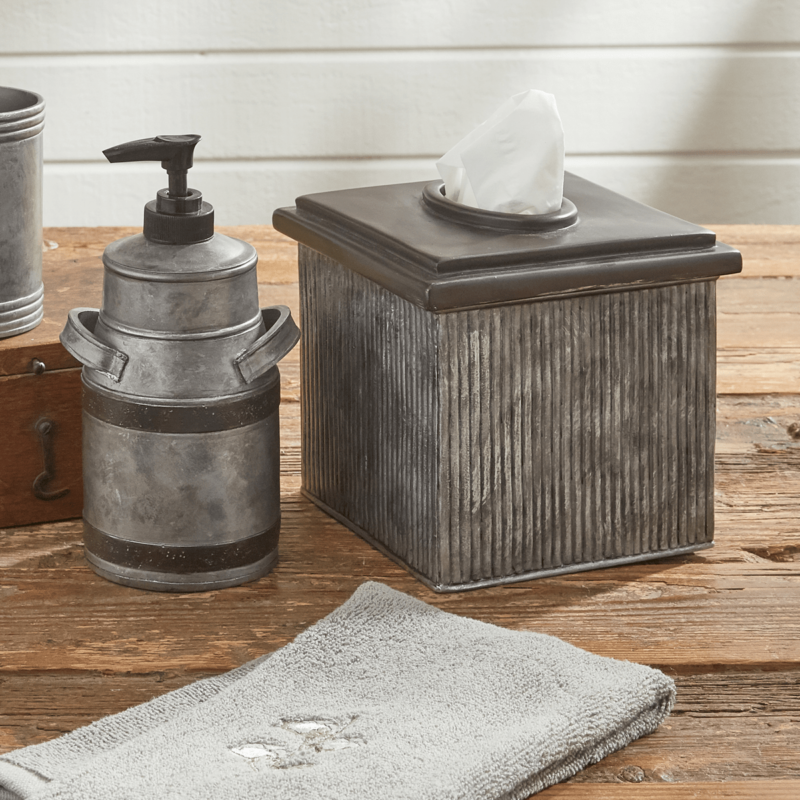 Other antique farmhouse decor pieces may be found on websites such as Amazon, Etsy, and eBay. We may communicate with the owners online and return things for free once elements do not fit our requirements. We have a consumer protection policy, so we can be confident that we are purchasing the correct items from online retailers.
Get from our ancestors – True rustic farmhouse furniture inspiration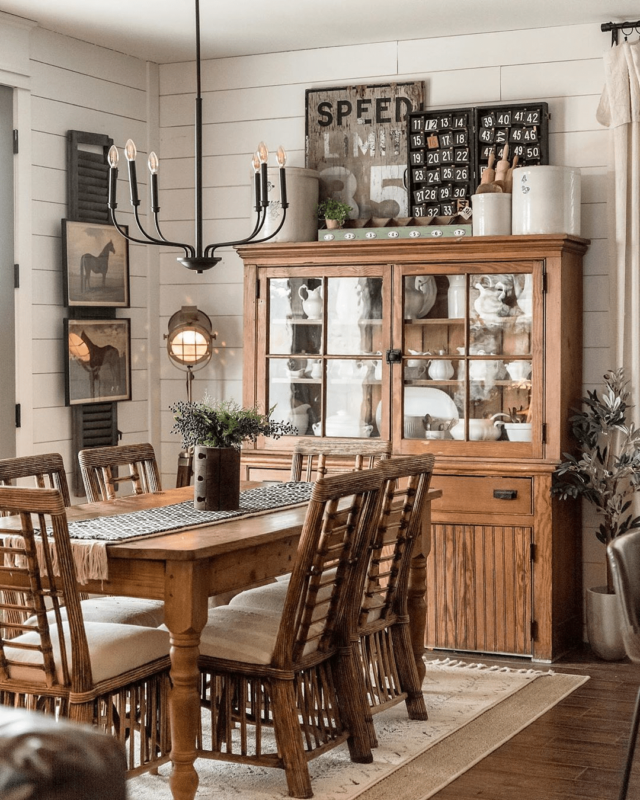 The last but not least method for getting antique elements is from our ancestors. You are fortunate if someone in your family enjoys preserving furniture for decades or whether they are an antique collector. You may be inspired by them to be worthy old-fashioned. Keep your family's culture developmental and spread.
Apply amazing antique farmhouse wall decor tips
Farmhouse Canvas prints
The living room is considered the heart of any home decor. Among many types of design, canvas prints seem to add the most antique look to farmhouse decor. The materials themselves, a combination of canvas over the wood frame, merge nicely with furniture and decor items in the house. Besides, the canvas prints vary in size and style. Wherever they are placed, these prints will embrace the timeless charm of the antique farmhouse style.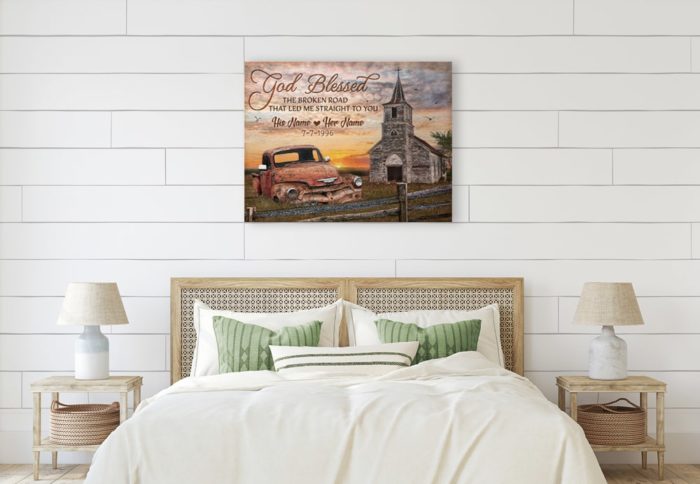 Besides being an eye-grabbing and fascinating decor piece, farmhouse canvas prints show beautiful meaning and messages inside. It can be an image of the past when the family lived on the farm. It can also have inspirational quotes which bring positive energy and cheerful feelings. That said, the canvas print is a must-have decor item on any home sweet home wall decor.
Rustic curtains
More antique wall art ideas that can add a rustic taste to your house are about curtains. They can be a window or door coverings. The curtains are usually made from natural textiles, featuring the friendly and simple characteristics of the antique farmhouse wall decor.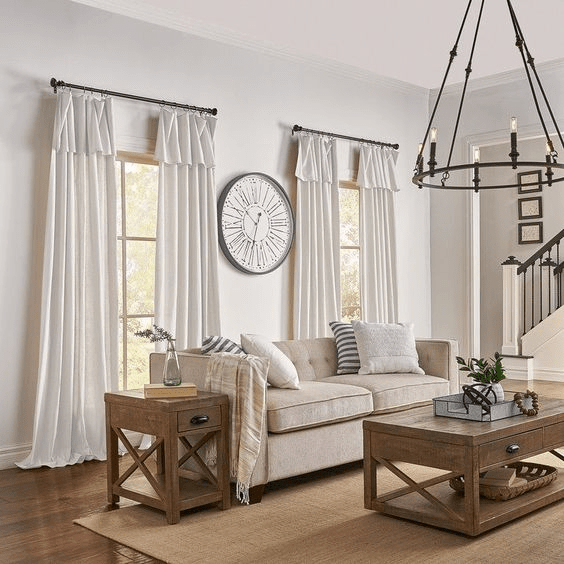 Look for neutral curtains like white or cream and you'll get a more rustic and spacious corner. Patterned ones like spotted, squared, or floral curtains are also excellent choices if you wish to have a more eye-grabbing and unique space.
Since the curtains come in various patterns, colors, and lengths, you can choose to use an identical or diverse style for your rooms. Make sure that the curtains harmonize with the room's theme so that they can accentuate the rusticity of farmhouse style.
Floating shelves
Floating shelves appear so often in the antique farmhouse wall decor for the kitchen . These shelves play a vital role in enhancing the aesthetic look and practicality of the house. Open shelving is often made from wood. That's an additional charm to the farmhouse wood collection.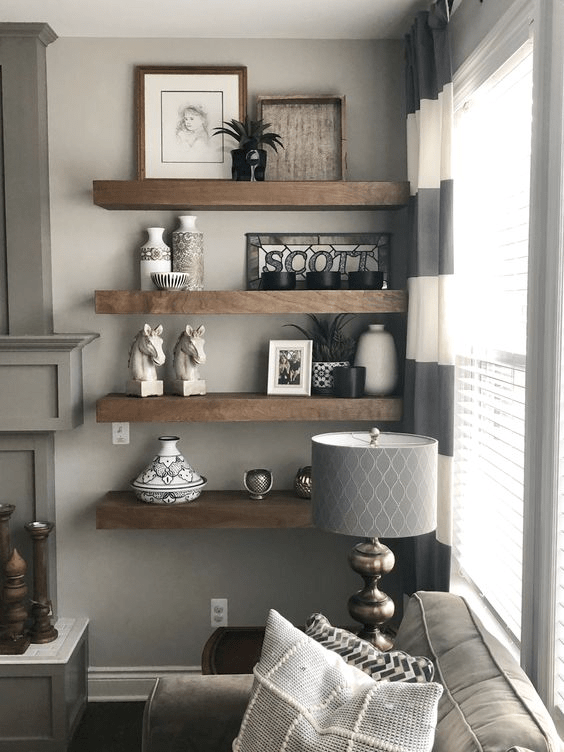 If you have beautiful pieces to showcase, floating shelves can help you do that. Books, photos, or rustic decorative items can be displayed fascinatingly on those shelves. They can be captivating corners that highlight your best collection to the world.
Window frame – Unique antique farmhouse wall decor
You might come across many farmhouse window frame decor. Usually, these frames are teal and brown wall decor. They are used as captivating farm wall art items. Homeowners can retain their original look or whitewash them to create a more antique farmhouse ambiance.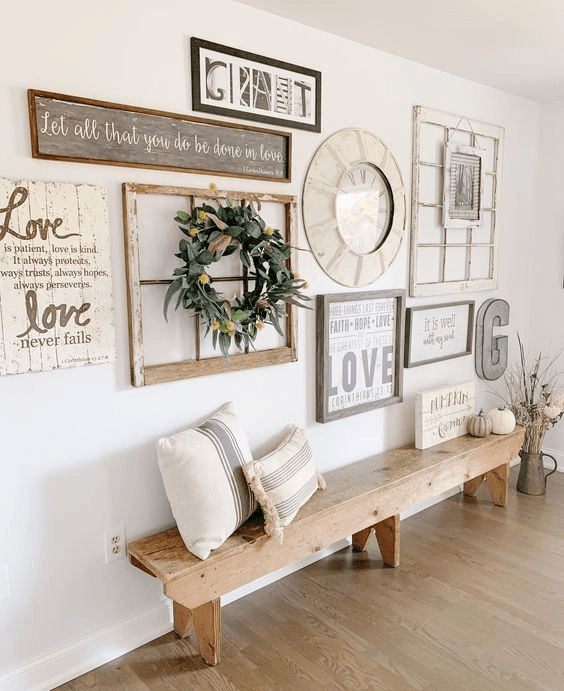 The window frames play their best in bringing a retro vibe to the house. They can be focal points in your decoration or be a part of the gallery wall. Either way marks their rustic charm and fabulous appearance.
Wooden signs
Besides being a star in furniture, wood is also utilized to make many vintage items. Among them stand out the wooden signs. They might catch your eyes in a specific kitchen or living room of any rustic farmhouse home. These decor pieces are widely used since they help bring the rustic charm of antique farmhouse wall decor to your living space.
One special thing about wooden signs is that they can transfer different messages. It means that wood can be crafted to form letters, or letters can be painted/crafted on wood panels. There appear short signs like "Family kitchen," "Nana's bakery," and "Welcome" or long ones such as kitchen rules or meaningful quotes. The sign is a perfect way to showcase the house's warmth and to tighten the family relationship.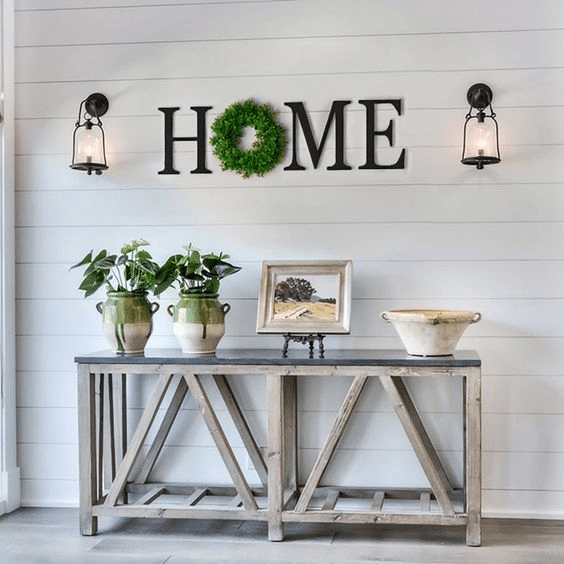 Rustic farmhouse wood signs can be purchased at many shops or flea markets. What's more astounding is that you can create them on your own. If you've found an old panel of wood somewhere in your garden, do not hesitate to turn it into a fascinating piece of decor for your home. A DIY wood sign will take a little time but leave you with memorable moments.
Wall sconce – Adorable antique farmhouse wall decor
A wall sconce is a decorative piece that can add antique farmhouse lighting to your home. There are various sconces, ranging in different materials, styles, and colors. Among them, traditional and classic wall sconces will be ideal light fixtures for a rustic vibe. For example, black steel sconces with glass light bulbs or attached wooden panels to hold candles are all good choices.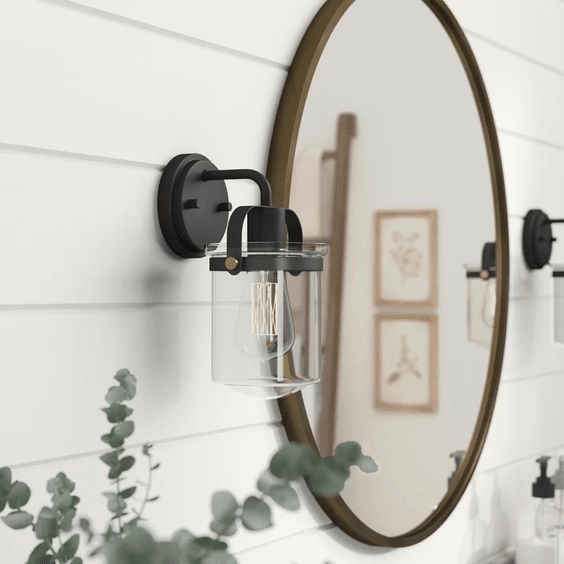 The sconces are not just antique farmhouse lighting devices, they are spiritual items that create a retro and elegant style in the house. These beautiful pieces are a perfect way to turn your space into a much cozier and more friendly one. You can place it near the rustic farmhouse mirror to reflect the charming natural light in this space.
Natural elements
Every home design should include natural elements. The antique farmhouse wall decor is not exceptional. Since plants and flowers have a gorgeous beauty, they'll add more charming and lively colors to our houses. Moreover, they also help to create a fresher and more welcoming space in the home.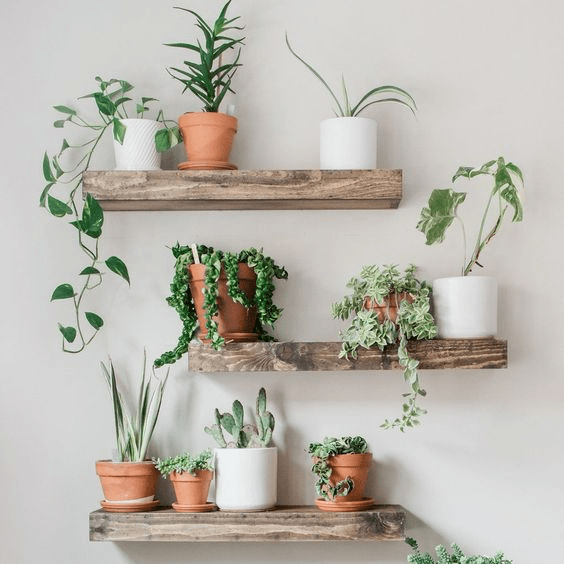 To bring nature indoors, tree pots and flower vases are usually put on the floor and tables. However, there's another terrific way to display these greeneries. They can be hung on the wall or placed on open shelving.
In these cases, small botanical pots would be better than large ones. For example, some cactus or succulent vases can be displayed on the floating shelves in your bedroom. In addition, DIY hanging herbs are perfect antique wall art ideas in the kitchen or any available space as well.
Other decorative items
All items presented above are what we think you should have at first for the antique farmhouse wall decor. However, that's not the end of this decor journey. There is a list of other decorative items waiting for you. Among them, there might be some of your inheritance, some hand-made items, or several rustic pieces you collected at the flea market. Each item has beauty and meaning inside.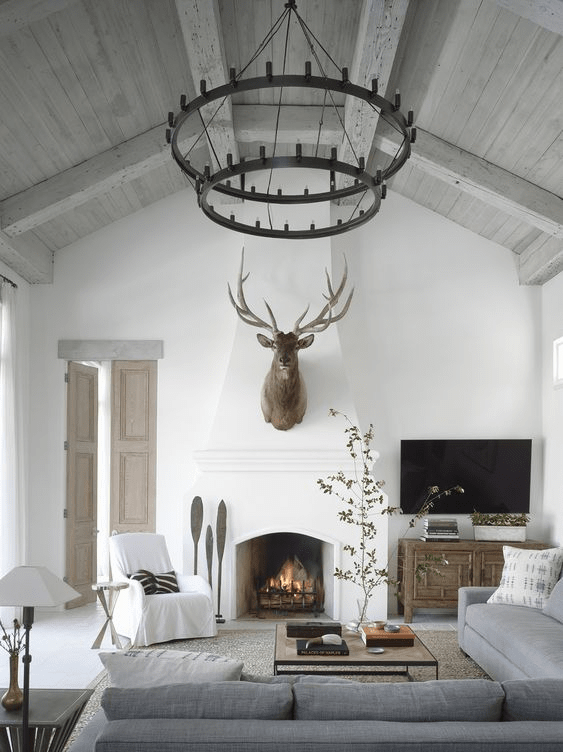 Some stunning decor items are wreaths, iron windmills, clocks, stag heads, candles, etc. They can be hung or attached to the wall in any room. Wreaths or cotton can be pinned on the window frame to make it more attractive. Candles or statuettes would be better placed on the floating shelves.
Read more:
Once you've decided to pursue antique farmhouse decor, you need to focus on every corner of your home, from the wall to the furniture and other facilities. Our recommendations above is a guidelines to help you achieve rusticity in this style. Consider it, then see which one best fits your house and can make your space stunning. If you love renovating your house with gorgeous canvas artwork, visit Ohcanvas for the most stunning pieces. Our prints will make your place instantly look more elevated.