Are you looking for some inspirational artwork to hang in your home? Which ones have you thought about? If you're still undecided, Ohcanvas's inhale exhale wall art can tick all the boxes. These pieces not only bring fresh vibes into your house but also make your living space instantly look more elevated. From the large living room to the warm kitchen, inhale exhale canvas artwork will brighten up every corner in your home. Read on to see how great this art is and explore some samples that might enchant you.
1. Why should we have inhale exhale wall art?
The inhale exhale canvas will brighten up any space that you put it in. Having artwork on your wall helps your space look less empty and makes it look aesthetic. Wall art like prints or paintings is enchanted by many people since it can harmonize nicely and easily with any space. You can put the wall art in your living room, kitchen, home office, or any room in your house. Just choose an appropriate wall art style or opt for the ones you love, you'll make a more charming and dreaming house.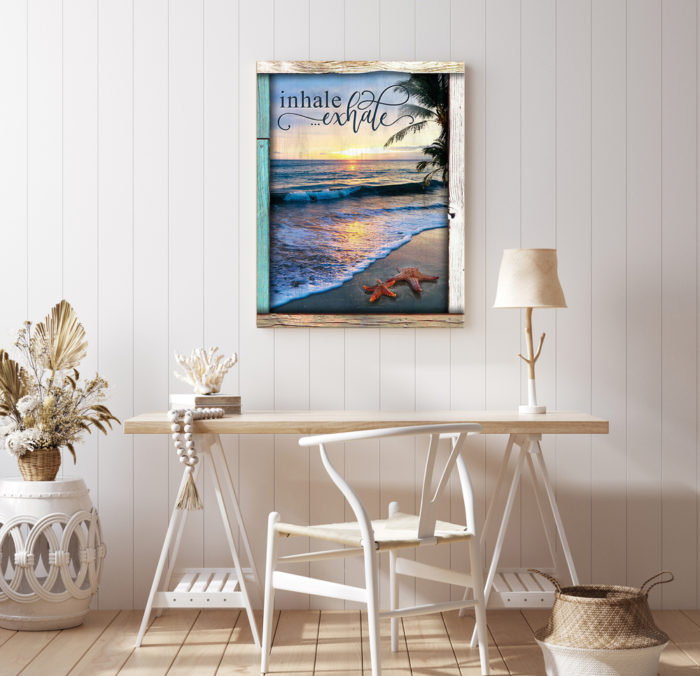 Besides aesthetics, wall art is a method to transfer motivation and energy. "Inhale" along with "exhale" is a sign to tell people that they need to focus on their breath. Breathing is important. Sometimes, you are so sad or stressed, just take a deep breath and you could feel better. There Are also cases when you're so angry and hot-tempered, remembering to inhale and exhale will help you calm down and find solutions to that situation.
You've known how great and important inhale exhale wall art is. If you find it interesting, Ohcanvas would like to introduce the most beautiful canvas prints that you might love. Let's check them out.
2. Beautiful inhale exhale wall art canvas prints for 2021
2.1. Hummingbirds and inhale exhale wall art canvas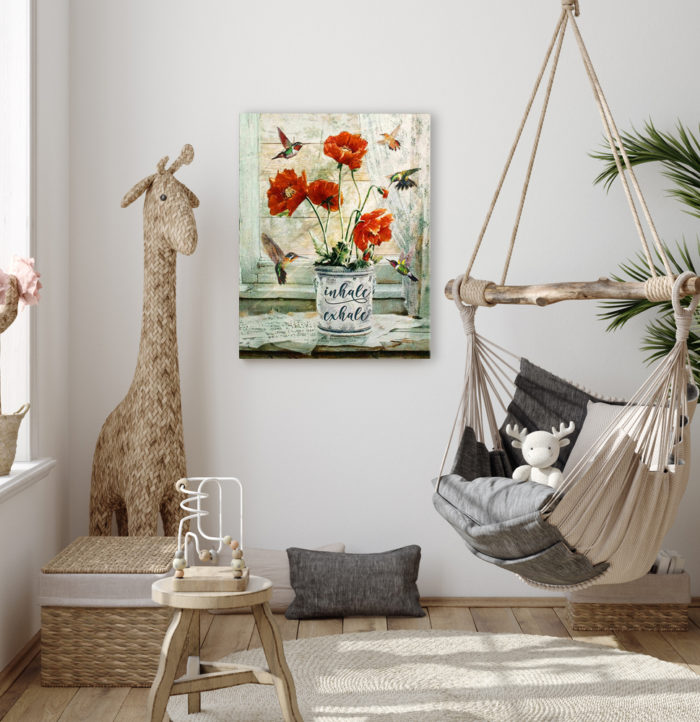 This stunning inhale exhale canvas print can be a focal point in your house. It's an elegant combination of flowers, birds, and the "inhale, exhale" quote. Firstly, this is a nice print. The red flowers and colorful birds make the scenery look so striking. Secondly, it's a meaningful and inspirational inhale exhale wall decor which can help you calm down and reboot your feelings. It reminds you of refreshing your mind before starting a new day. Hummingbirds represent joy and happiness. That's why we want to show you these little creatures to help you gain cheerful thoughts and positive energy.
2.2. Inhale exhale in a beach canvas print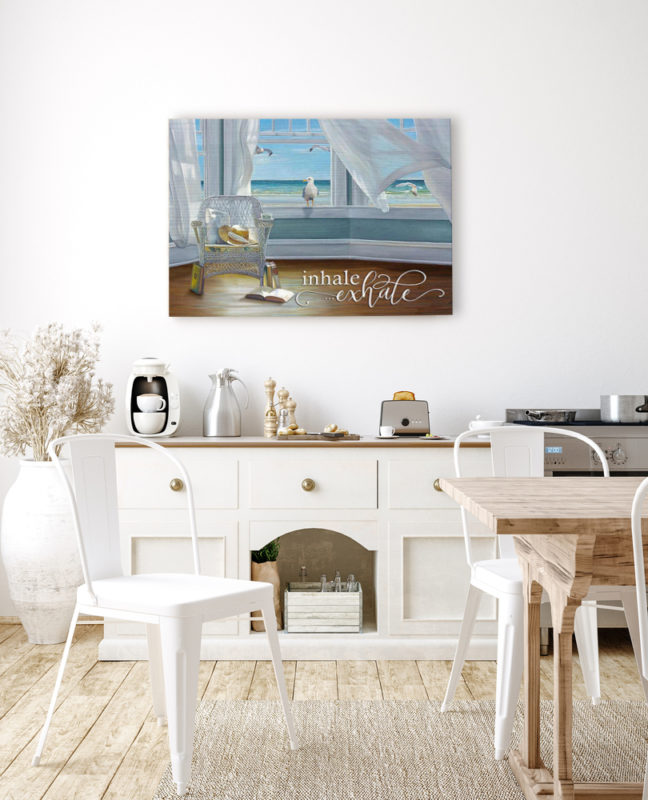 The beach scene is so magical. It can wash people's sadness and negative feelings away. Bringing the beach to the canvas print is a great way to transfer energy and motivation. Do you love the fresh air and peaceful moments you spend on the beach? We think that "inhale" and "exhale" at the beach is one of the most wonderful things that we can do.
If you're enchanted by the beach and want to experience more refreshing moments there, this inhale exhale wall art can help you. Whenever looking at it, you'll receive more comfort and positive feelings.
2.3. Colorful inhale exhale wall art canvas with dandelion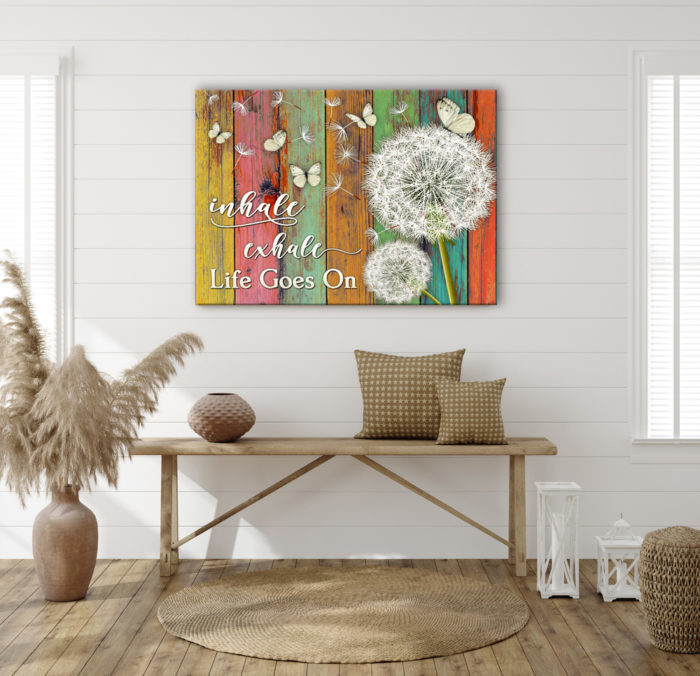 Dandelion is a symbol of happiness and positive thoughts. It also represents power, endurance, and determination. The reason for bringing dandelions to art is that hoping it transfers these beautiful messages and energy to anyone looking at it. This inhale exhale print has an energetic scenery and the "inhale, exhale" quote. Combining these two elements to double the strength and motivation. If you place this print in your room, you'll receive more than a beautiful piece of art.
Colors and elements in this print are adorable enough to harmonize with any vintage corner of your home. If you hang this inhale exhale canvas in your bedroom or your child's room, the overall space will be instantly elevated. This is also a gorgeous piece of decoration for the dining room, which helps brighten up the eating space and reinforces the bond among your family members.
2.4. Inhale exhale wall art for couples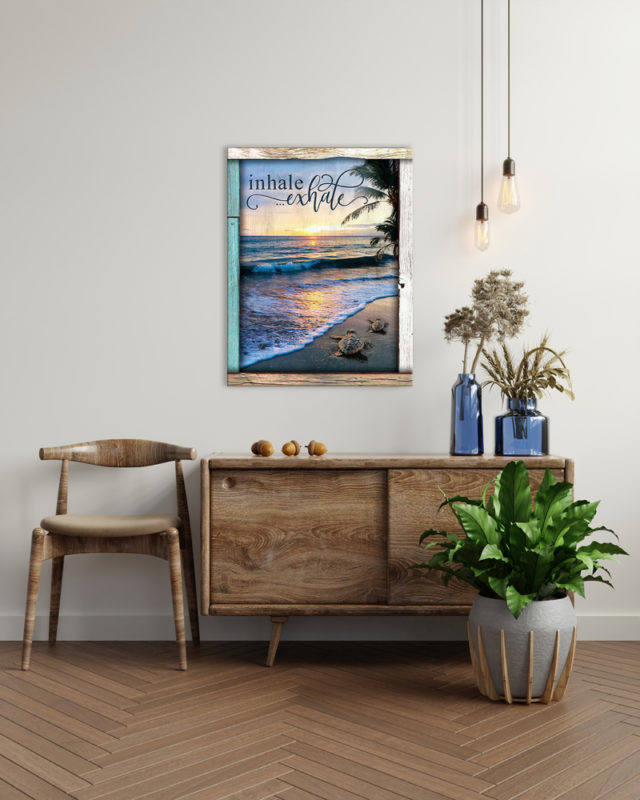 In case you're finding an outstanding gift for your lover, take a little notice of this adorable inhale exhale wall art. It has romantic and fresh coastal scenery. The turtle couple is so cute and lively. They can represent you and your partner as well. This print can be a piece of memory that reminds you of happy moments you two spend together. It's also an energetic icon, featuring every positive day's "inhale, exhale" message. If your lover receives this painting, she/he will see how much your love is and how thoughtful you are.
2.5. Inhale exhale print featuring jars of flowers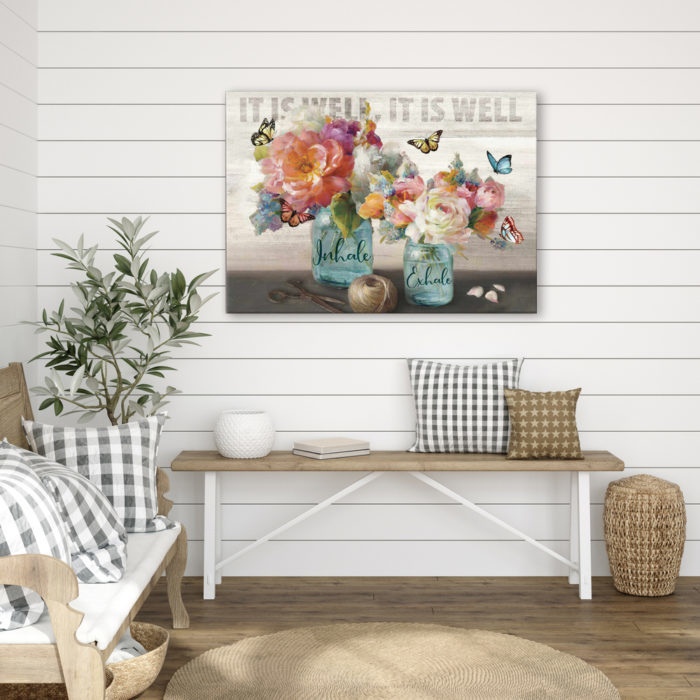 You can find relaxed moments in this print. Elegant flowers, colorful butterflies and the "inhale, exhale" quote on the jars will make your days brighter and full of energy. Breathing is not just about surviving, it's enjoying and refreshing. Throw all the sorrow and anxiety away, you'll have a more cheerful and happy life. It's great that you have this inhale exhale wall art print at home so that it can spread happiness and positive energy to you and your family. You can also give this gorgeous piece to anyone you love, it's a spiritual way to bring a new spice to their life.
Read more:
Inhale exhale wall art is a striking idea to elevate the look of your home. It creates the most welcoming and motivating living space for you and your family. If you're enchanted by this artwork, bring some pieces to decorate your living room, bathroom, or any corner in your house. Ohcanvas is so pleased if you love any of our prints above. Let us know your bias and we'll bring them to you. You won't regret having these canvases as your focal decorative items.