Congratulations on you and your wife, who are having a new adorable baby. In this magical time, don't forget to share happiness and challenges with the new mom by preparing meaningful gifts for pregnant wife. There's no need to wait for a special occasion, like her birthday or Mother's Day, to hand over your gifts. Surprise her with stunning presents on a normal day to make her always feel loved and cared. If you're clueless about "What is the best gift for pregnant women?", browse Oh Canvas's thoughtful list below. You'll find at least one thing that makes her smile.
Romantic gifts for pregnant wife from husband
1. Mama Candle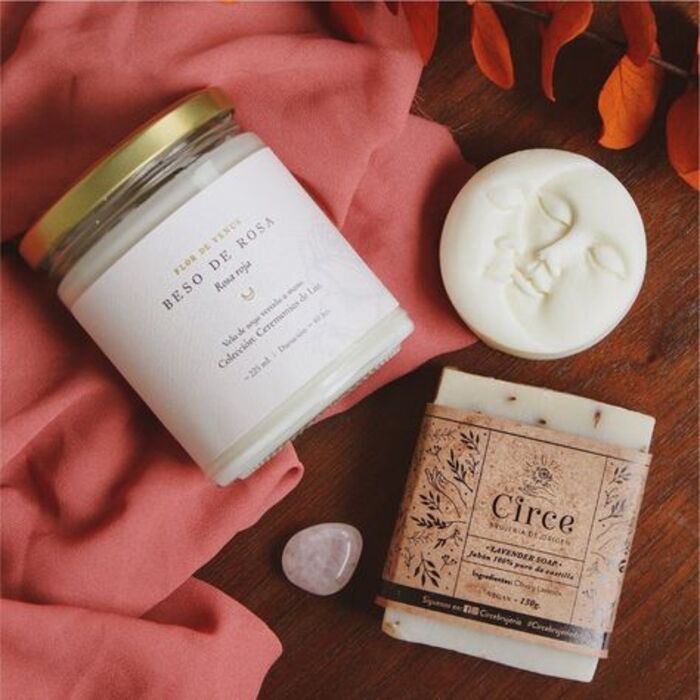 This candle is perfect for any soon-to-be mom who wants to cover unpleasant odors in the house. You can opt for juicy mixed berries and gentle vanilla fragrances to add the sweetest touches to her living space. The relaxing environment and soothing aroma will make her pregnancy period less stressful.
2. Pregnancy Journal
A pregnant journal is an ideal pregnancy gift for wife who enjoys journaling or jotting down treasured recollections. Before the little bundle of joy arrives, having this journal will help her keep track of everything. She can revise these old memories for years to come and feel how wonderful it is to be a mom.
3. Newborn Arrival Gift Set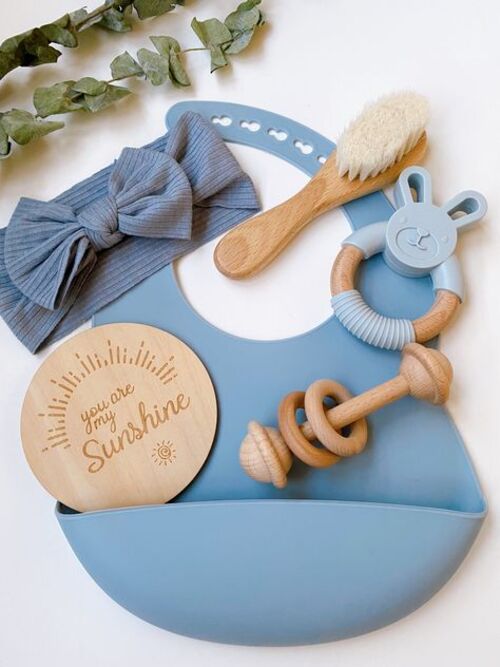 You can't go wrong with giving a pregnant woman a little present for her unborn child! She will be even more delighted about welcoming her new baby into the world if you offer her a gorgeous newborn gift set. Opt for all the essentials suitable for your newborn's skin and growth. Your wife will appreciate your thoughtful gesture a lot.
4. Keepsake Library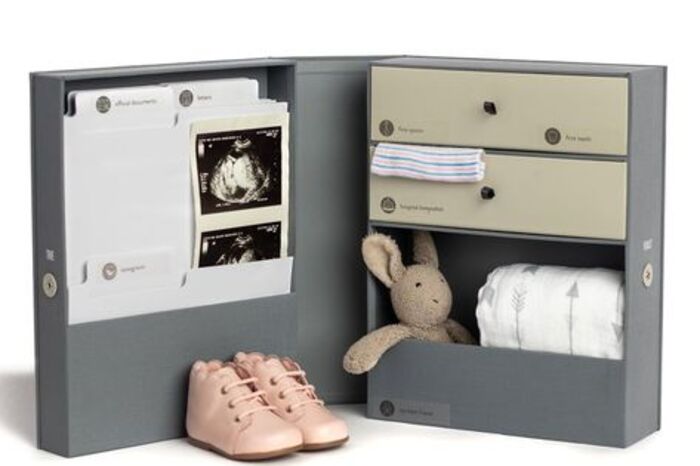 Parents-to-be will be delighted by this exquisite organizer, which they can use to store and preserve precious mementos like sonogram photos, hospital bracelets, and the first tooth. This is one of the romantic gifts for pregnant wife from husband that make her day.
5. Fresh Beauty Kit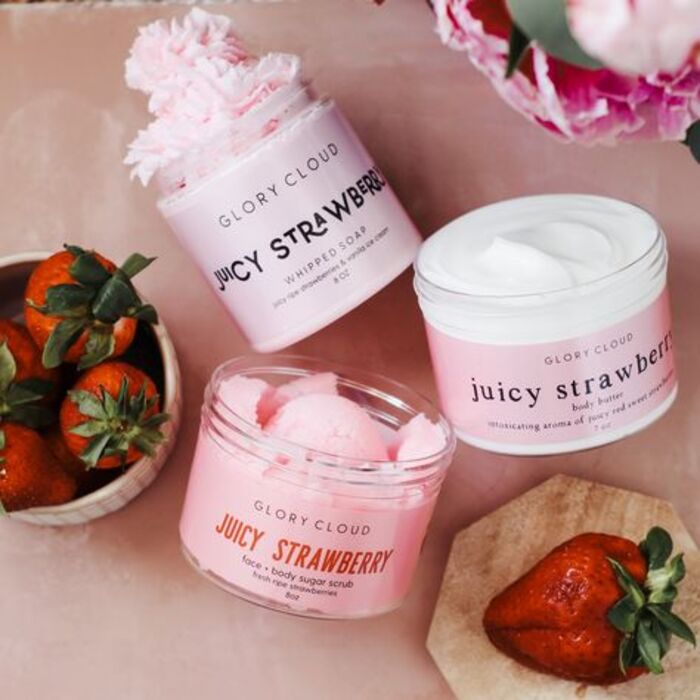 This wellness kit lets your wife still have her beauty charm during pregnancy. Opt for fresh, natural products which are good for both mom and baby. They are amazing gift ideas for pregnant wife that can go a long way to show how much you are.
6. Flower Subscription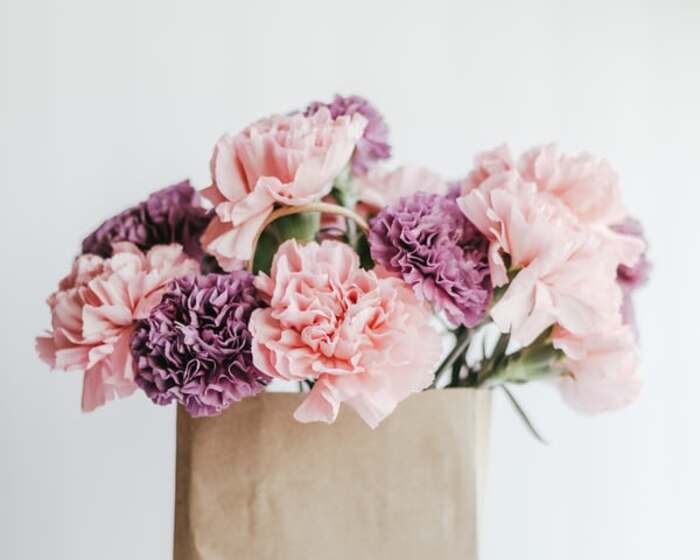 Flowers are an attractive way to brighten up your home! The last trimester, when the baby is born, or any other moment is a good time to send flowers. They are romantic gifts for mom to be that make them feel loved and treasured.
7. Spa Gift Card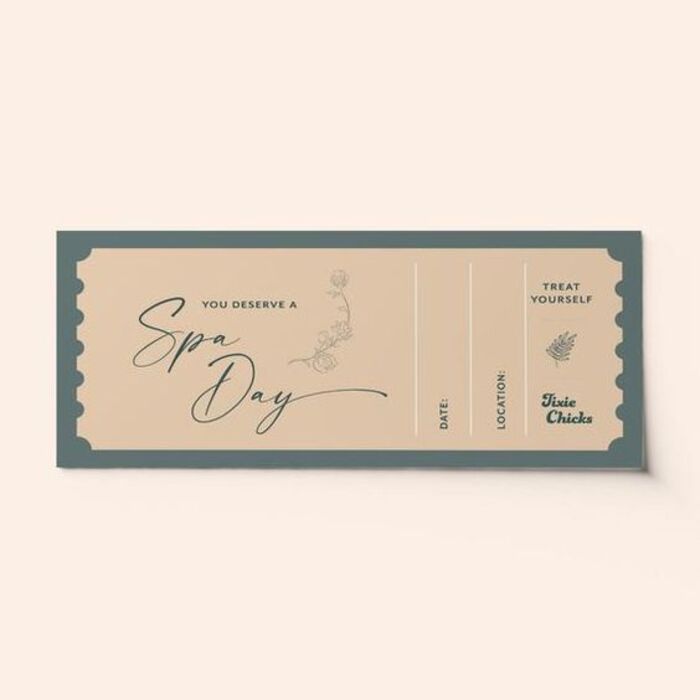 Pregnancy massages and pedicures for those hard-to-reach toes are a must-have for any expecting mother. Arrange babysitting for her older children as well as a girls' date at the spa to make your gift more special.
8. Romantic Canvas Art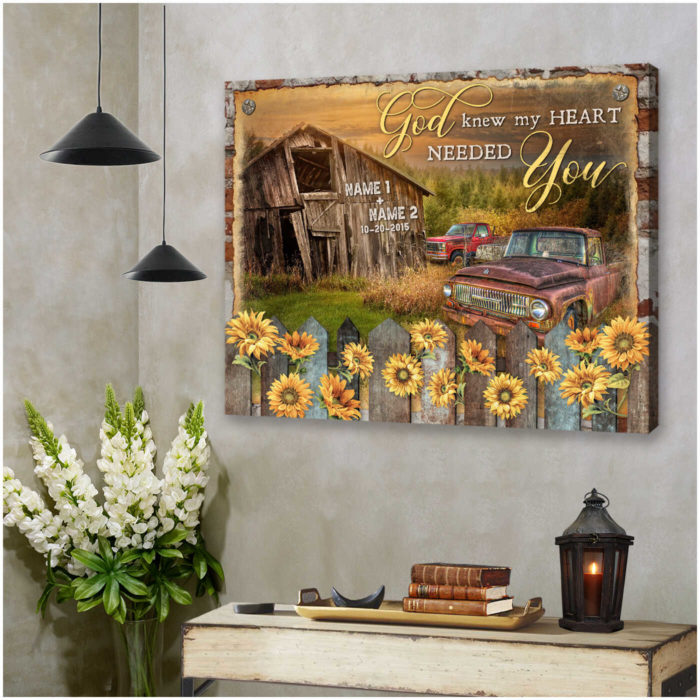 Show how much you love your wife with a romantic canvas that she will cherish forever. This gift is excellent for supporting her during her pregnancy. Your love and sincere care via this print will make her smile daily. Add to the charm of her space and fill in the blanks on the wall by hanging her favorite things.
9. Google Nest Mini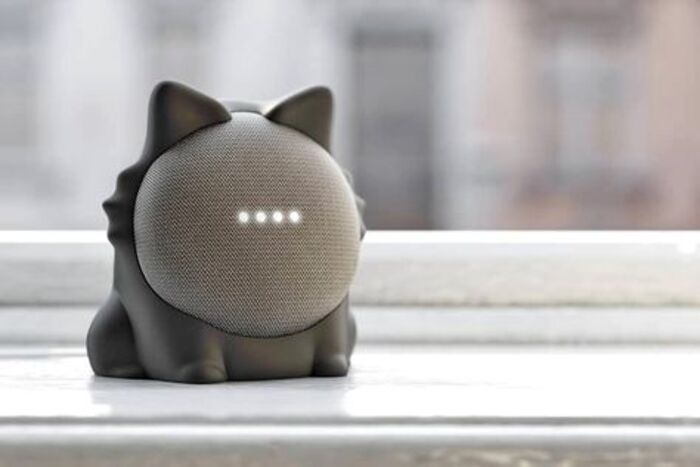 Google's voice-activated smart speaker lets her control the music or lighting without having to get out of bed. In addition to timers and alarms, there is also a tool for setting reminders. It deserves to be one of the best gifts for pregnant wife for being so convenient and supportive.
10. Baby Diaper Caddy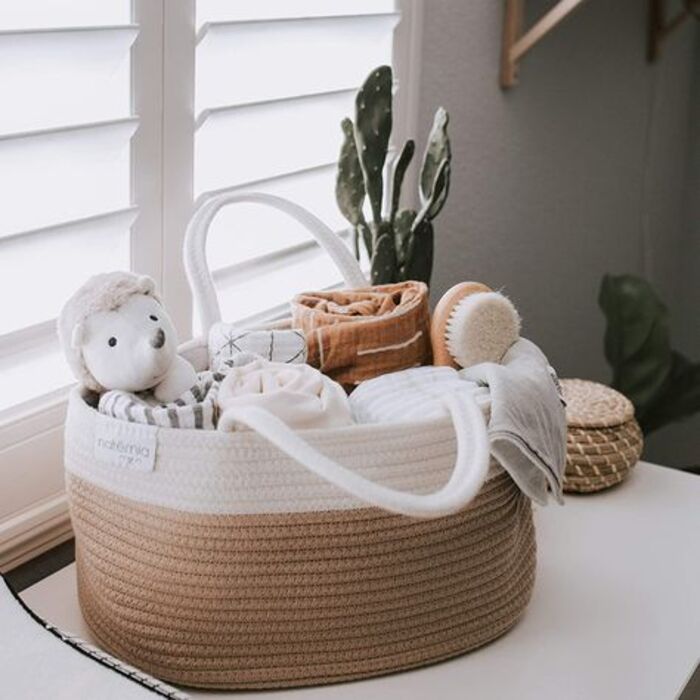 There is no better present for an expectant mother than this diaper caddy. There's plenty of room for everything a baby needs. Moms can use it to keep everything tidy and organized. It's still very helpful when driving the baby to the hospital or visiting the grandparents' house.
11. Books for Mama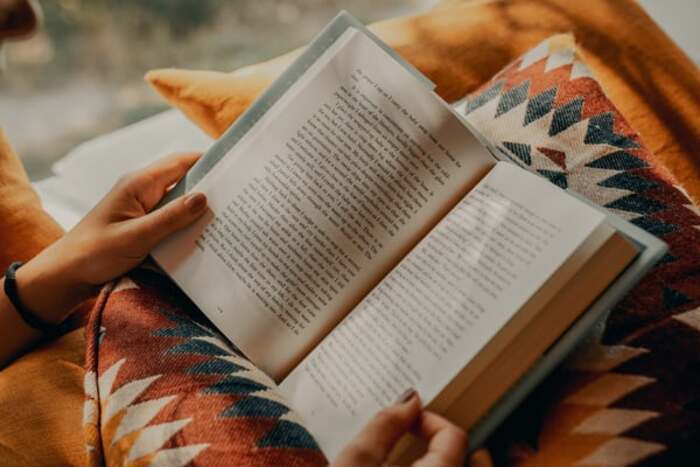 Still looking for other romantic gifts for pregnant wife? Books are excellent presents that fill her days with motivation and positive energy. Pregnancy books, children's books, casual reading, and parenting guides all fall into this category. You'll love how they bring optimistic aspects to the expecting mom.
12. Bamboo Sheets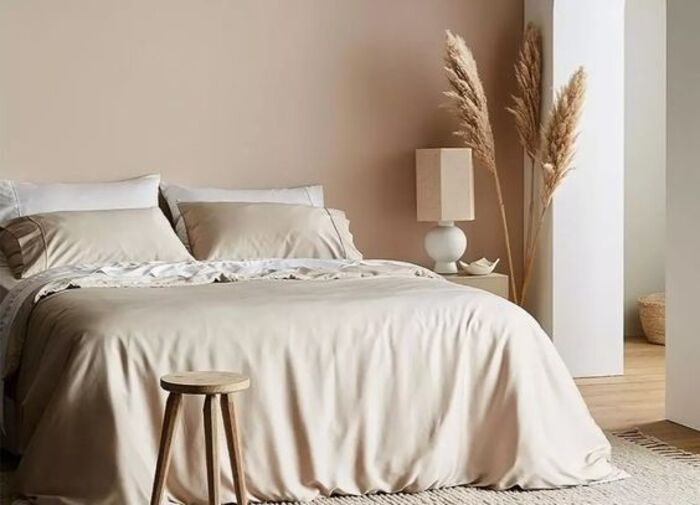 After a long day carrying the baby around, your wife needs the finest sleep to rest and get ready for the next day. A bamboo bedding set will play its best in giving her comfy experiences. When she lies down on the bed, a big part of her tiredness and sorrow will go away. These sheets are romantic gifts for pregnant women that any husband can consider.
13. Chocolate Collection Box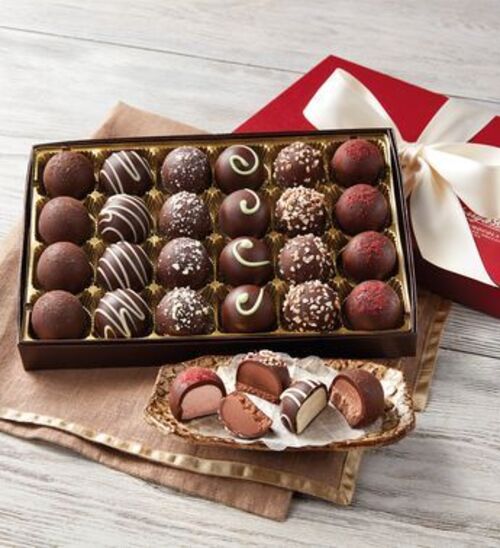 Add a sweet touch to her heavy day with this high-end chocolate gift box. She'll love grabbing a piece of chocolate whenever she wants. It's also a brilliant way to give her a little energy to overcome harsh days.
>>> Read more: 43 Best Luxury Gift For Wife That She Actually Appreciated
Personalized gift ideas for pregnant women
14. Personalized Spa Gift Box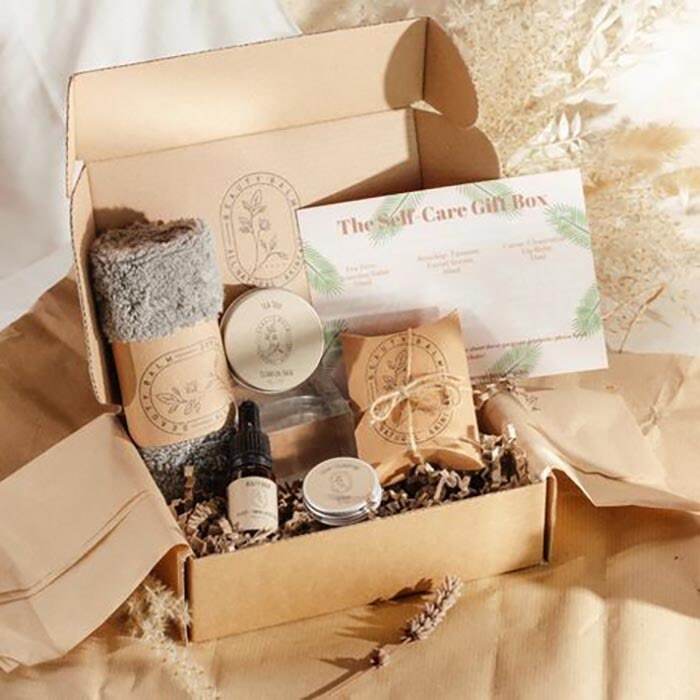 Bring the spa to your expectant mother if she prefers to stay at home and rest to the fullest. This spa gift box includes everything she needs to relax in the bathroom, such as a bar of soap for her body and skin, a bath bomb, a lip scrub, or a face polish.
15. "This is us" Photo Canvas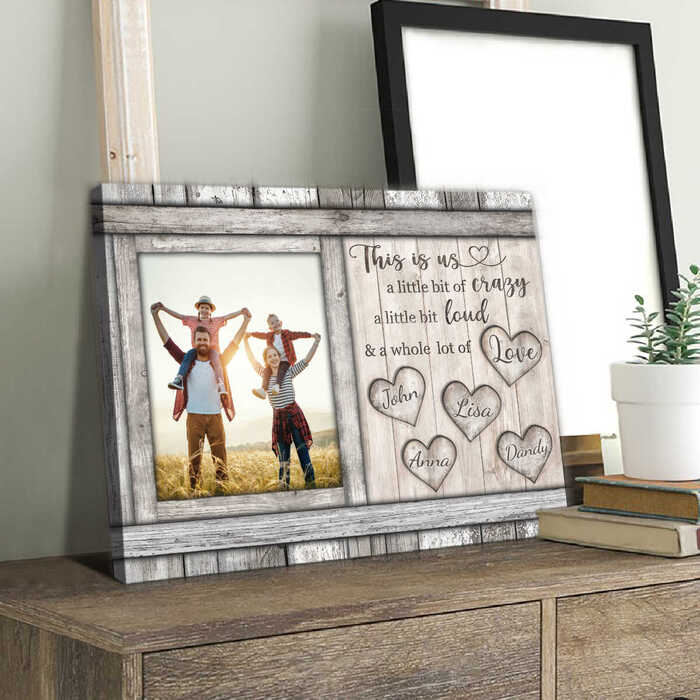 Nothing can compare to a meaningful keepsake that has the image of your family on it. This photo canvas is a heartfelt personalized gift for your wife that she'll treasure for a lifetime. Customize it with your whole family name, favorite photo, and a lovely quote to make the print an amazing piece she loves to look at every day.
16. Mama Necklace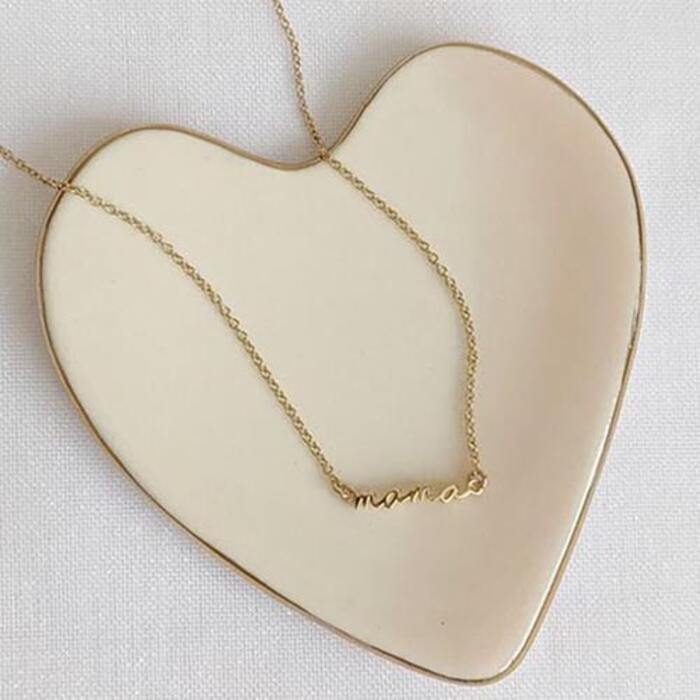 An especially sentimental present, such as this tiny "mama" necklace, is likely to bring tears of joy to her. This timeless present may be given on any occasion. Though her thoughts are on the arrival of her baby, she will appreciate this necklace. Personalized pregnancy gifts for wife are always heartfelt ways to show how much she means to you.
17. Personalized Mug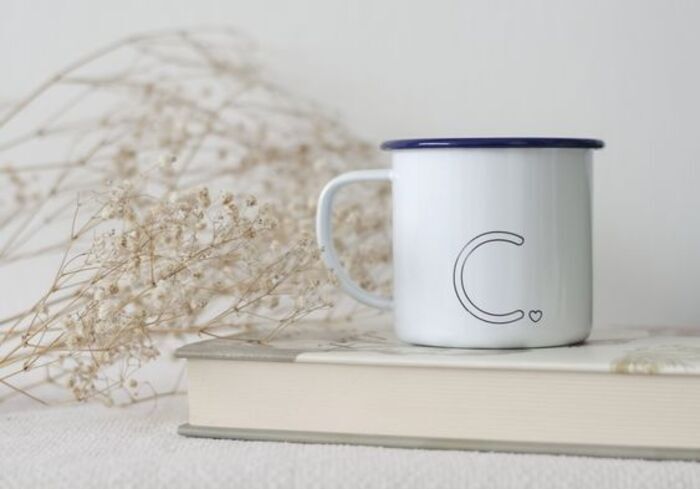 Having her favorite beverages served in a personalized mug makes the expectant mother feel more special. As a final touch, include herbal teas that she can sip on while pregnant and her favorite cup of coffee once the baby is born.
18. Encouraging Charm Bracelet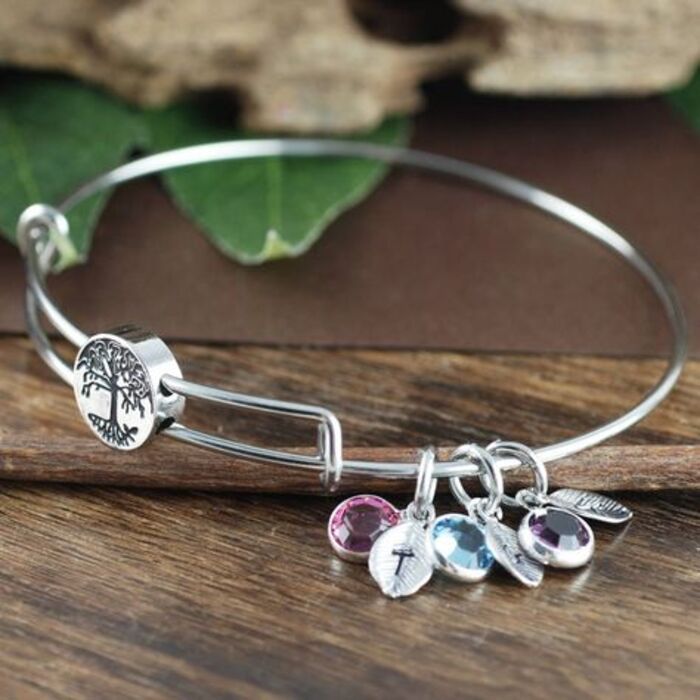 Birthstones can be added to this bracelet to make it more personal. In addition, you can opt for a lovely quote, like "World's best mama" or "Hi, mom", to be inscribed on the bangle. Your wife will burst into tears when unwrapping this heartfelt present from you.
19. Name Nursery Decor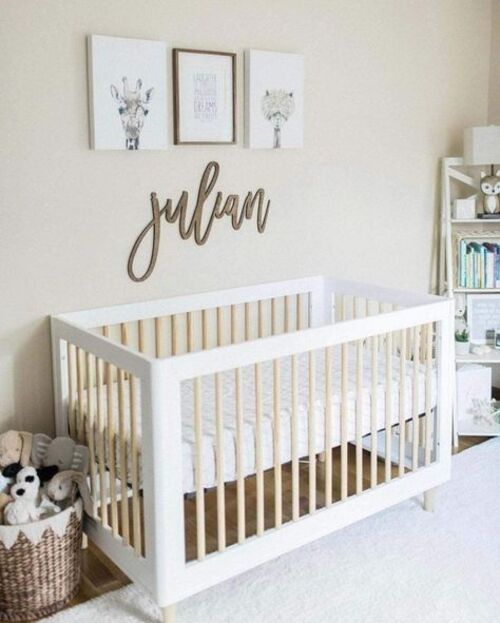 Have you and your wife come up with a name for your baby yet? If so, this wooden name sign is a gorgeous pregnancy gift for wife that won't go unnoticed. Hang it on the door or over a crib to make a charming, adorable nursery room for the newborn.
20. Personalized Birthstone Necklace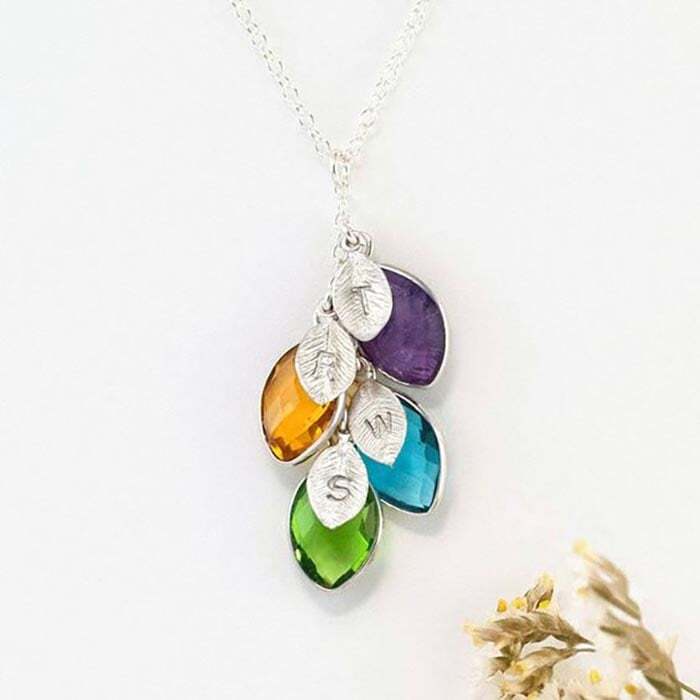 It is possible to customize this silver necklace in any way you like. Add birthstones of your baby, your wife, and even you to this necklace to make it more charming. Besides, the newborn's name can be engraved to take your best gift for pregnant wife to the next level.
21. Wood Sonogram Photo Frame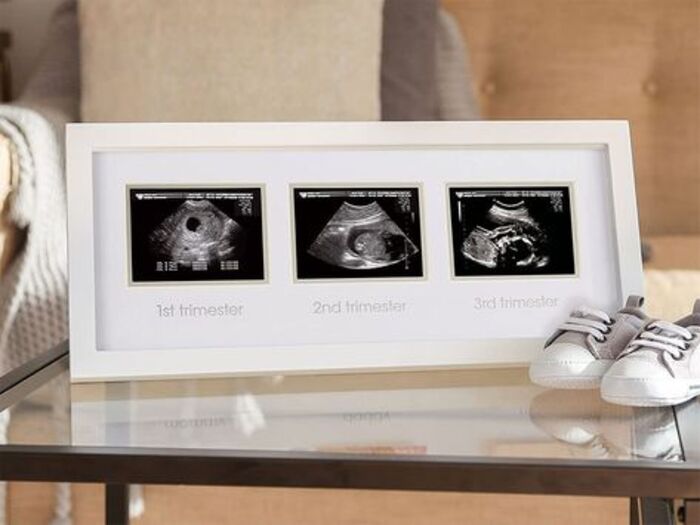 How creative it is to turn the baby sonogram photo into a meaningful decorative piece. Your mom to be can't wait to show off her new bundle of joy but treasure this thoughtful present for years to come. This meaningful keepsake will brighten up every corner of your room, so don't miss out on it.
22. Dessert Gift Box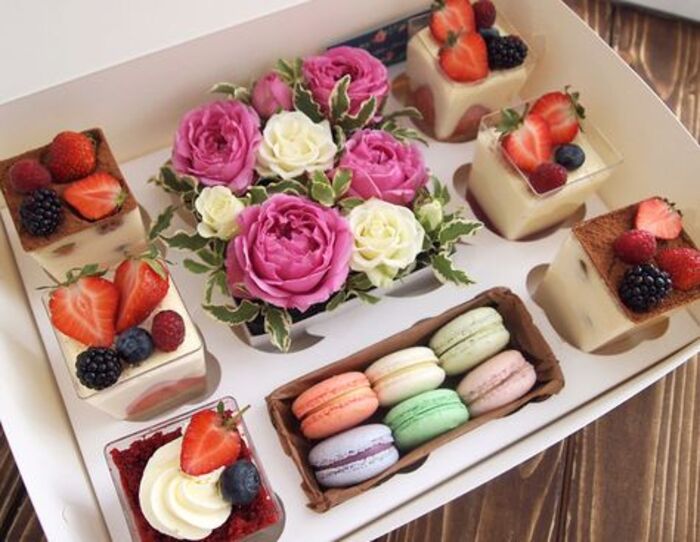 Show how much you love your wife by giving her a gift box with all of her favorite desserts or snacks. Those with a sweet taste will be delighted by this collection. Customize the box with her name and a touching message to make it more special than other personalized gift ideas for a wife you have known. This heartfelt gesture will win her over.
23. Mom Tumbler with Year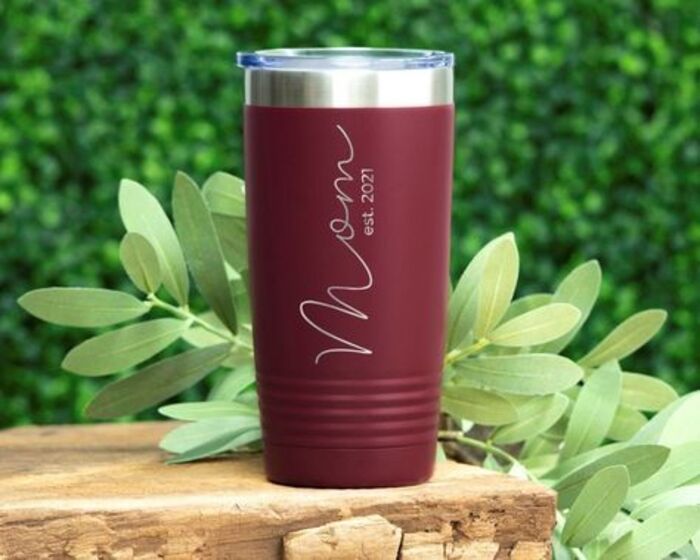 Any pregnant person should consume 8 to 12 ounces of water each day, according to experts. A lovely custom tumbler will remind her of drinking water in an exciting way. It's also an adorable keepsake she wants to keep for the following years.
24. Photo album
Keep all the photos, from when she's pregnant till the baby is born, in an album to preserve valuable moments forever. For each memory, you can add some notes or your thoughts so that when she receives this book, she can understand how you feel.
>>> Recommend reading: Top 42 Romantic Gifts For Wife That Make Her Feel Special
Thoughtful gifts for pregnant women from husband
25. Pure Silk Sleep Mask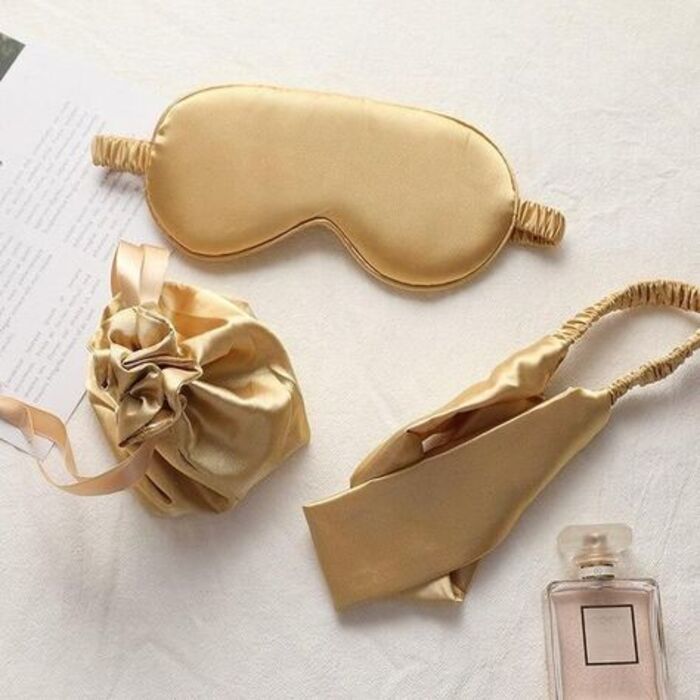 When she needs some serious calming shut-eye, she can use this silky eye mask to block out the light and get some rest whenever she wants. If you want to make the gift more special, opt for a type infused with herbs or dry flowers. It'll give her the best experience.
26. Slippers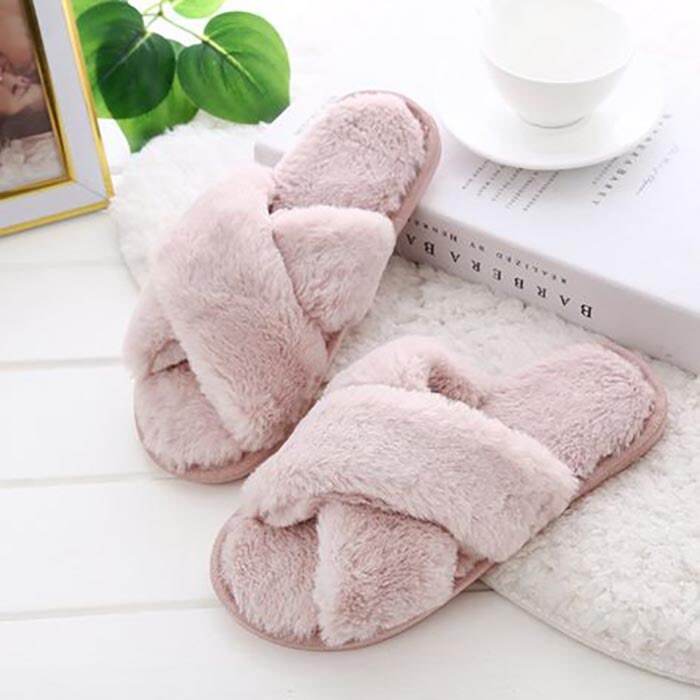 It's important that she wears soft slippers at home. They keep her feet always warm and give her comfy steps. If you love this idea, opt for her favorite color. Your slippers are the best gifts for expecting moms that they'll actually use.
27. Duffel Bag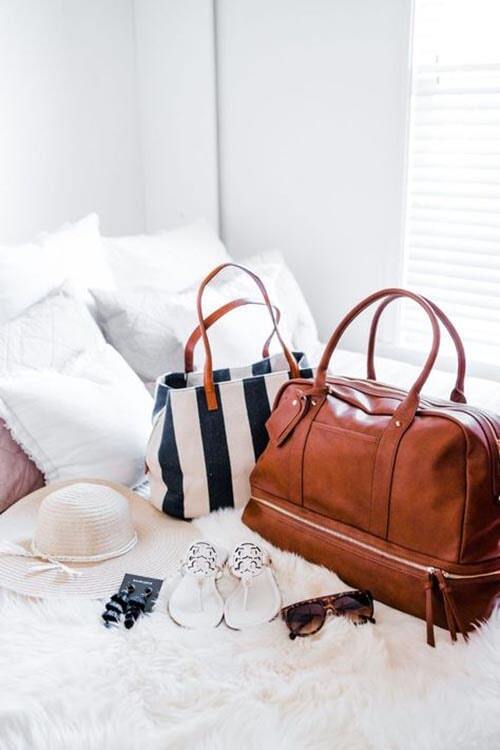 This bag is fantastic for her hospital stay or a weekend getaway with the new baby. Opt for a large bag if she usually brings a lot of stuff with her. She'll be satisfied with your choice.
28. House-Cleaning Services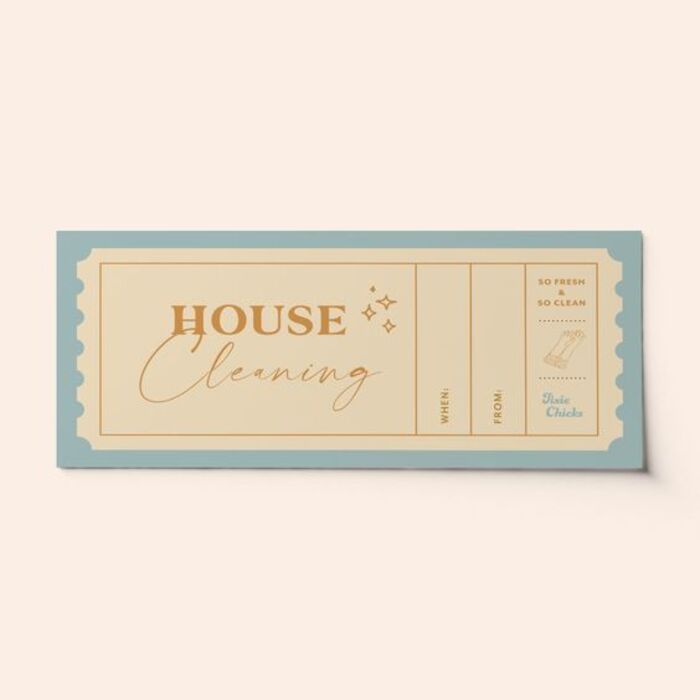 Your buddy who is exhausted will appreciate a house-cleaning service gift card. It allows her to relax while someone else takes care of the chores. Send her this service every week of her nine months. She'll have more time for herself and the baby.
29. Motivational Red Tree Canvas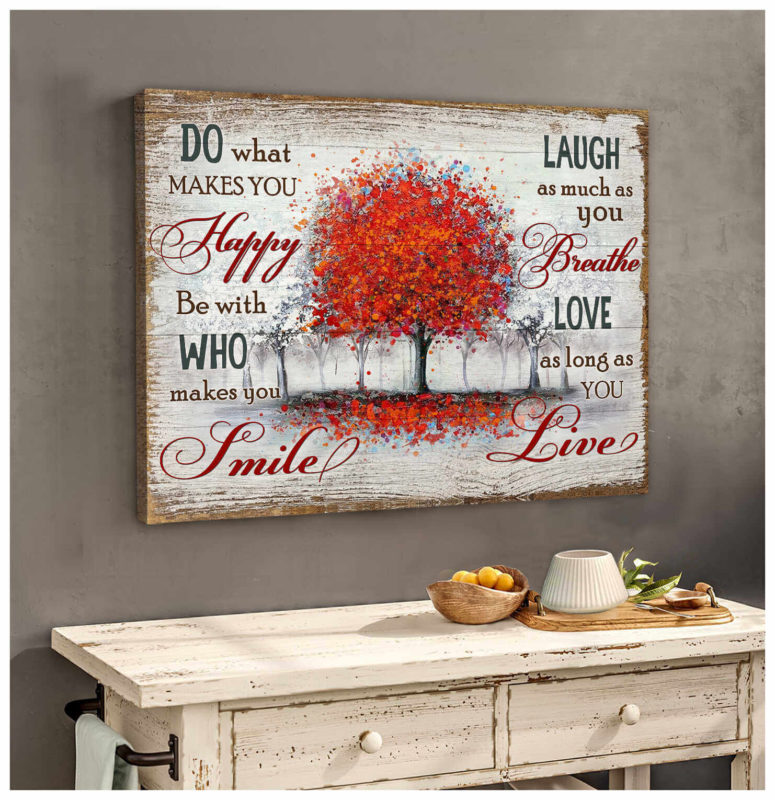 Pregnant women need love, care, and motivation a lot in this tough period of their life. Hence, a sweet piece of canvas that delivers positive energy is an excellent gift for her. She's sure to appreciate your thoughtful gesture.
30. Foot Massager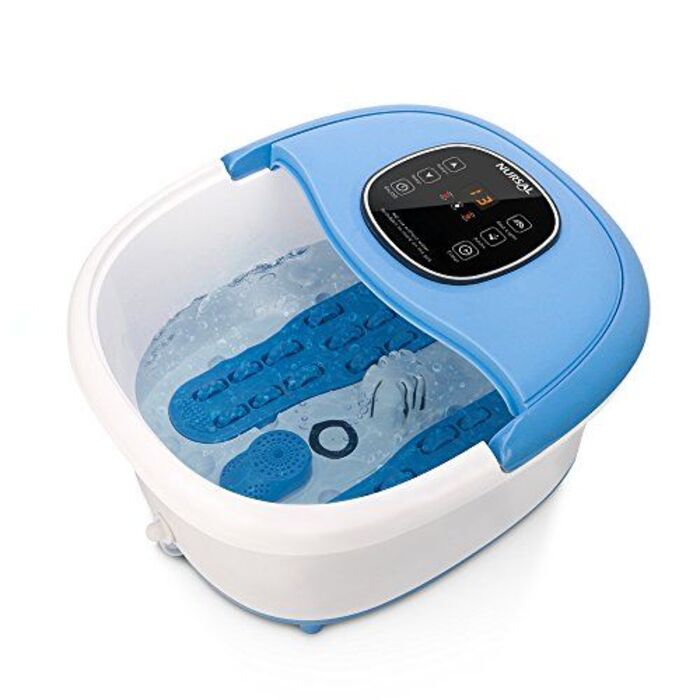 Her feet can be soothed by this foot massager's deep-kneading, vibrating, rolling, or heated relief functions. It helps alleviate swelling and poor circulation, which is common in the late pregnant period. Don't skip this best gift for your wife if you want to help with her pregnancy.
31. Velvet Heat Pillow
Give a pregnant friend this lavender and barley-filled velvet pillow, which can be heated or cooled for a relaxing sensation. This perfect gift is extremely supportive since it deals with the inevitable aches and pains she may experience.
32. Maternity Kimono Bathrobes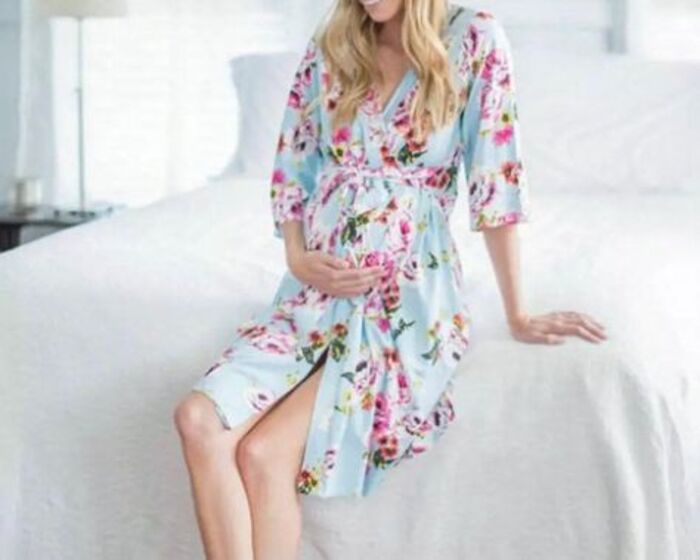 Gifts of comfort for expecting mothers are always welcome, as being pregnant is a difficult role. These maternity kimonos are excellent gifts for pregnant wife from husband who's looking for a terrific way for the mom to relax. She'll love how thoughtful you are when putting on the bathrobe and feel its comfy vibe.
33. Pregnancy Body Pillow
After a long day of bearing a developing child, mama craves a giant pillow to cuddle up with. This sweet gift will help them sleep better by supporting their hurting joints and supporting their growing belly. If you're seeking the best gift ideas for pregnant wife, opt for a cushe'll loveshion designed for her evolving body.
34. Maternity Support Belt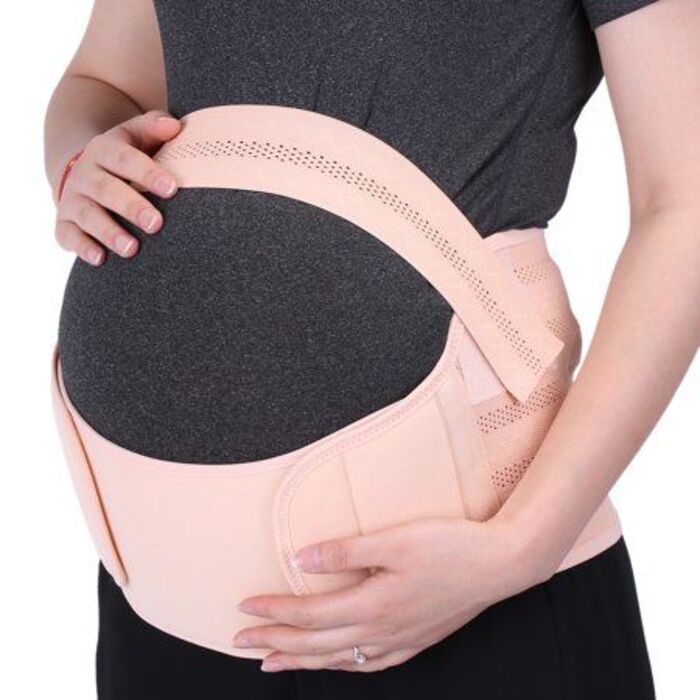 Mom's back is often in pain since she's carrying so much weight. This bolstering belly band may be of assistance. To alleviate strain on her abdomen, it softly raises and cradles her with two memory-foam pads. It's a super supportive gift for pregnant women that you should consider.
35. Essential Oil Diffuser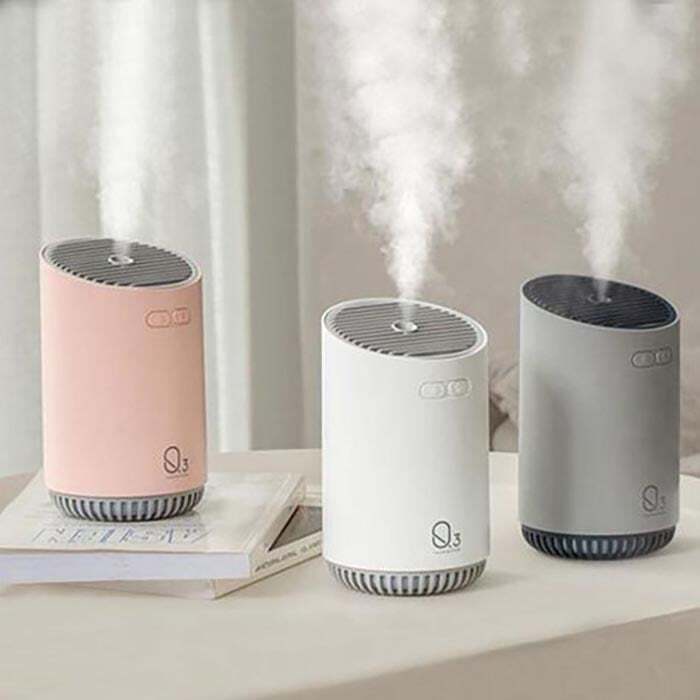 Consider a diffuser if you're seeking perfect gifts for first time moms that will put them at rest. Nausea and morning sickness can be made much more bearable with the use of aromatherapy. Opt for fresh oils to help her enjoy the most relaxing ambiance right in her home (and relax until the due date!).
36. Mocktail Subscription Box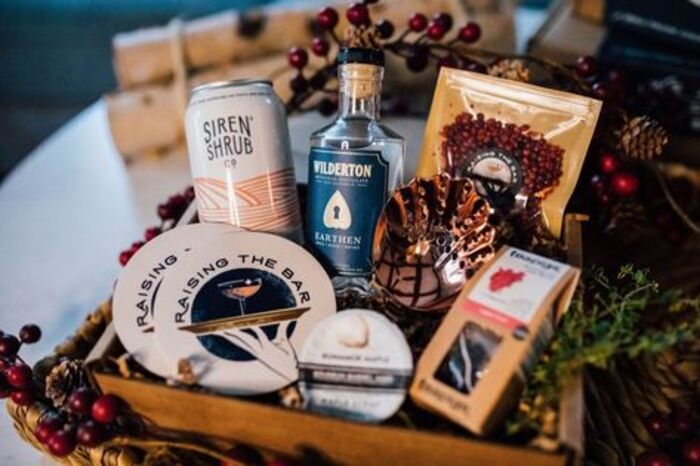 We can't round up a list of thoughtful gifts for pregnant wife from husband without a mocktail subscription box. Opt for basic materials that she needs to prepare a lively mocktail at home. Blackberry black tea, ginger, fig syrup, cardamom bitters, and turmeric soda are great options for this box.
Further reading:
Any new mom is happy while waiting for their new baby to be born. However, she also struggles with the hardest issues about her health, lifestyle, beauty, and mind. So how do you pamper a pregnant woman? That's when meaningful gifts for pregnant wife can help. She'll enjoy receiving practical, thoughtful presents that show how much you love and care about her. If you fall in love with personalized canvas prints which make her feel special, browse On Canvas to find the best pieces for her. We're sure that these heartfelt presents will win her over.