When someone is passionate about a sure thing, it makes gift-giving a lot easier, and when their passion is butterflies, you've come right place. These incredible gifts for butterfly lovers will add color and vibrancy to any home or garden; There are even ways to help the conservation of these beautiful insects. And for jewelry lovers, there are some stunning designs for them to wear, too. Let's read this Oh Canvas's to know more best gifts for butterfly fans.
Butterfly Gifts For Ladies
1. Butterfly Care Package Gift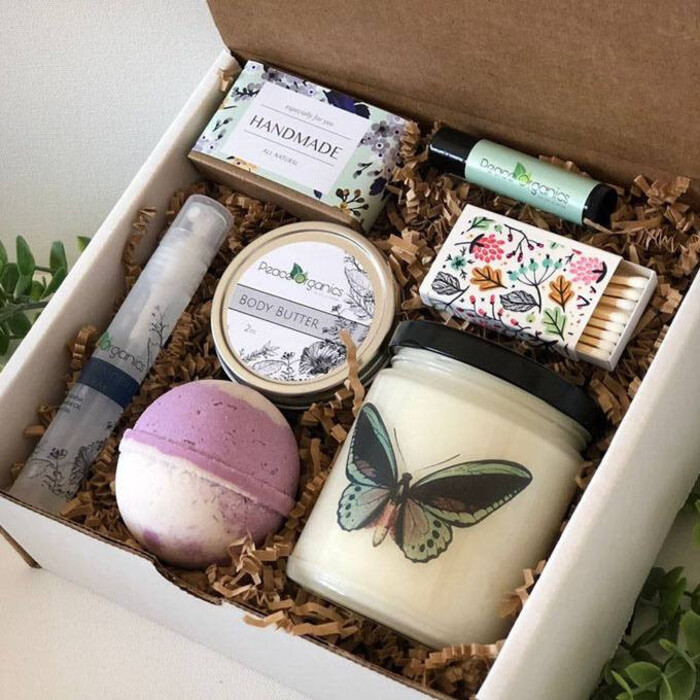 This self-care package is a thoughtful present for someone who always puts others before themselves. It will give them the product and the motivation they need to take care of themselves.
2. Butterfly Chart Shirt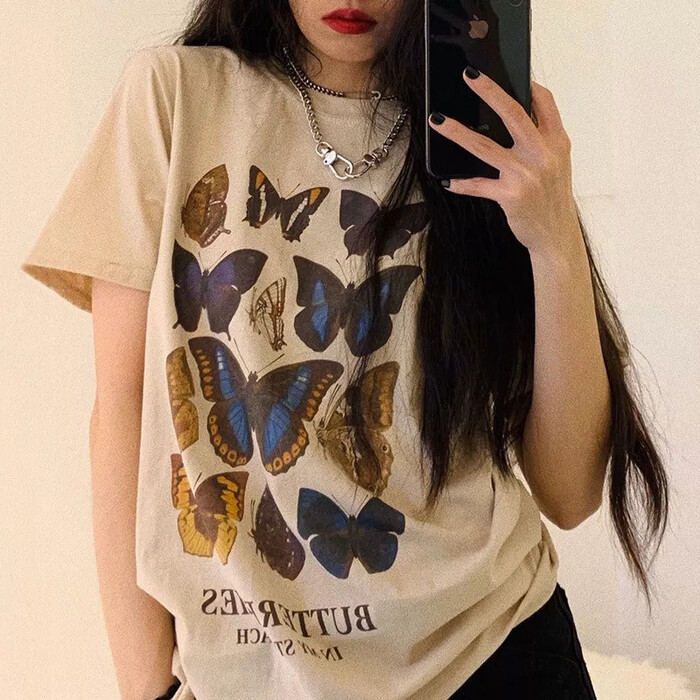 This historical butterfly chart shirt is perfect for an amateur entomologist, with eco-friendly ink, comfort, and an informative pattern encouraging butterfly study. Its faded look adds to its unique boho-chic style, making the person you give it feel cool.
3. Butterfly Charm Anklet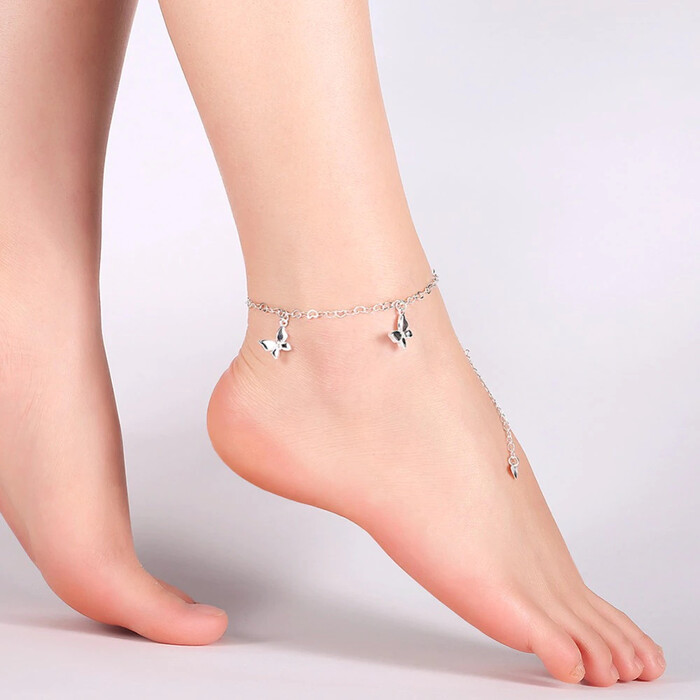 This eye-catching anklet has a bohemian vibe and would look great in the summer. It will match any outfit, from denim shorts to a long, flowing skirt, and is loaded with lovely charms. Therefore. these charm anklets make perfect gifts for butterfly lovers.
4. Butterfly Earrings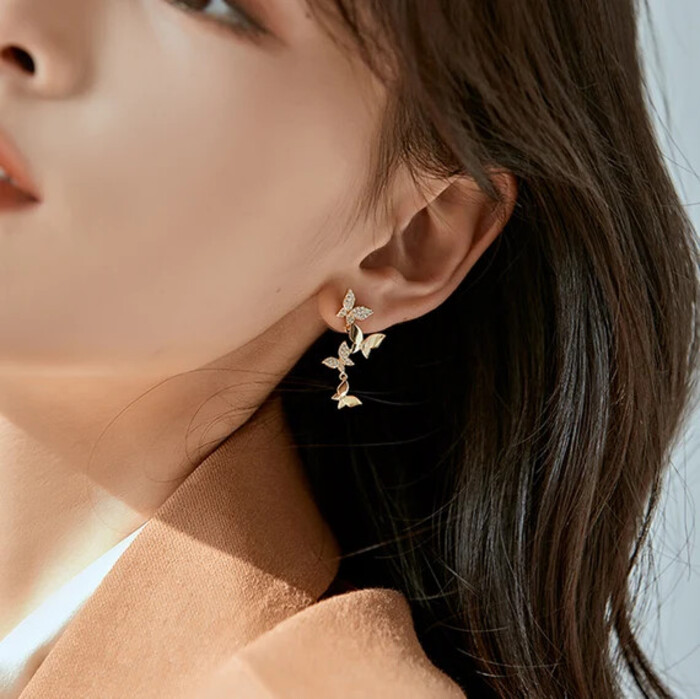 If you've ever been to a lepidopterarium, you understand the wonder of having one of these mysterious insects land on your shoulder or extended palm. These lovely earrings, finished in bright and glossy silver, can impart the same magic sensation to someone you want to gift.
5. Butterfly Clips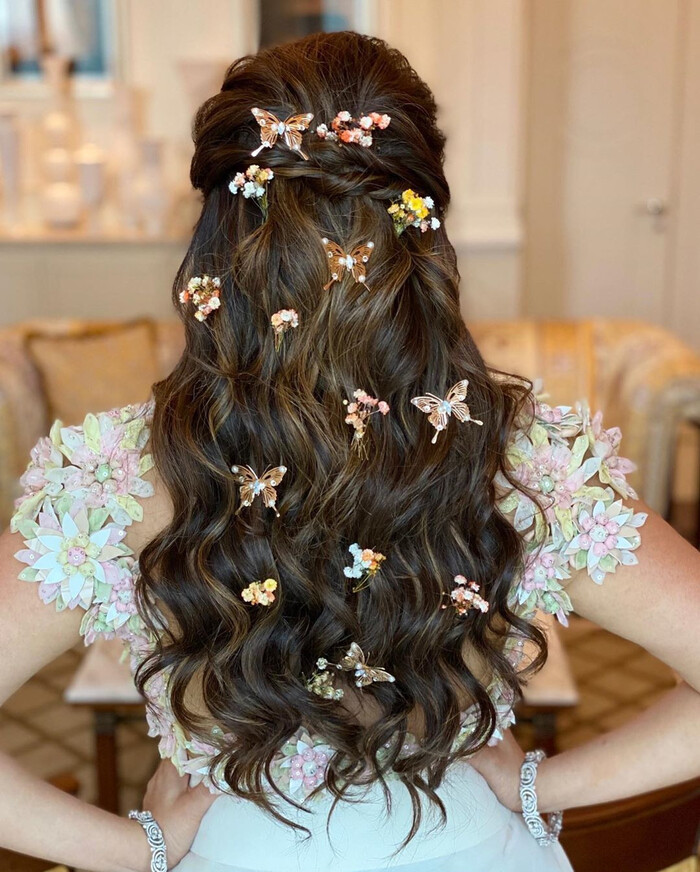 Your 90s girls feel understood entirely right now. The retro butterfly clips, which are back in style once again, are precisely like the ones you used to clip your hair. This time, they come in a larger pack with more colors.
6. Butterfly Makeup Bag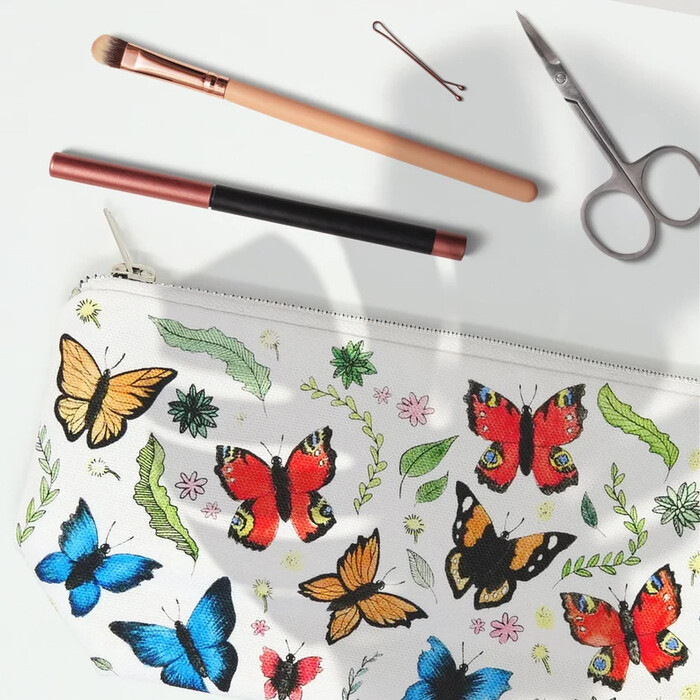 The butterfly enthusiast who also enjoys travel will adore this toiletry bag! The bag has a small area with a zipper for jewelry and a clear bag for makeup brushes.
7. Butterfly Jewelry Box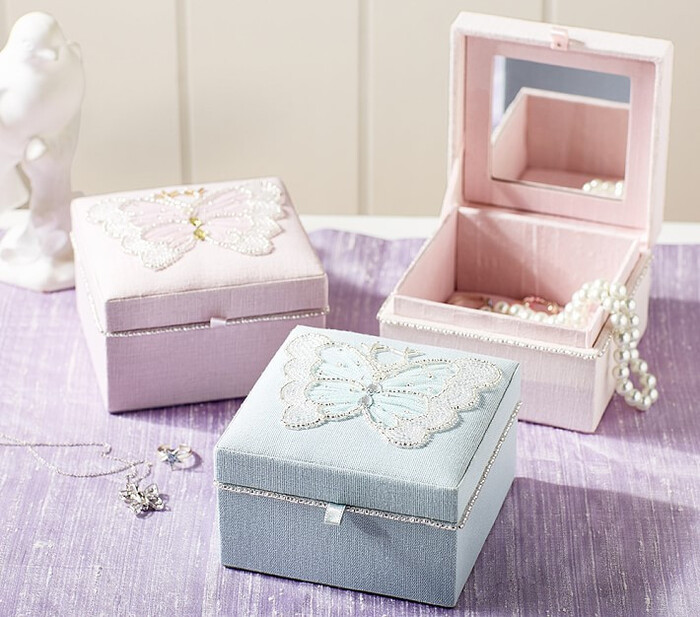 A butterfly jewelry box would be ideal for storing their butterfly necklaces, earrings, and other items. On the lid of the wooden jewelry box is a butterfly carving. The box is a charming piece of home decor and may be used as a jewelry box or a keepsake box for other small treasures.
8. Customized Canvas Art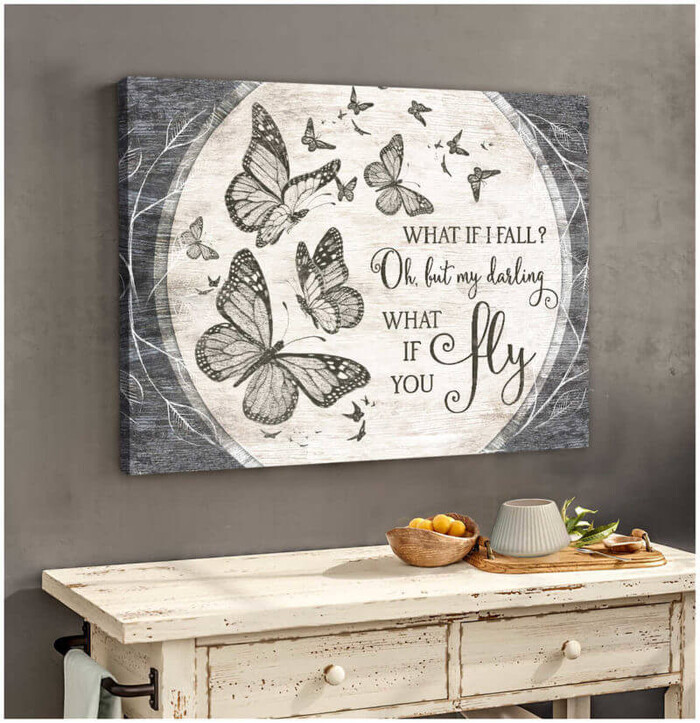 A butterfly is a beautiful creature that emerges from a pupa after going through multiple molts. The butterfly represents change, which can lead to an improvement in quality of life. Additionally, butterflies represent a need for a liberated, liberal life focused on enjoyable things. They are also depicted in the "What If You Fly" canvas for the same reason; when you own it, I hope you will have their strength, faith, and ability to live a fulfilling life.
9. Butterfly Tote Bag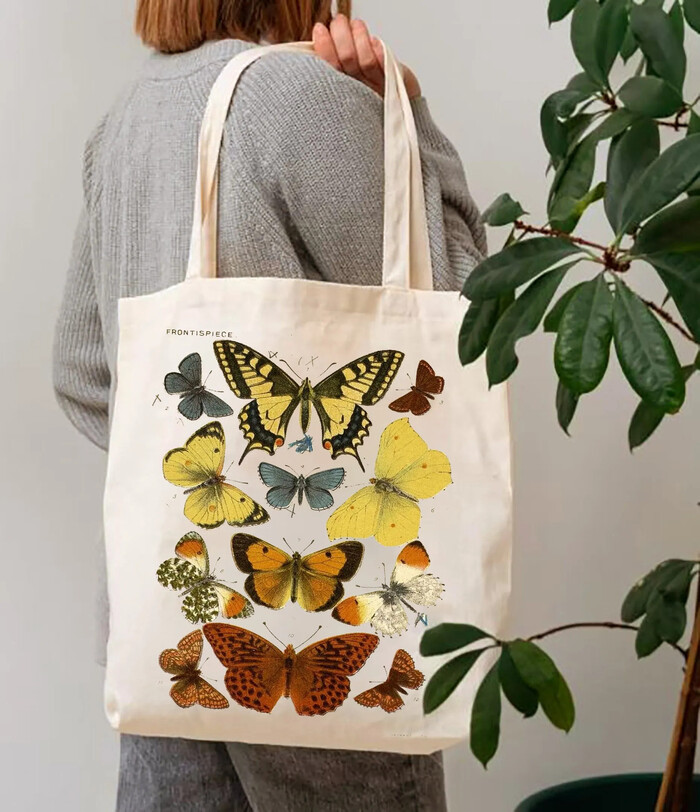 These customized tote bags are cute gifts for butterfly lovers who are always on the road and need something to carry supplies or treats in.
10. Crossbody Butterfly Bag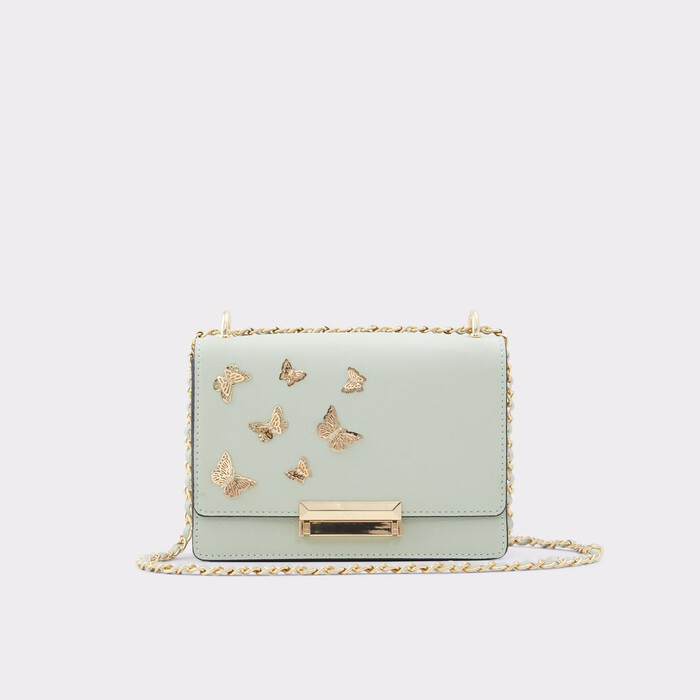 A stylish crossbody bag is an indispensable item for a girl. So why don't you give these bags as trendy gifts for butterfly lovers? The stylish PU leather purse has room for your phone, a few small makeup items, and a card you use every day.
>>> You can also read: 45 Awesome Gifts For Shark Lovers They Will Never Forget
Butterfly Gifts For Friends
11. Butterfly Tree Coaster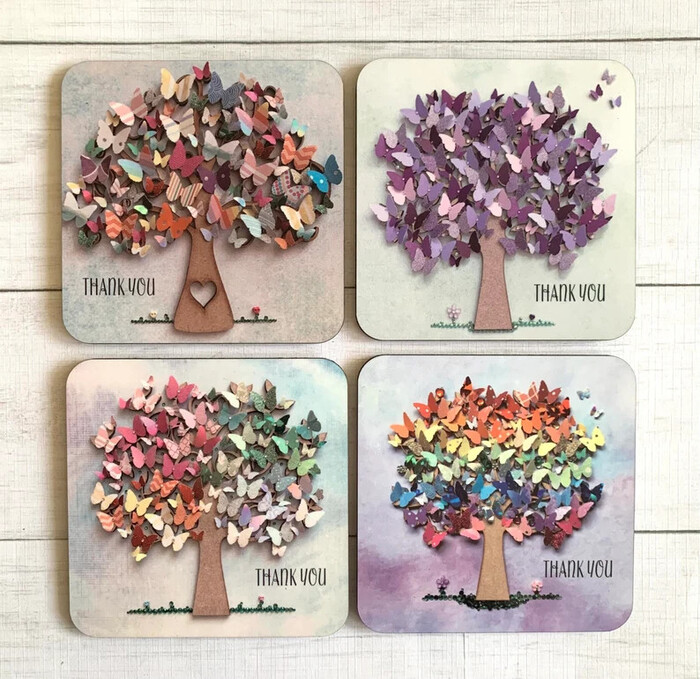 Ceramic stone is inherently absorbent, so this coaster set will keep your furniture dry from glass condensation. The edges are tumbled for a nice, rustic aesthetic, and the back is cushioned with cork to guard against scratches on your tabletop.
12. Butterflies Candle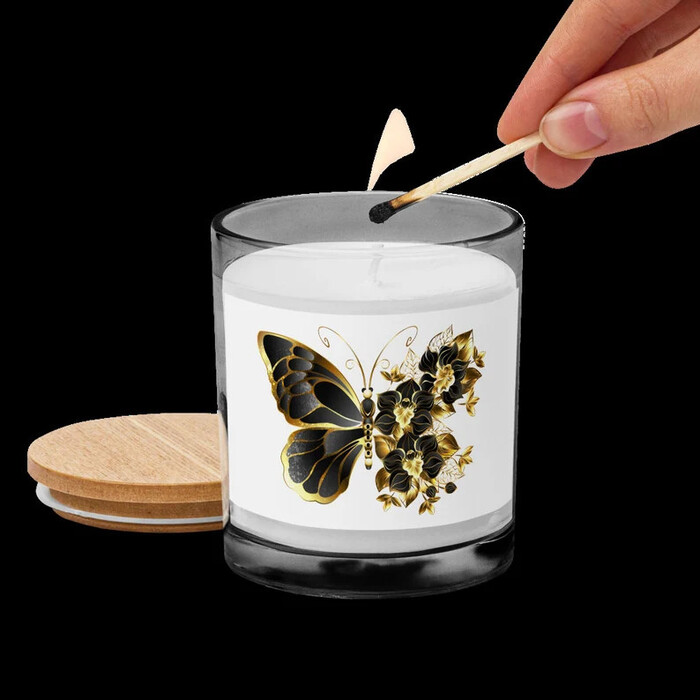 If you're still confused about what to give gifts for butterfly lovers, candles are a safe option. They pick a nice fragrance to fill their home with to please themselves and their visitors. Your loved one will love this wonderful gift.
13.  Micro Butterflies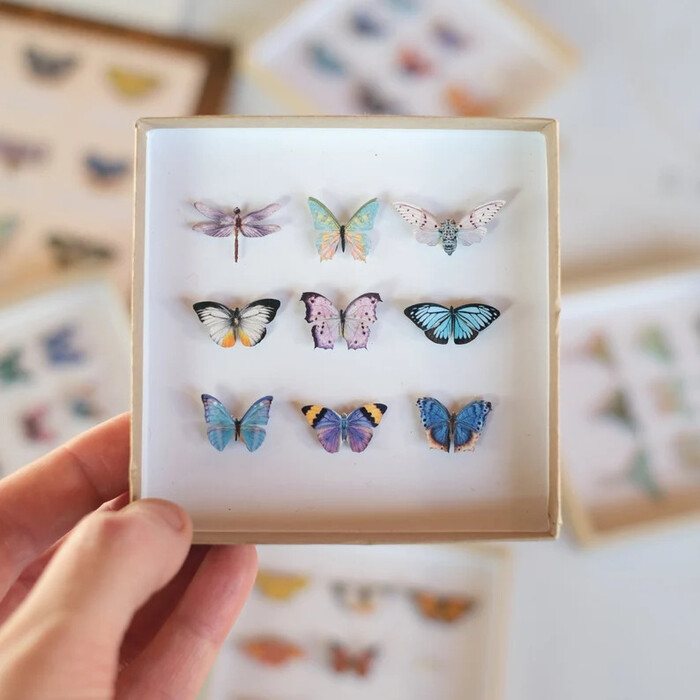 Pick three, six, or twenty different butterfly species to mix and match. These small butterflies don't occupy much room, but they leave a lasting impression on anyone who sees them. They are ideal for use in children's creative projects and jewelry.
14. Dandelion and Butterfly Canvas Art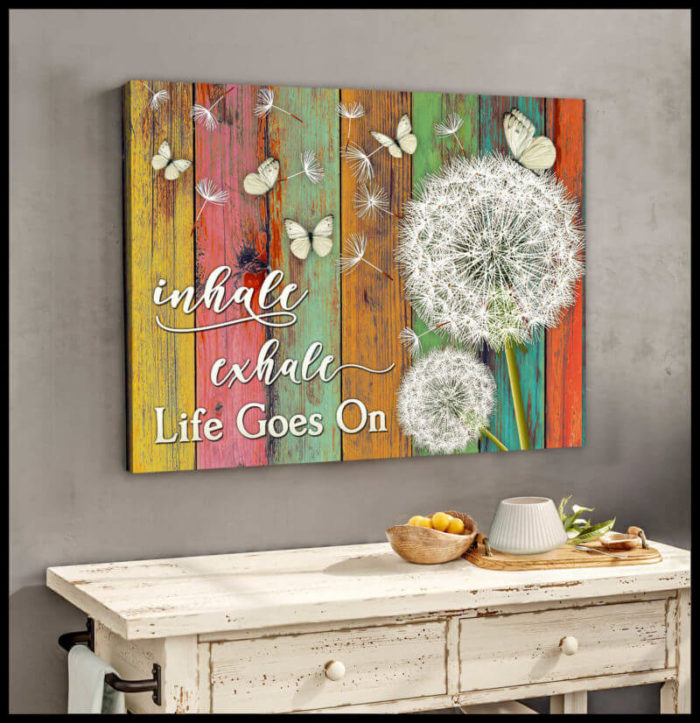 What do you do first when you decide to remodel your room? You're probably attempting to think of a stylish addition to change the appearance of your house. Use this Life Goes On wall art as a test case. The dandelion and butterfly themes are printed on a vivid rainbow-like background to produce a stunning work of art. Anyone who visits your home will be immediately drawn to this painting.
15. Silk Butterfly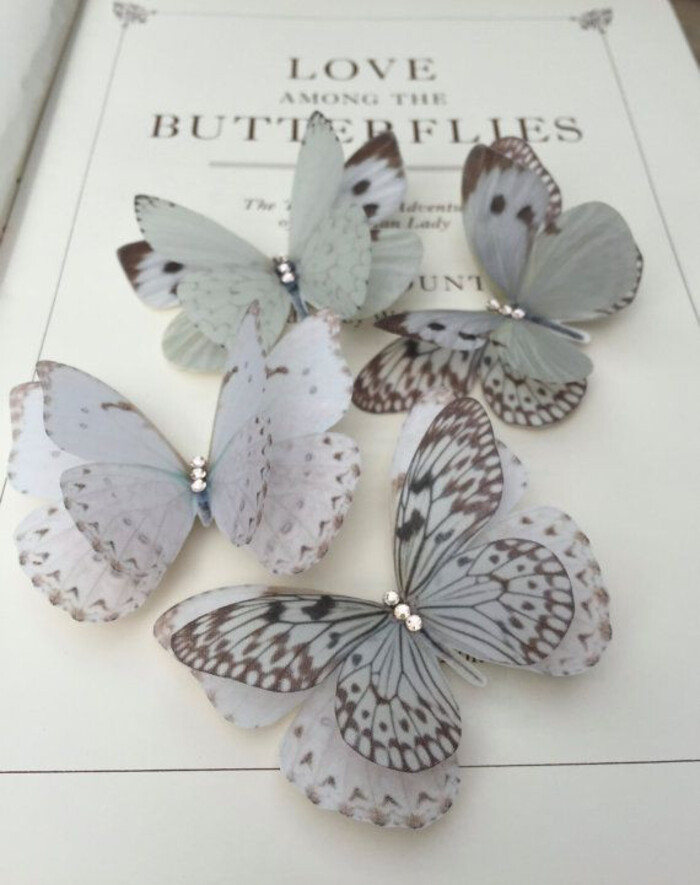 Why not give butterfly enthusiasts these lovely silk butterfly accessories? It can adorn their homes, bags, books, and other items. This gift from you will be much appreciated by them.
16. Butterfly Necklace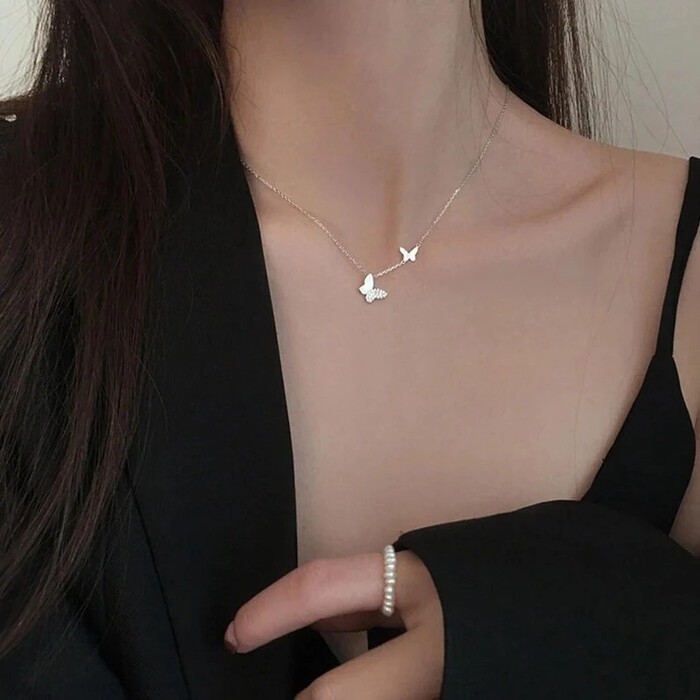 These beautiful gifts for butterfly lovers will brighten up their day. It's the ideal technique to make her smile. It may be personalized with your name and birthstone and is offered in various colors. This present is perfect for that special someone in your life. A lovely silk butterfly keepsake that you can personalize with an image of your choosing.
18. Butterfly Wish Bracelet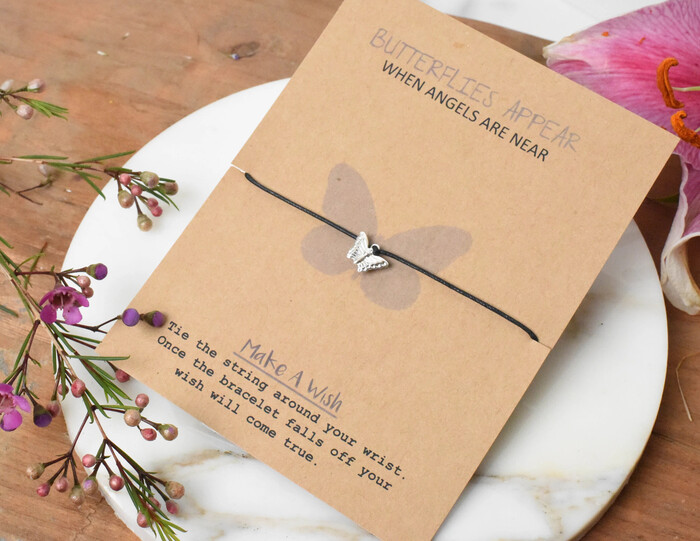 Giving this trust your wings butterfly wish bracelet to a buddy with some self-confidence issues may help them feel better. A wish-inspiring phrase is written on the card that comes with the powerful bracelet.
19. Butterfly Tiara
If you are looking for unique gifts for butterfly lovers, this tiara is one of the best options. With this stunning butterfly tiara, she may declare herself the butterfly princess. The hand-made headpiece is made of an 18K gold-plated alloy and has pearls and crystal butterflies on it.
20. Butterfly Wall Stickers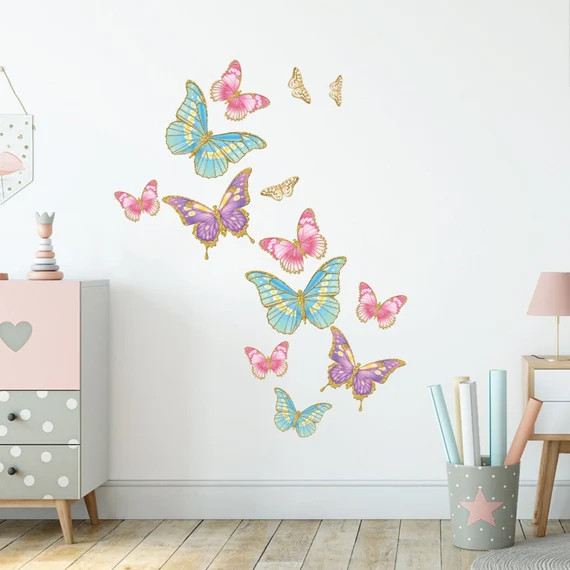 These butterflies will constantly remain on their walls, never having to migrate. The lovely 3D stickers, which resemble butterflies in flight, give their decoration a deeper level. The three-piece flyer set is available in silver, rose gold, or shiny gold and comes in various sizes to suit any aesthetic.
21. Butterfly Mask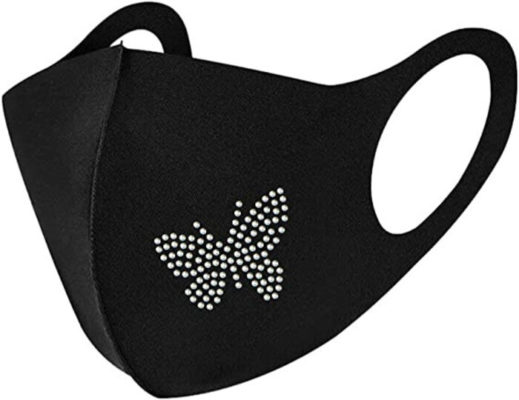 When she wears this golden butterfly mask, she'll feel just as posh and stylish as the butterfly on the side of it. It's comfortable on her face and keeps her protected thanks to the fabrication of linen and cotton and the adjustable ear loops.
22. Butterfly Umbrella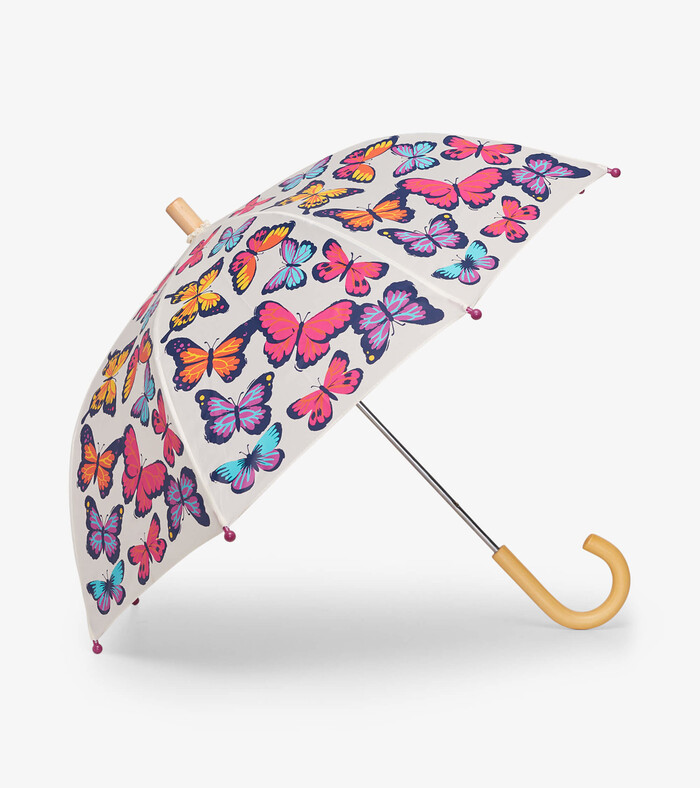 When it rains, it pours, but your significant other won't have to be concerned because you have this butterfly umbrella covering your head. They will cherish these fantastic gifts for butterfly lovers from you.
>>> Read more: Top 38 Awesome Gifts For Animal Lovers In Your Life
Butterfly Gifts For Adults
23. Tea Cup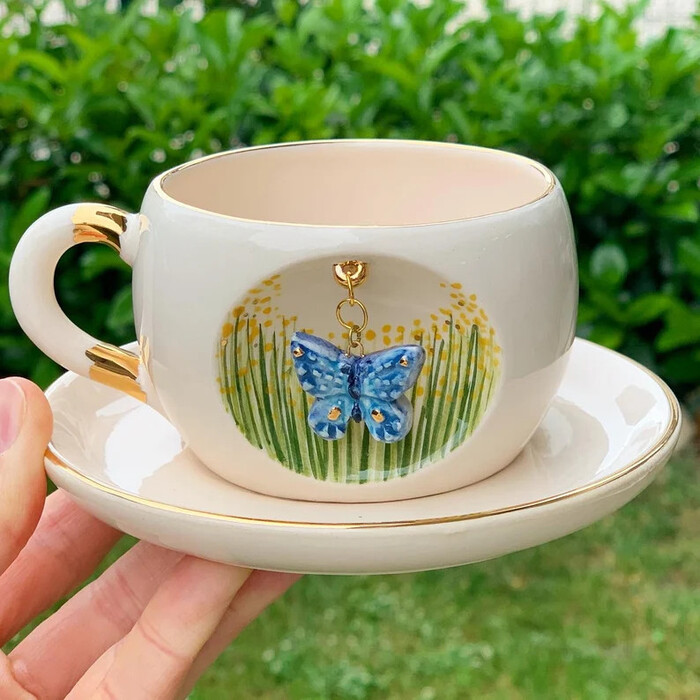 There is a fantastic blending of aesthetics and utility. There is a classical European aesthetic. Retro, classic, exquisite, and opulent best describe it. Your butterfly lovers will be able to lead better lives and produce better work due to this teacup. This mug is ideal for coffee, tea, juice, soda, lemonade, wine, cocktails, water, and other liquids, whether they are hot or cold.
24. "Butterflies" Wine Glass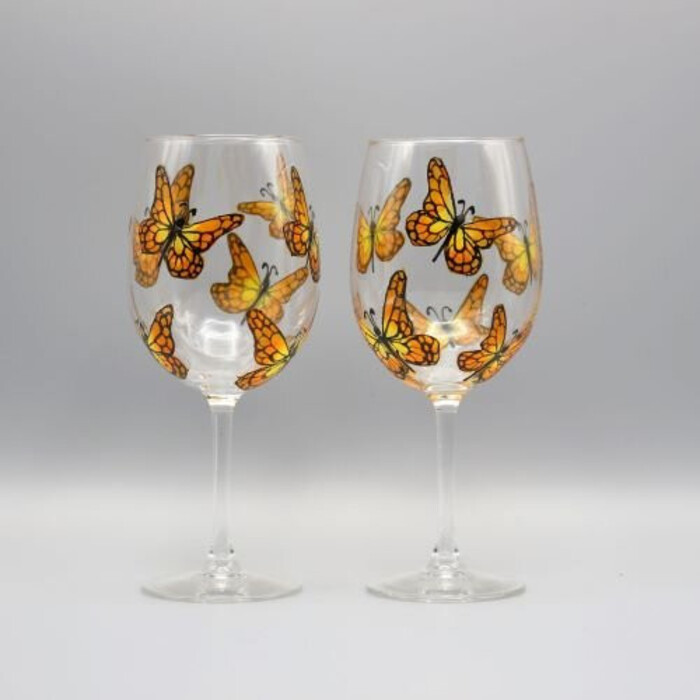 It is a great present for birthdays, Christmas, anniversaries, Mother's Day, and other special occasions and is appropriate for men, women, girls, and boys of all ages. The best wine glass for everyone—men, women, kids, and even girls.
25. Throw Blanket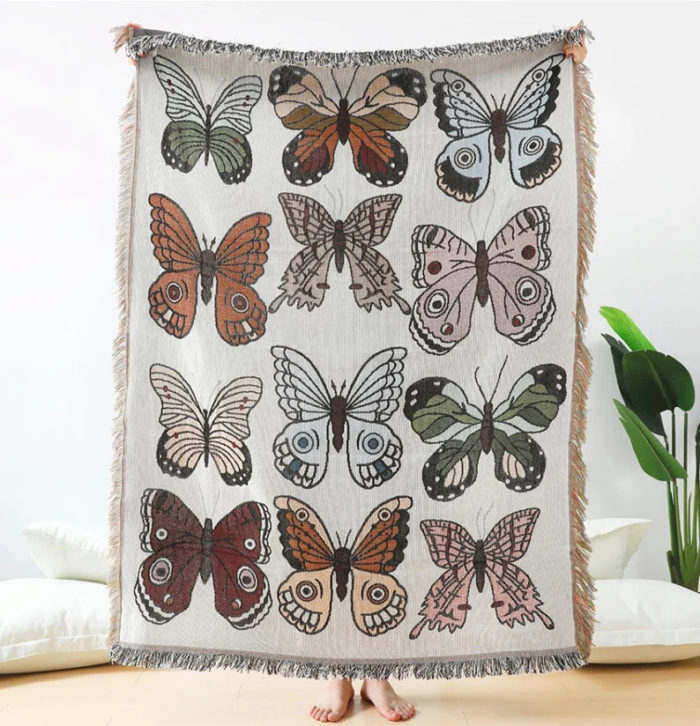 You can't go wrong with these blankets as gifts for butterfly lovers. It will be a fantastic gift for every one of your family members and friends on any occasion. This blanket is made of a soft, luxurious, and absorbent microfiber material that is soft to the touch.
27. Butterfly Tree Card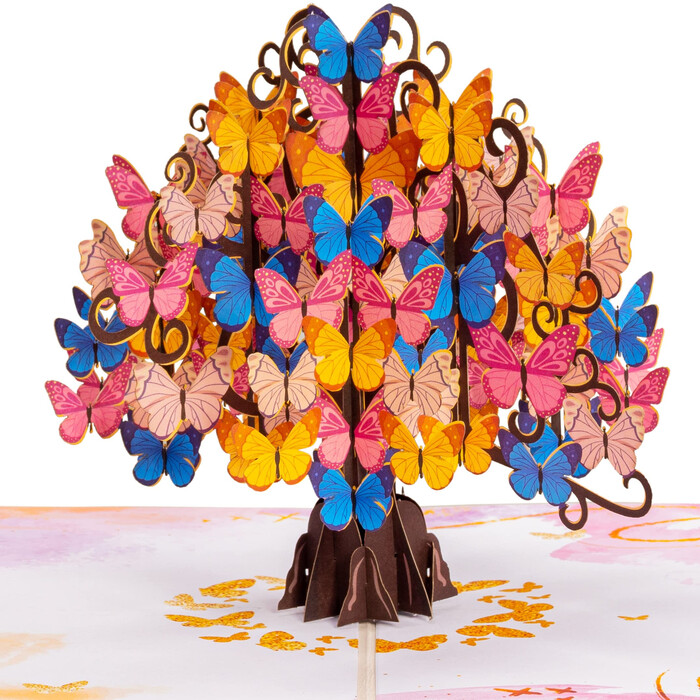 Sending your buddy this magnificent butterfly tree card will make a significant difference in their day. The tree on the handcrafted card features leaves that are a variety of adorable butterflies. It's the kind of card that, due to its beauty, earns a spot on the mantel all year long.
28. Adopt a Butterfly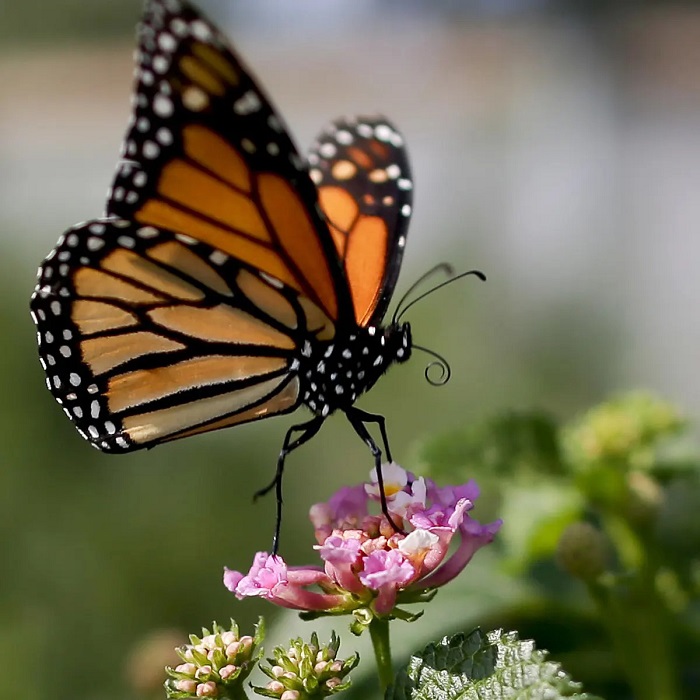 Butterflies have been classified as critically endangered. Adopt a pet from the World Animal Foundation if you wish to help. Your symbolic care entitles you to a picture of your butterfly, information about it, a gorgeous glossy picture of your new adopted, and the joy that comes from knowing that you're doing your part to promote conservation.
29. Butterfly Bomb Wildflower Seed Sets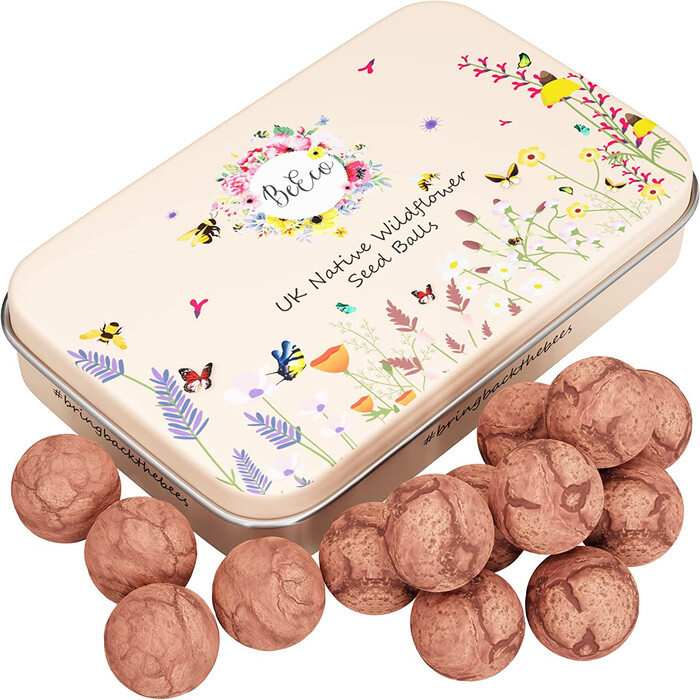 What will attract butterflies to your location are these wildflower seed bomb sets. The ten spheres are each made of clay, which, after being planted, protects the seeds inside by dissolving into the soil.
30. Light-Up Butterfly Wind Chimes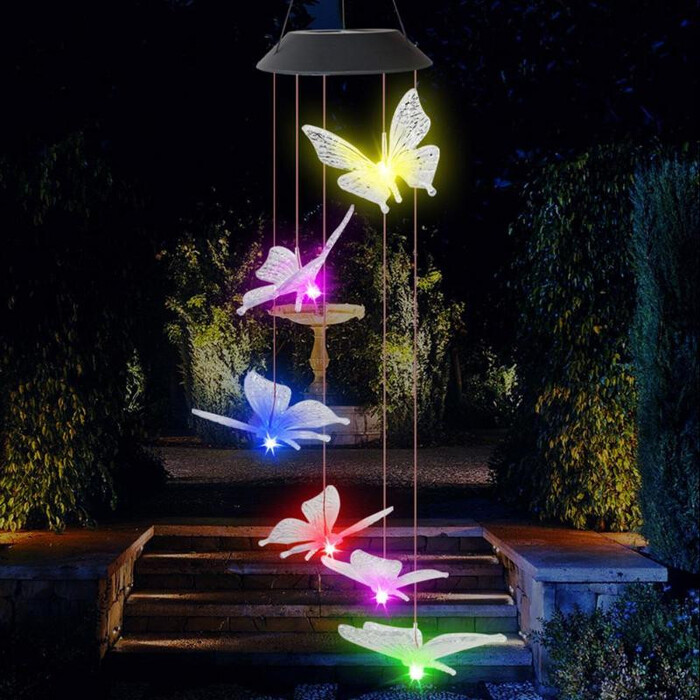 Wind chimes are cool, but illuminated wind chimes are just plain awesome. Where the pipes would typically be, these lovely butterfly light-up wind chimes have insects hanging down instead. They produce relaxing murmurs when they move in the wind. Additionally, they have solar-powered LEDs that can last up to 150,000 hours.
31. Lace Butterfly Dreamcatcher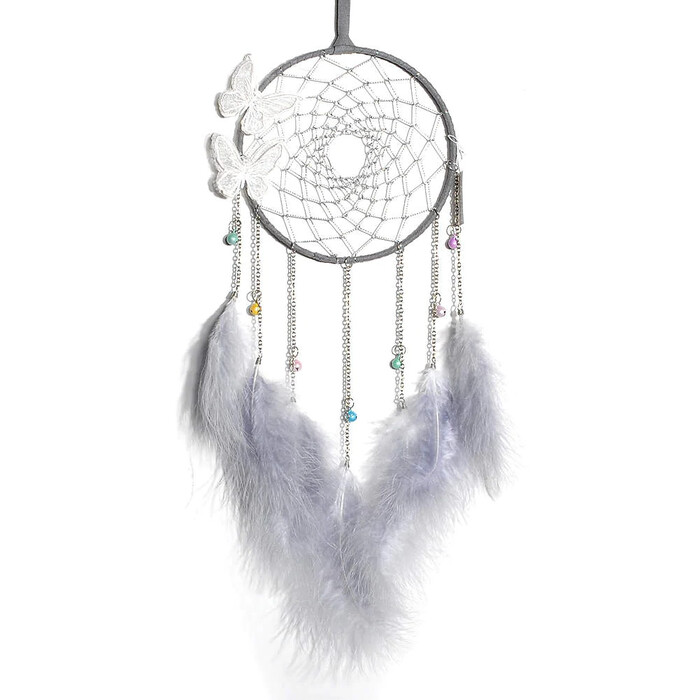 The hoop is embellished with lace, a few tiny LED lights, string strung together in a traditional design, and butterflies to keep you safe while you sleep.
32. Butterfly Magnet Set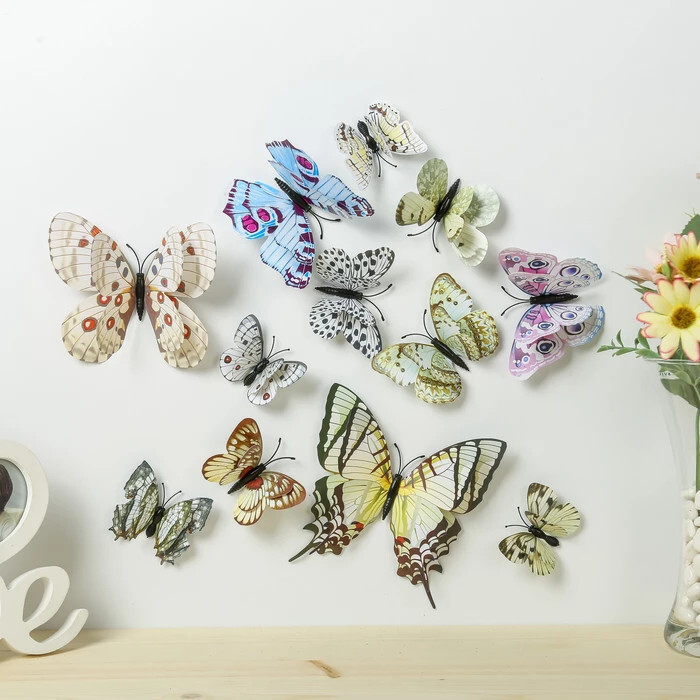 When your butterfly enthusiast hangs the elegant flutterers from this set from the fridge, their kitchen will resemble a haven for butterflies. Each butterfly leaves a significant impression with a wingspan of 4″ to 5″. The gorgeous set, which includes many distinct species, will spark conversation in any kitchen.
>>> Recommend reading: 25 Best Gifts For Dolphin Lovers They Will Never Forget
33. Butterfly Keyring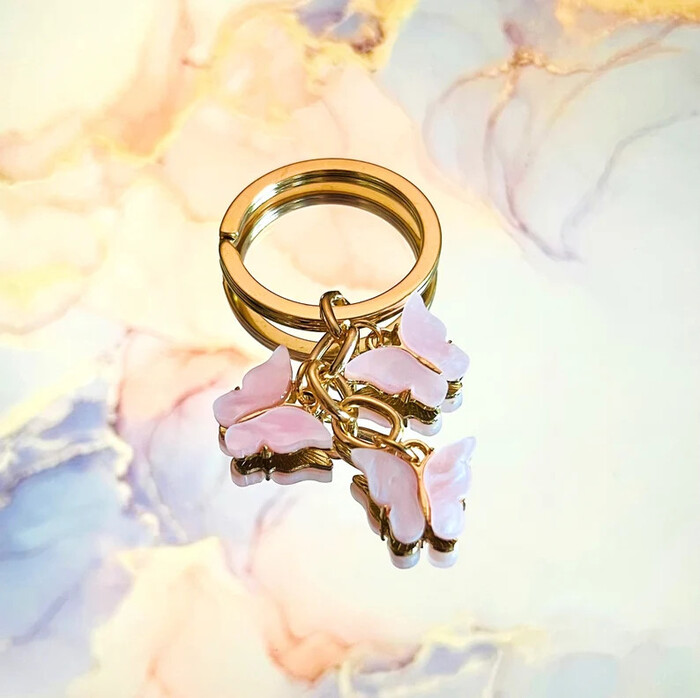 You can't go wrong choosing these keychains as the sweetest gifts for butterfly lovers. With this keychain, they can show their taste in elegant design in addition to their enthusiasm for butterflies.
34. Butterfly House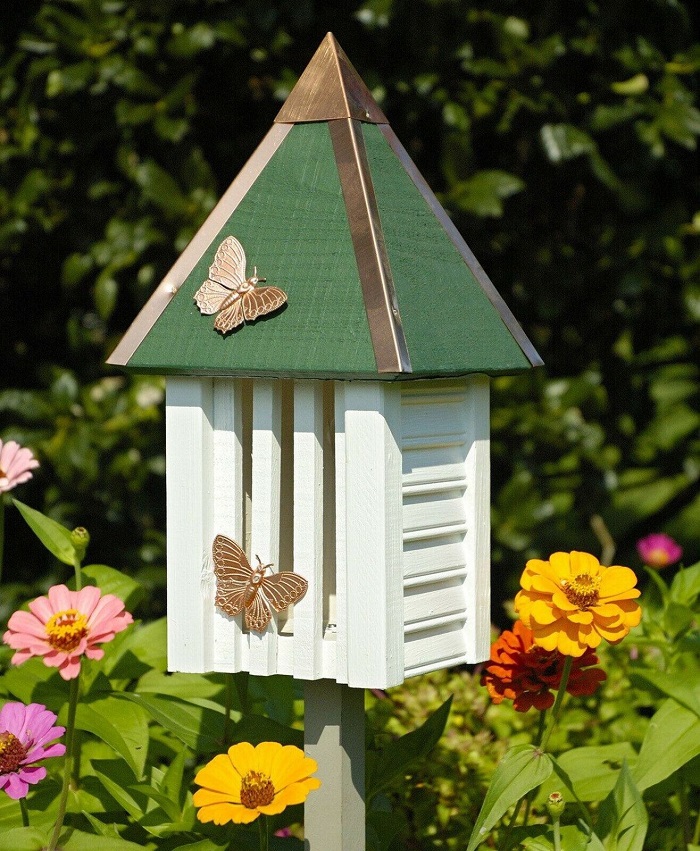 This highly unusual house is impenetrable to birds or squirrels. Small openings in the butterfly house are designed so only butterflies can fit inside, not smaller animals. The handmade house is a safe haven for fragile things that might need a place to stay during a rainstorm or a strong wind.
35. Butterfly Puddler
All the butterflies will arrive in the yard thanks to the puddler. The stoneware was produced by hand from clay and intended to be left outside in the rain. As it dries out between rains, it will get a layer of salt and minerals that butterflies like. This will make them stop it and eat the essential nutrients.
36. Butterfly Aromatherapy Diffuser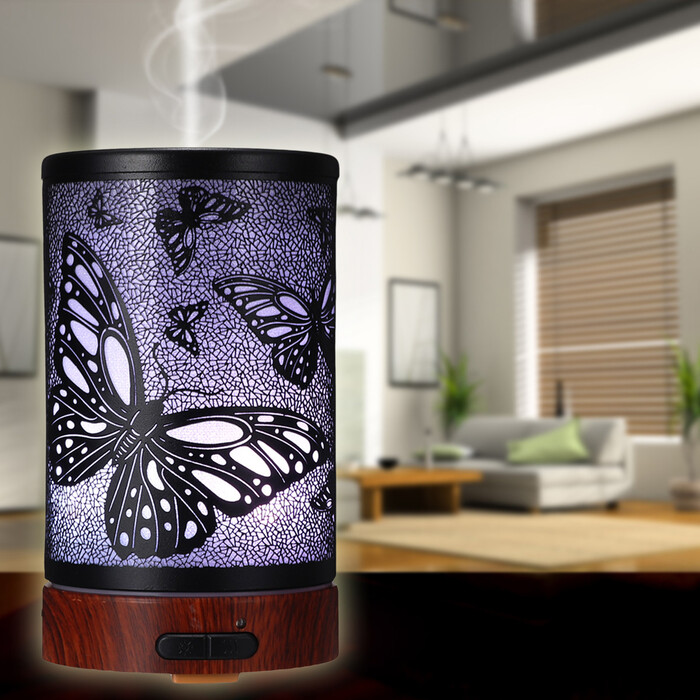 Instead of choosing a standard diffuser, add some flair to your decor with this wonderful butterfly diffuser. The diffuser has a wood base and lights in your seven colors so it won't scratch the table. It spreads oil into the air, making it more humid and quiet. This is great for your recipient's skin and may help them breathe better.
37. Home Is My Happy Place Wall Art Decor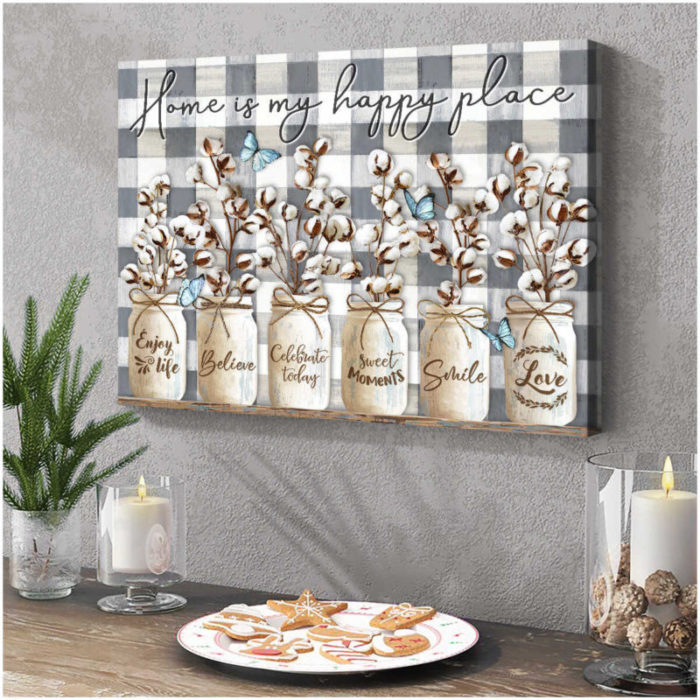 One of the phrases we use the most frequently during our lives is "HOME." Many songs, poetry, and artistic creations are inspired by it. Because home is everything to us. Your significant other will be relieved by the gentle colors of the flowers, butterflies, and backdrop in this canvas print. They can use this wall decoration in any room of their home. Try it out and observe how well this item enhances their space.
38. Butterfly Embroidery Kit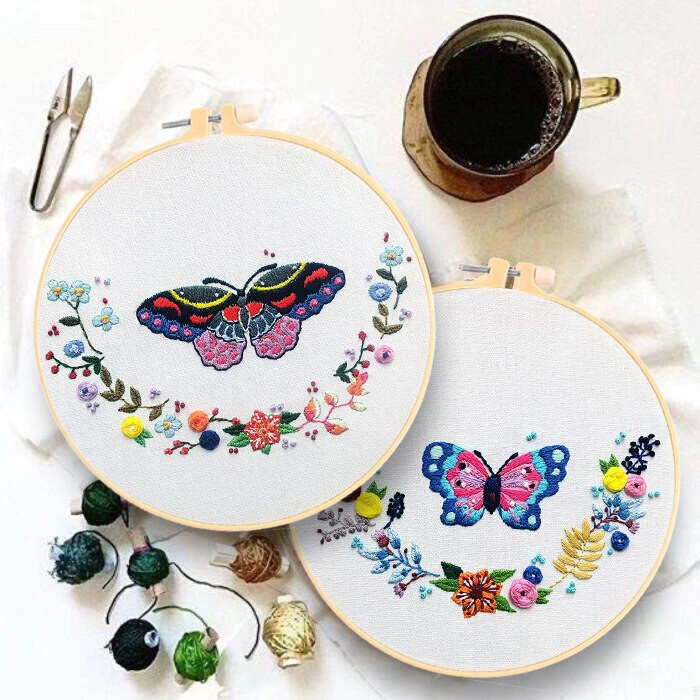 She may make her own butterfly decor with this blue butterfly embroidery kit. The result is a lovely blue and green butterfly that will stand out in her decor. A hoop, fabric, needle, and the thread she'll need to build the insect are all included in the kit. There is also a stitch guide for beginners to help them get going.
39. Personalized Butterfly Cutting Board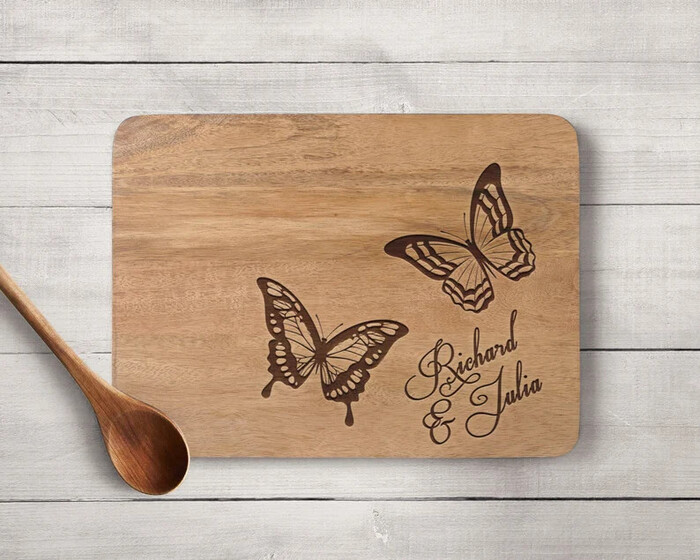 She will be motivated to create a delicious and lovely dish when she has butterflies on her cutting board. The approximately 8″ x 12″ walnut, maple, or cherry board will be engraved with her name and two butterflies.
40. Butterfly Fabric Lanyard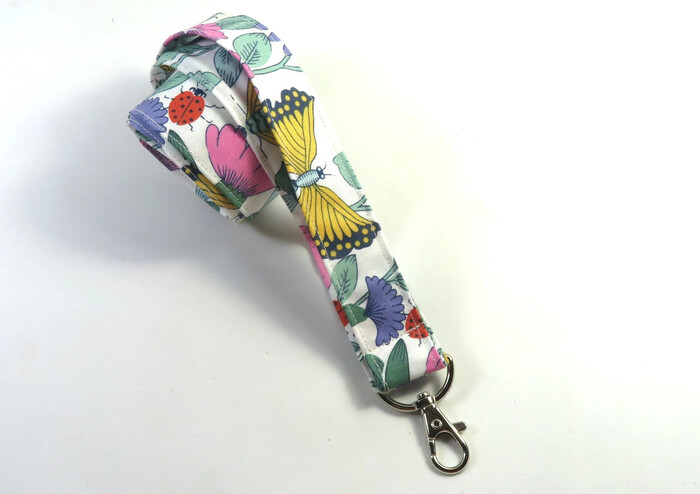 With this butterfly fabric lanyard, your butterfly fans can carry your keys and keychains in style and in a way that will prevent them from being lost in their purse. This 100% cotton lanyard is strong and has vivid, long-lasting colors. It will fit well with any set of keys if it has a keychain and a clip enclosure.
41. Butterfly Garden Starter Kit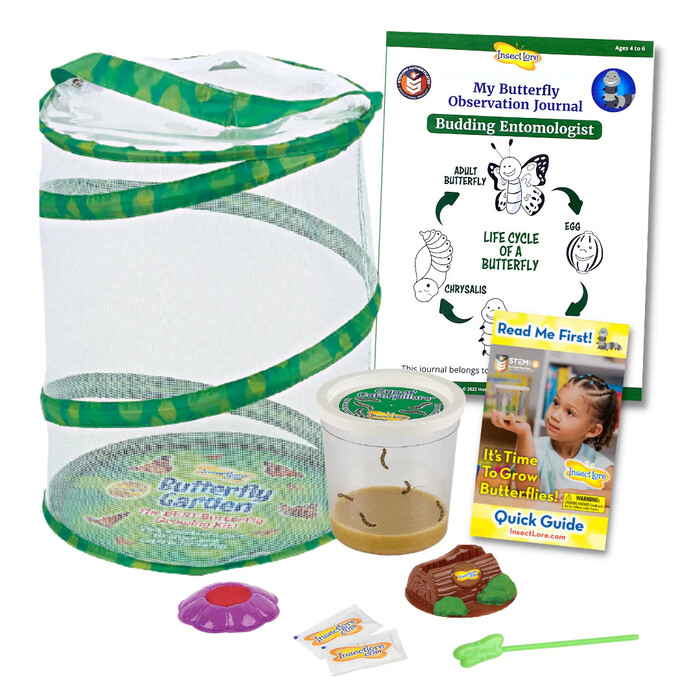 This is the perfect gift for a butterfly and nature enthusiast! The milkweed, coreopsis, cosmos, echinacea, gaillardia, and zinnia plants, as well as cultivation instructions, are all included in the butterfly garden package.
42. Silk Scarf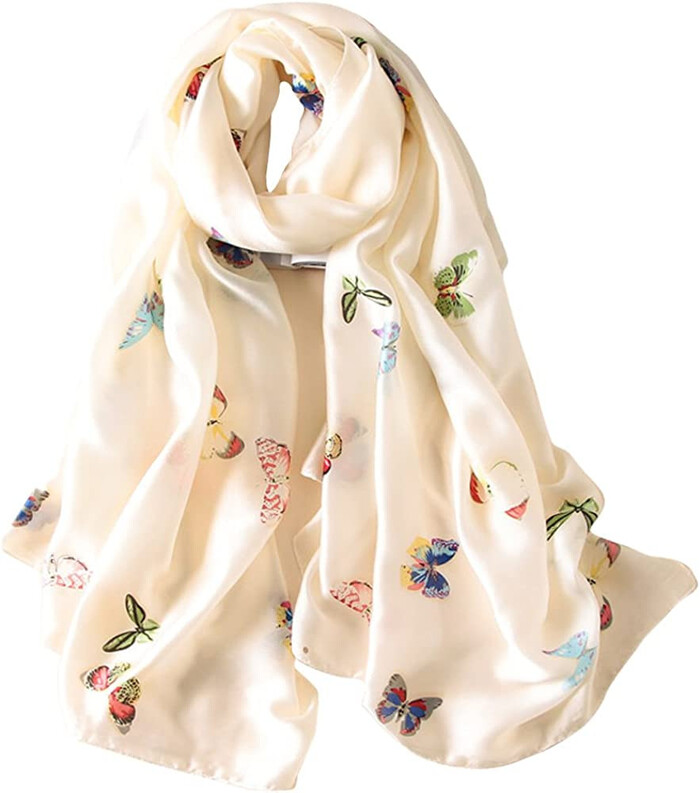 Because it is made entirely of mulberry silk, this lovely scarf is as light and airy as a butterfly while still very warm. Given that it's both lightweight and comfortable, this item is ideal for traveling.
43. Shower Curtain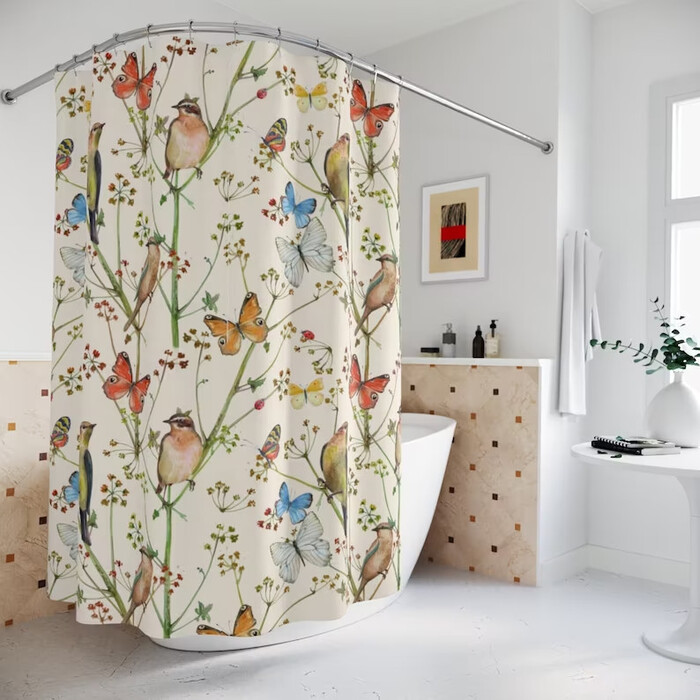 A bathroom with a botanical theme will go perfectly with this butterfly shower curtain. They will indeed be immersed in this beautiful, fairy-garden-like bathroom.
>>> You can also read:
It is not surprising that many people around the world like this stunning animal. So, included below are some of the top gifts for butterfly lovers that they will be amazed by.